Pittsburgh Steelers:

Mike Webster
June, 5, 2014
Jun 5
9:00
AM ET
PITTSBURGH -- The number that
Arthur Moats
wore in Buffalo meant enough to him that it became a part of his Twitter handle.
But it also belonged to former
Pittsburgh Steelers
great Mike Webster.
Moats
When it came to picking a number after he signed with the Steelers, Moats wanted to respect Webster by staying away from No. 52 but also embrace the expectations that come with another number.
He did both by settling on No. 55, something Moats did after taking to
Joey Porter
, who is the most accomplished player in Steelers' history to wear that number.
"He said, 'Can't just anybody wear the number,' " Moats said with a laugh. "He's cool with it. Us having that conversation and being able to talk about it, I definitely felt comfortable with it."
The Steelers hope Moats becomes comfortable with more than just the number he will wear in Pittsburgh.
The Steelers signed Moats to a one-year, $795,000 contract in March to provide depth at outside linebacker, and it only took a week of organized team activities to show how thin they are at the position.
Starting left outside linebacker
Jason Worilds
has been sidelined since hurting his calf in the first voluntary practice of the offseason. Taking his place on the first-team defense has been Moats, who is still learning a new defense. He started 12 games at inside linebacker last season for the Bills.
That Moats has been running with the first-string defense is more a commentary on the Steelers' depth at outside linebacker than it is his skills. And Moats played outside linebacker in high school and college before playing both inside and outside for the Bills, so there is a level of comfort for him there.
Moats' ability to play inside and outside is something the Steelers coveted when they pursued the fourth-year veteran after he became an unrestricted free agent.
"That was some of the things that me and [coach Mike] Tomlin talked about through the free-agency process, me having that versatility, being able to play both sides," said Moats, a sixth-round pick by the Bills in 2010. "His thing was he wanted me to come in and at least learn outside first and see what I could do there, especially since that's where my roots are since high school, college and the beginning of my career."
Moats isn't moving from outside linebacker anytime soon.
The Steelers appear to have plenty of depth inside with the addition of first-round pick
Ryan Shazier
and
Sean Spence
giving every indication so far that he could help the defense this season.
Meanwhile, there isn't a lot of depth at outside linebacker, a position the Steelers didn't address in the draft.
Moats and
Chris Carter
, who is still looking for his first career sack, are the most experienced players behind Worilds and starting right outside linebacker
Jarvis Jones
.
Moats will gladly stay put, especially since the position he is playing should give him plenty of opportunities to work with Porter.
Porter, who joined the Steelers as a defensive assistant in February, ranks fifth on Pittsburgh's all-time sacks list with 60. But it wasn't just the sheer number of sacks Porter piled up that captivated youngsters like Moats when they were growing up.
"He kicked that dirt up on you," Moats, 26, said with a laugh. "A couple of times I was watching him on TV and he was so fired up about to fight people. That's what we need. I feel like getting that type of mindset definitely helps us out."
November, 13, 2013
11/13/13
8:00
AM ET
PITTSBURGH -- He arrived at St. Vincent College in the summer of 1981, a wide-eyed intern who had received the assignment of a lifetime from his bosses at the Washington Post.
Go to Latrobe, they told Gary Pomerantz, and write about whether the
Pittsburgh Steelers
' dynasty of the 1970s had finally gone the way of every other dynasty in the history of mankind.
Pomerantz still has vivid memories of the time he spent at the bucolic site of the Steelers' training camp, which came at a time when it was common for players as exalted as "Mean" Joe Greene to conduct interviews in their dorm rooms.

"As he's talking," Pomerantz recalled of an interview with Greene, "I'm thinking this guy's bicep is bigger than my thigh. I no doubt was starry-eyed, but these guys moved with such swagger. They were special. They were historic. And they knew it and they were all great interviews. I think that's where the seed for this book was planted. This was the greatest team ever."
More than 30 years later, Pomerantz has written what may be the definitive book of the 1970s Steelers. "
Their Life's Work: The Brotherhood of the 1970s Pittsburgh Steelers, Then and Now
" doesn't just chronicle the Steelers' greatness in the decade they owned, at a time when Pittsburgh needed to feel good about itself. It also follows the players from those teams after Super Bowl glory had receded into their respective pasts – and casts a light on the trade-off they made to play a violent game that has had tragic consequences.
"I thought if I'm going to take on the game for what it gives and what it takes, who better to use as a case study than the greatest team I ever saw?" Pomerantz said of the fifth book he has written. "They've lived the full measure now of the football experience. They're in their 60s. Many of them are grandfathers with titanium in their knees, hips, shoulders."
More than 10 players from those teams have already died, and Hall of Fame center Mike Webster literally gave his life to the game and is the most tragic figure from the teams that won four Super Bowls.
Webster died in 2002 at the age of 50, after suffering from dementia that has since been linked to football and chronic traumatic encephalopathy (CTE). Pomerantz said the book is not a fairy tale, as it examines the reality of life after football, but he was also struck by something during the course of his research.
All of the players he interviewed from the four Super Bowl teams said they would do it again, even knowing the various health problems they would endure later in life.
"I think we all make compromises in our lives," Pomerantz said. "The 60-hour-a-week businessman never sees his kids, and the minister and social worker give up money to follow their calling. These guys were the gladiators and they paid a physical price, and pay it every day now still, for having walked into the arena as young men, into that brilliant light, and they hear the roar of the crowd and they played a very violent game."
Pomerantz, 52, conducted more than 200 interviews for the book, which was released last month, and he said players were more than generous in sharing their stories and recollections. He marveled at how close the players from those teams still are, and he said their bond made him examine his own friendships.
"It was the brotherhood that struck me as most remarkable," said Pomerantz, who is a full-time author as well as a visiting lecturer in the graduate journalism program at Stanford. "My great takeaway from working on this book is that I really think more deeply about those special friendships I have in my life, and I know how lucky all of [us] would be to have the kind of friendships that these 1970s Steelers share today."
October, 4, 2013
10/04/13
3:15
PM ET
PITTSBURGH -- Millions of people received a 1,000-plus word email this week from NFL commissioner Roger Goodell.
It detailed all that the NFL is doing to make the game safer, particularly in regard to the treatment and prevention of concussions.
The email also touted what the NFL is doing for concussion research. Here are two passages:
Another important element of our commitment to health and safety is the funding of groundbreaking research. We have pledged more than $100 million to medical research over the next decade, including $30 million to the National Institutes of Health for independent research to advance the understanding of concussions.

We have also embarked on a $60 million partnership with GE and Under Armour to accelerate the development of advanced diagnostic tools and protective materials for head injuries. The NFL–GE-Under Armour "Head Health Initiative," which has already attracted more than 400 proposals from 25 different countries, will reward the best new ideas from around the world in protecting against head injuries. This project and our broader research funding will yield benefits to all sports and beyond.
The mass email came a day after a story written by ESPN's Don Van Natta Jr. detailed some of the
more explosive allegations
in "League of Denial: The NFL, Concussions and the Battle for Truth."
Excerpts of the book written bv ESPN investigative reporters Mark Fainaru-Wade and Steve Fainaru appear in the latest issues of ESPN The Magazine and Sports Illustrated.
The book alleges that for years the NFL tried to down play and discredit any links between head injuries and long-term brain damage.
Goodell, according to the book, inherited a concussion mess from previous NFL commissioner Paul Tagliabue. But the commissioner who has staked his legacy to improving player safety was also slow to react to the NFL's concussion problem, according to the book.
One chilling story from the book involves late Steelers center Mike Webster and how mental illness later linked to chronic traumatic encephalopathy (CTE) caused him to amass an arsenal of weapons and consider using them against NFL officials.
Steelers safety
Ryan Clark
addressed the new controversy generated by the book Friday on ESPN's "First Take."
Clark said he takes full responsibility for how he plays the game and understands there may be ramifications from it later in life.
But, Clark added, "If player safety was truly that important, the NFL wouldn't hide documents."
August, 29, 2013
8/29/13
10:00
PM ET
Garrett Webster used the word "validation" several times when talking about the landmark settlement the NFL agreed to Thursday with thousands of plaintiffs in a concussion-related lawsuit.
It was fitting since the son of the late, great
Pittsburgh Steelers
center Mike Webster feels that way on several levels.
[+] Enlarge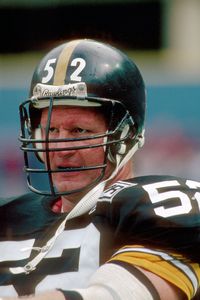 Malcolm Emmons/US PresswireMike Webster died in 2002 after years of suffering from dementia and other disorders associated with repeated head trauma.
Garrett Webster, who believes his father's estate will be included in the deal, said he is happy for families whose suffering will be eased by the
$765 million settlement
. And the statement made in what Webster viewed as an admission of some culpability by the NFL could also be a seminal moment in the awareness and treatment of brain injuries, he said.
"I hope this settlement is the NFL saying, 'We're taking concussions seriously. We're going to keep working on it,'" Webster said. "The worst-case scenario for me is the NFL saying, 'We paid you money. Now go away.'"
Mike Webster, a Hall of Famer and stalwart on the Steelers' Super Bowl-winning teams in the 1970s, died in September 2002 after years of suffering from dementia, depression and other neurological disorders associated with repeated head trauma.
He was at the forefront of NFL players diagnosed with chronic traumatic encephalopathy (CTE) after his death, and CTE had been linked to Alzheimer's disease and depression.
Garrett Webster, 29, has made the study of brain injuries part of his life's work. He is the administrator of the Brain Injury Research Institute in Chicago and spends his time there while also living in Pittsburgh.
The NFL has not worked with the Brain Injury Research Institute in the past, Webster said, and he hopes the lawsuit signals a change in its approach. He said retired players have to put aside any rancor they feel toward the NFL and work with the league in promoting awareness and the study of brain injuries.
"Everybody needs to, on some level, work together," Webster said. "NFL players are getting bigger, stronger and faster. It's a long-term issue and it's not just football players."
The lawsuit offered some personal validation for Webster, who often had to care for his father while he was growing up. He said the motives of his family and supporters were often questioned after the Webster estate successfully sued the NFL in 2005 because of disabilities Mike Webster sustained from playing football.
"It felt like for the longest time we were making stuff up, that we were after money," Garrett Webster said. "I would give $200 million for my dad to be back here and be alive. There's no price on the hell you go through with this."