Pittsburgh Steelers:

Mike Zimmer
July, 11, 2014
Jul 11
10:00
AM ET
By
ESPN.com.staff
| ESPN.com
This offseason has seen plenty of high-profile additions and departures in the AFC North.
The
Cleveland Browns
and
Baltimore Ravens
brought more excitement to their offenses. The Browns drafted quarterback
Johnny Manziel
in the first round, and the Ravens signed wide receiver
Steve Smith
.
The
Cincinnati Bengals
and the
Pittsburgh Steelers
dealt with some significant losses. Bengals defensive coordinator Mike Zimmer left to become the head coach of the
Minnesota Vikings
, and three starters (
Brett Keisel
,
LaMarr Woodley
and
Ryan Clark
) are gone from the Steelers defense.
How will these changes affect the teams in the division? That's the focus for ESPN's AFC North reporters: Scott Brown in Pittsburgh, Coley Harvey in Cincinnati, Jamison Hensley in Baltimore and Pat McManamon in Cleveland.

Johnny Manziel will be the starting quarterback for the Browns in the season opener in Pittsburgh.
Scott Brown: Fiction. Johnny Football has too much ground to make up to overtake Brian Hoyer as the starter by the time the Browns open the regular season in Pittsburgh. Manziel will start at some point this season, but it won't be Sept. 7 at Heinz Field. Even if it is a toss-up between Hoyer and Manziel leading up to the season opener, the Browns will be wise enough to go with the player who has NFL starting experience over the one who will have a Texas-sized bullseye on his jersey. Steelers defensive coordinator Dick LeBeau generally torments rookie quarterbacks and definitely doesn't take selfies with them. The Browns wouldn't put Manziel in a position in which he has little chance of succeeding ... would they?
Coley Harvey:
Fiction. As bold a prediction as it might be to claim Manziel is Cleveland's Week 1 starter at Pittsburgh, it's simply not happening. For starters, the Browns already said he wasn't going to get the nod. Right now, the organization seems to view the first-string quarterback job as Brian Hoyer's to lose, and judging from the way Hoyer's once-promising year so abruptly ended, I can't imagine he's going to be handing many reps to Manziel if he can help it. While I'd expect Manziel to perform well in the preseason, it just doesn't seem right now that Cleveland feels comfortable putting so much control in his hands to start the season. Manziel probably hasn't helped himself in that regard by going against the reported wishes of management and continuing to put himself in vulnerable situations weekend after weekend. By ignoring their requests to calm the partying, a coach or executive has to feel a little less inclined to trust the young quarterback for now.
Jamison Hensley: Fiction. There are too many factors going against Manziel starting right away. Browns coach Mike Pettine was on the Bills' sideline this past season when he watched EJ Manuel struggle as a rookie. The Browns have a legitimate alternative in Brian Hoyer. And the Browns' first game is against the Steelers, who are known to rough up young quarterbacks. Including the playoffs, the Steelers are a league-best 17-2 vs. rookie quarterbacks since 2004, when coordinator Dick LeBeau re-joined the Steelers as defensive coordinator. Plus, Manziel hasn't done much to prove to the coaching staff that he's mature enough to handle the starting job after becoming Johnny Las Vegas on holiday weekends. It just makes too much sense to sit Manziel as a rookie. Then again, the Browns aren't known for making logical moves
Pat McManamon: Fiction. The Browns simply do not want Manziel to start the opener, and Mike Pettine has made no secret of that. Over and over, he's said that though Manziel can start at some point, he does not believe it's ideal. Given that the first three opponents are the Steelers, Saints and Ravens, it's even more reason not to rush him. Those three opponents have chopped up a lot of veterans, not to mention rookies. If Josh Gordon is not on the team, the quarterback's challenge is even more difficult. The Browns want to take things slowly with Manziel, and right now he admits he's not the best quarterback on the team. The only way he starts in Pittsburgh is if Brian Hoyer is hurt.
@PatMcManamon Fiction, too much to be lost by starting him before his time, plus i think most fans think @bHoyer6 is owed a chance

— Joe Jirgal (@limegreenmonza) July 2, 2014
---

The Bengals have a top-10 defense even without coordinator Mike Zimmer.
Brown: Fact. With all due respect to Zimmer, he didn't make one tackle in the six seasons he coordinated the Bengals' defense. Not to marginalize coordinators, but Dick LeBeau has one of the keenest and most imaginative defensive minds in NFL history, and he somehow forgot how to coach defense this past season, when injuries and age caught up with the Steelers. The Bengals have plenty of talent, assuming defensive tackle Geno Atkins and cornerback Leon Hall make a healthy return from their respective injuries. And the adjustment to new defensive coordinator Paul Guenther should be a relatively smooth one since Guenther coached the Bengals' linebackers before succeeding Zimmer. If the Bengals don't field a top-10 defense this season, it will be because they can't make up for the free-agent loss of defensive end Michael Johnson or their secondary springs too many leaks.
Harvey: Fact. Zimmer was rightfully deified during his time in Cincinnati, but his exit for Minnesota doesn't mean there's now a sudden end to the Bengals' era of defensive dominance. Cincinnati will be bringing back a defense that mostly mirrors the group it had last year. The only absences of note are Michael Johnson, James Harrison and Chris Crocker. Johnson was signed by Tampa Bay in free agency, and Harrison was released. Signed to a one-year deal when he emerged from retirement this past September, Crocker was a free agent this offseason who didn't have his contract renewed. Still, knowing Crocker's track record of signing as a September off-of-the-couch call-up the past two years, you can't fully rule out an appearance from him in Cincinnati at some point this year. Of all the Bengals' defensive departures, Zimmer's was certainly the biggest. The coordinator who helped revolutionize the Bengals' defensive system and turned them into a perennial power implemented unique rotations, lineups and blitz and coverage packages. As the league's No. 3 defense this past season, the Bengals pulled off a franchise feat that hadn't been replicated in more than 30 years. Under new coordinator Paul Guenther, who formulated many of the blitz packages for Zimmer, the Bengals are hoping to be even better than that No. 3 ranking this year. While they probably won't get ranked as high as No. 3, they still will be among the top 10.
Hensley: Fiction. It's true that a defense is only as good as its players on the field. But let's not disregard the impact of Zimmer on the Bengals' defense. In Zimmer's first season in Cincinnati (2008), the Bengals jumped from No. 27 to No. 12 in defense. The Bengals then went on to finish in the top 10 in yards and points allowed in four of the next five seasons under Zimmer. He's a fiery leader who got the most out of his players. Many expect a smooth transition with Paul Guenther being promoted to defensive coordinator, but he's never been in charge of a defense in the NFL. His job won't be made any easier by the fact that defensive end Michael Johnson left in free agency and defensive tackle Geno Atkins is still recovering from an ACL injury. The Bengals secondary is dealing with aging veterans (Terence Newman and Adam Jones), injury (Leon Hall) and unfulfilled potential (Dre Kirkpatrick). Don't be surprised if the Bengals slip out of the top 10 this season.
Pat McManamon: Fact. The Bengals have too many good players and too good a system to falter with Zimmer's departure. He'll be missed, but defenses are as good as the players on the field, and with stalwart Geno Atkins coming back from injury to go with a crew that includes Vontaze Burfict, the Bengals should still be formidable. Also, new coordinator Paul Guenther knows the system, knows the blitzes and worked closely with Zimmer. It always hurts to lose a coordinator like Zimmer, but the Bengals seemed to be as prepared as a team can be. The other thing to remember is that offenses can help defenses by possessing the ball, and new offensive coordinator Hue Jackson will run the ball more than Jay Gruden did.
@ColeyHarvey straight up truth coley!! #BeastMode...#PaulyG

— Who Dey Nation CEO (@BengalsFiend) July 7, 2014
---

Steve Smith will become Joe Flacco's top target this season.
Brown: Fiction. I'm tempted to say fact here because of the trust and rapport that Flacco developed with Anquan Boldin before the Ravens traded the veteran wide receiver to the 49ers this past year. Boldin, however, is bigger and more physical than Smith and doesn't rely as much on speed as the latter still does, even at the age of 35. Look for tight end Dennis Pitta to re-establish himself as a big part of the Ravens' offense after missing all but four games this past season because of a dislocated hip. Pitta caught 61 passes and was targeted 93 times by Flacco in 2012, while Boldin caught just four more passes than Pitta, despite getting targeted 112 times. A healthy Pitta becomes Flacco's go-to receiver again.
Harvey: Fiction. Another Smith will end up being Flacco's top passing target this season. Torrey Smith, the man who saw 139 throws directed his way this past season, will remain the go-to receiver in an offense that hopes for increased production from 2013. During the mostly down year for Baltimore's offense, Torrey Smith caught 65 of the 139 balls thrown his way, leading the team in receptions. While at Carolina last year, Steve Smith caught 64 passes on just 109 targets from Cam Newton. The longtime Panther was one of the stars of an offense that also relied on Newton to make plays with his feet, in addition to spreading the ball to other receivers. The Ravens had difficulty getting any kind of rushing offense going, which made it easy for defenses to sell out on guarding their receivers. If Ray Rice struggles to perform out of the backfield again this year -- or if he ends up missing considerable time due to a possible suspension from commissioner Roger Goodell following his arrest in Atlantic City this offseason for assault on his now-wife -- much the same could happen to the Ravens' receivers in 2014. Even if that happens, Steve Smith's addition ought to help Flacco and the Ravens. Still, don't look for the 35-year-old to take over as the team's dominant receiver. That title ought to remain Torrey Smith's.
Hensley: Fact. There's a chance tight end Dennis Pitta or wide receiver Torrey Smith will end up being Flacco's go-to receiver. In the end, Flacco will spread the ball around to Pitta, Torrey Smith and Steve Smith. But if you're asking who will be Flacco's top target, the best bet is Steve Smith. All you needed to do was watch one practice this offseason, and you'd see the chemistry building between Flacco and Smith. Many have compared Steve Smith to Anquan Boldin because both are tough receivers. Smith, though, stacks up more favorably to Derrick Mason, who averaged 71 receptions in three seasons with Flacco. Like Mason, Smith can get open on the comeback route as well as slants. A prideful player such as Smith will also do everything in his power to show the Carolina Panthers he can still play. The Ravens will get the best out of Smith this year.
Pat McManamon: Fiction. The Ravens still have this guy Torrey Smith, right? He's a little younger than the 35-year-old Steve Smith. A little bigger too. And he should be ready to be the No. 1 receiver on the team. This is not to say Steve Smith won't help. He will. He brings a veteran presence the Ravens lacked -- though it's curious they gave away Anquan Boldin before last year and signed another aging guy who fits the "crafty veteran mold" a year later. Ozzie Newsome said Smith is not the "typical aging player," which is good, because he'll catch a lot of passes and open up the field more to provide opportunities for Torrey Smith and tight end Dennis Pitta. The Ravens also seem to be a team well-suited to getting the most from veterans. But if Baltimore brought Steve Smith in to be the top guy, it's a problem. That role and responsibility belongs to Torrey Smith.
@jamisonhensley Fiction. Now that Pitta is healthy, the bromance will reignite this year. I see @dennispitta having a big year. #ravens

— Jordan Ours (@JO___14) July 7, 2014
---

The retooled defense is enough to get the Steelers back to the playoffs.
Brown: Fact: The Steelers got younger and faster and will be better on that side of the ball if their outside linebackers provide some semblance of a pass rush. The Steelers don't need dramatic improvement from their defense if their offense builds on its strong finish in 2013. The Steelers averaged just under 28 points in their final eight games this past season, and they only lost one starter (wide receiver Emmanuel Sanders) on offense. Pro Bowl center Maurkice Pouncey returns from a torn ACL to lead an offensive line that allowed just seven sacks in the final seven games last year. And the Steelers have enough talent at the skill positions for Ben Roethlisberger and the offense to carry the defense.
Harvey:
Fact. I've gone on record in recent days saying I believe the Steelers will pose a legitimate threat to the Bengals' chances at defending their division title, so I won't waver now. Pittsburgh's culture will be the real difference-maker in getting the Steelers back to the playoffs. You're simply not going to see coach Mike Tomlin or quarterback Ben Roethlisberger tolerating the type of year the team had in 2013. By the way, we can't forget how close Pittsburgh was by the end of the season, after imploding near the start primarily because of a lacking offensive line that caused a poor running game and offensive imbalance. When it comes to the retooled defense, offseason moves such as drafting outside linebacker
Ryan Shazier
and defensive end
Stephon Tuitt
ought to help. The addition of
Cam Thomas
on the line also should help counter the interior rushing attack teams like to employ in the physical AFC North. While I still see the Bengals making the playoffs too, the Steelers ought to get there again, thanks to their improved defense.
Hensley: Fact. The Steelers got younger and quicker with their first two draft picks this year, linebacker Ryan Shazier and defensive end Stephon Tuitt. Cam Thomas, a free-agent addition, will be a space-eater on the interior of the line. What will help this retooled defense become even better are the moves made on offense. The Steelers stockpiled their backfield by signing free agent LeGarrette Blount and drafting Dri Archer in the third round. Plus, Le'Veon Bell was beginning to hit his stride at the end of his rookie season. This commitment to the run will control the clock and take pressure off a defense adjusting to its new parts.
McManamon: Fact. There is no team in the league that finds personnel to fit its system better than the Steelers. With three new starters defensively, Pittsburgh continues its transition from the James Harrison-James Farrior-Casey Hampton-Brett Keisel days. Kevin Colbert's drafting is usually logical and sound, and in Ryan Shazier the Steelers believe they found an immediate starter. One thing will be true about Pittsburgh this season: They will be faster on the field and they will not start slow. Pittsburgh will build on the momentum of an 8-4 finish in 2013 (after an 0-4 start), and as they build the defense will grow.
@ScottBrown_ESPN Fact. They are faster and younger. It will be a sad year for @WarrenSapp. #AFCN4Downs

— Kat Harry (@katharry33) July 2, 2014
.
February, 5, 2014
Feb 5
11:00
AM ET
PITTSBURGH -- Staggering might be a bit strong when looking at the amount of coaching turnover that has taken place in the AFC North.
But there has been a lot of it in the last six weeks, which leads me to a story even if it does poke fun at yours truly.
I decided to recap all of the coaching changes in the division, reaching out to the other ESPN.com AFC North reporters about the comings and goings on their respective teams.
Here is the response I got from ESPN.com Brown reporter (and noted nemesis of mine) Pat McManamon:
Um ... Scott ... except for special teams coach, they've changed the entire staff.
Uh, yeah, would make sense that a new head coach hires his own staff. I appreciated Pat not calling me stupid though I'm pretty sure he implied it (Pat, I must be getting too much sun here in Pittsburgh).
But I digress. Here is an update on the coaching staffs in the AFC North (teams in order of 2013 finish).
Cincinnati Bengals

Jackson
What has changed:
The Bengals have two new coordinators, Hue Jackson (offense) and Paul Guenther (defense), after Jay Gruden and Mike Zimmer left for head coaching jobs.
Most significant hire:
Guenther. Zimmer, who left for Minnesota, had been a widely respected coordinator. The Bengals finished no worse than seventh in the NFL in total defense in each of the previous three seasons, Guenther, who was promoted from linebackers coach to take over for Zimmer, has said he will call plays with the same aggressiveness that defined his predecessor.
Skinny:
Head coach Marvin Lewis stayed in-house to replace both coordinators, and Jackson is expected to emphasize the run more, something the Bengals got away from in their playoff loss to the
San Diego Chargers
. Look for Jackson to take better advantage of
Giovani Bernard
, who flashed as a rookie and should get more touches after splitting carries with the plodding
BenJarvus Green-Ellis
in 2013.
Pittsburgh Steelers

Munchak
What has changed:
Mike Munchak
is the new offensive line coach, and the Steelers essentially traded running backs coaches with the Vikings with Kirby Wilson joining Zimmer's new staff in Minnesota and
James Saxon
replacing Wilson.
Most significant hire:
Munchak. The Pro Football Hall of Famer becomes the third former head coach who is now an assistant on Tomlin's staff, and there are incredibly high hopes for him. His credentials as a player and an offensive line coach make this one of Tomlin's best hires -- and one that Steelers' fans appear to be unanimous in applauding.
Skinny:
Tomlin's staff for 2014 appears to be set. Defensive assistant
Jerry Olsavsky
was a candidate to become the linebackers coach in Buffalo but that position has been filled. Munchak is expected to institute a zone-blocking scheme and there may not be a
more qualified person
on the planet to teach it. I've written how
Le'Veon Bell
could be one of the biggest beneficiaries of the zone-blocking scheme. Here is what former Titans tight end and current radio talk show host Frank Wyche told the Pittsburgh Post-Gazette about Bell in that scheme: "He's going to run the ball like
Eddie George
did for us."
Baltimore Ravens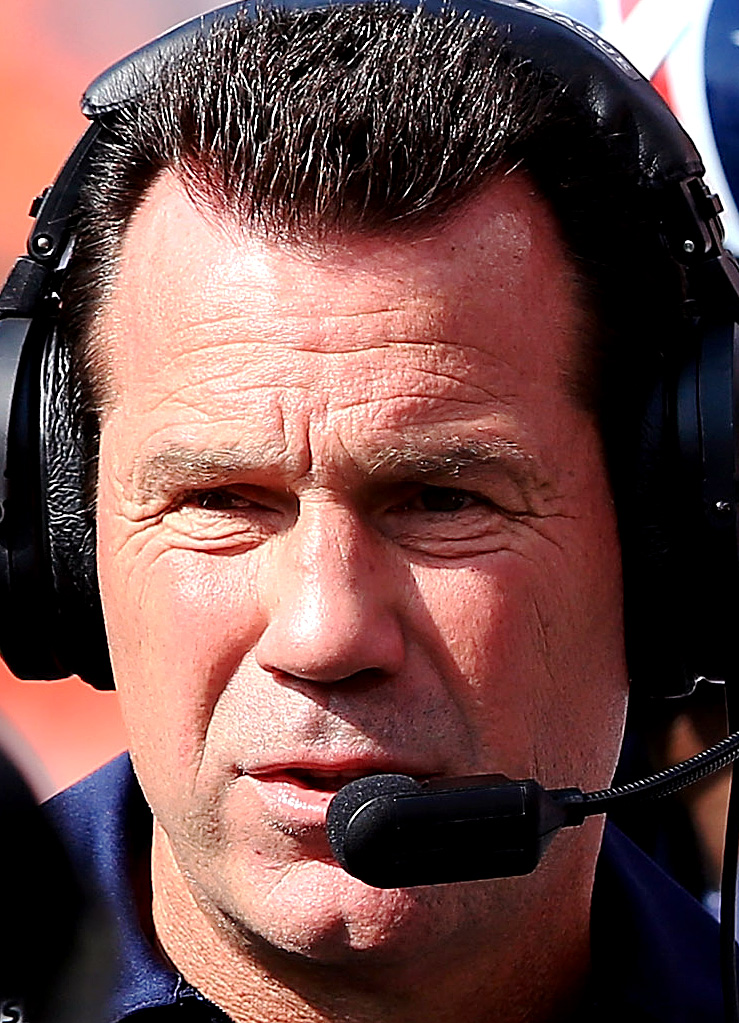 Kubiak
What has changed:
John Harbaugh made plenty of changes after the Ravens went 8-8 and missed the playoffs a season after winning the Super Bowl. Gary Kubiak is the new offensive coordinator and Rick Dennison, has followed Kubiak to Baltimore. Dennison, the Texans' offensive coordinator for the previous four seasons under Kubiak, will coach the Ravens' quarterbacks
Most significant hire:
Kubiak. The former Texans head coach wasn't among the three finalists for the offensive coordinator job, but Harbaugh convinced him to join his staff. Kubiak's biggest challenge is reviving a ground attack that mustered just 3.0 yards per carry in 2013, the worst in the NFL. The Texans always seemed to be able to run the ball during Kubiak's tenure in Houston so he is probably the right coach to fix the Ravens' broken ground game.
The skinny:
Harbaugh now has two former NFL head coaches on his staff with assistant head coach/secondary coach Steve Spagnuolo joining Kubiak in that distinction. There are still openings at running backs coach and wide receivers coach to fill. When Harbaugh has finished rounding out his staff he will have made six changes to it. The previous high as far as coaches Harbaugh had to replace in an offseason was four in 2011.
Cleveland Browns

Pettine
What has changed:
Well, just about everything and yet not much at all to jaded Browns fans. Cleveland dumped Rob Chudzinski after just one season. What seemed like an interminable search for his successor turned up former Bills defensive coordinator Mike Pettine, who didn't appear to be on any other teams' radar as far as head-coaching candidates. Former Bills linebackers coach Jim O'Neil is the new defensive coordinator while former Redskins offensive coordinator Kyle Shanahan now holds the same position in Cleveland.
Most significant hire:
After Pettine, it is Shanahan. The former will be tasked with grooming the quarterback of the future and getting more out of an offense that has a legitimate star in wide receiver
Josh Gordon
but is lacking overall at the skill positions. The Browns have two first-round draft picks, including No. 4 overall, this year and they figure to take a quarterback with one of those selections.
The skinny:
The Pettine hire didn't inspire much hope among Browns fans so add that to the list of things working against him in Cleveland. The Browns might have been able to lure defensive coordinator Dan Quinn away from Seattle had they waited longer to hire Chudzinski's replacement. That too will loom over Pettine's first season in Cleveland, especially if his results are similar to the ones that got Chudzinski fired.
January, 25, 2014
Jan 25
6:15
PM ET
PITTSBURGH -- Mike Tomlin has another coaching spot to fill, and this time he has to replace one of his most trusted lieutenants.
Running backs Kirby Wilson is leaving Pittsburgh for the same position with the
Minnesota Vikings
, a source confirmed to ESPN.
The Pittsburgh Post-Gazette first reported Wilson's departure, which is not yet official, hours after reporting that Wilson was no longer a candidate to become the Ravens' offensive coordinator.
Wilson twice interviewed for the opening in Baltimore -- he was one of three finalists for the job -- and his departure leaves just five assistants on the staff who have been with Tomlin since he became the Steelers' head coach in 2007.
The Steelers permitted Wilson to pursue other jobs even though he had one year left on his contract and was significantly involved in crafting game plans.
The one question that will trail Wilson out of Pittsburgh is what might have been for the well-traveled assistant.
Wilson would have been one of the top candidates to take over at offensive coordinator in 2012 after the Steelers did not renew Bruce Arians' contract. But Wilson was badly burned in house fire about a month earlier, and he couldn't start working again -- even on a limited basis -- for more three months after the blaze that nearly cost him his life.
The Steelers hired Todd Haley to replace Arians, and when it became apparent that Haley would return in 2014 Wilson started looking around for other opportunities with Tomlin's blessing.
The loss of Wilson comes three days after the Steelers hired Mike Munchak as their next offensive line coach. Running backs coach is the only position Tomlin is expected to have to fill with both coordinators returning as well as linebackers coach Keith Butler.
Butler had been a candidate to join Ken Whisenhunt's staff in Tennessee as the defensive coordinator but he never interviewed for the position.
Wilson joins his sixth NFL organization after coaching running backs such as
Willie Parker
,
Rashard Mendenhall
and Bell with the Steelers.
Bell, under Wilson's tutelage, rushed for 860 yards in 2013 despite missing the first three games of the season. The second-round draft pick also broke Franco Harris' Steelers' record for yards from scrimmage by a rookie with 1,259 yards and established himself as a focal point of the offense in the coming seasons.
Wilson will join first-year coach Mike Zimmer in Minnesota, and he will work with the best running back in the NFL in
Adrian Peterson
.
Peterson rushed for 1,266 yards and 10 touchdowns in 2013 despite weathering foot and groin injuries, the latter of which sidelined him for two of the Vikings' last three games.
Peterson had groin surgery last week but the Vikings said he should be fully healthy after a six-week recovery period.