Pittsburgh Steelers:

Plaxico Burress
August, 18, 2014
8/18/14
4:00
PM ET
PITTSBURGH --
Pittsburgh Steelers
quarterback
Ben Roethlisberger
turned a question about
Martavis Bryant
into a challenge for the rookie wide receiver.
"He needs to get in his mind that he can help us and that he's going to push it hard on every single play like the guys ahead of him are doing," Roethlisberger said. "If you watch
Antonio Brown
, he scores on that second play [against the
Buffalo Bills
last Saturday] because that's how he practices. Every day in practice when he catches a slant he's going to score even if guys touch him down.
"That's how he practices and that's how he plays and that's what transitions into big things like that. As a young guy [Bryant] needs to keep learning from the veteran guys, and I think he will do that because he wants to be a great receiver."
Bryant has all of the physical ability to succeed at this level, and the fourth-round draft pick could give the Steelers' offense something it has rarely had with Roethlisberger at the controls of it: a tall wideout who can really run.
The 6-foot-4, 211-pounder consistently made plays in training camp, and in two preseason games Bryant has three catches for 37 yards while also drawing a pass interference penalty that resulted in a long gain.
But Bryant has lost a fumble and nearly committed another turnover by dropping a punt.
Pro Bowler Brown said Bryant simply has to let the game come to him when he is playing under the lights.
"When you're excited you tend to run [routes] quicker and want to catch the ball quicker," Brown said. "I think he just has to take practice to the game. He's a little raw right now, but I think he's going to be able to help us out as this thing unfolds."
So does Roethlisberger.
And the 11th-year veteran has long wanted a tall wide receiver to throw deep to as well as target when the Steelers are inside an opponent's 20-yard line.
Roethlisberger hasn't had a rangy and speedy wide receiver since 2004, the one season he threw to Plaxico Burress before the latter signed with the
New York Giants
as an unrestricted free agent.
"What [Bryant] can bring is kind of what Plax did, a big body down the field, guys have to respect that speed," Roethlisberger said. "I think if he can get to Plax's level we'll be happy with that."
Roethlisberger said Bryant is nowhere close to that yet, which is why he is pushing the Clemson product and not coddling him.
When asked if he would like to get some work with Bryant Thursday night when the Steelers play the
Philadelphia Eagles
, Roethlisberger said, "He's got to earn his way up into the first group. We've got guys right now ahead of him on the depth chart that are playing at a high level. So he's really going to have to bust his butt. If he can prove that he deserves to be there then we'll give him all the reps he wants."
March, 3, 2014
3/03/14
8:30
AM ET
With the start of the NFL new year eight days away, it has been largely quiet on the Steelers' front.
Expect that to change this week as the Steelers have to shed roughly $5.75 million to get in compliance with the salary cap and also clear enough room so they can sign free agents.
Now that the spending ceiling has been set at $133 million for 2014, the Steelers don't have to work the salary cap based on projections, and they should have more flexibility with the cap rising $10 million from last year.
Releasing offensive tackle Levi Brown will save the Steelers $6.25 million and put them under the cap for 2014, albeit with more moves to make.
Cornerback Ike Taylor, whose base salary in 2014 is $7 million, is a candidate for a significant pay cut, and the Steelers could cut ties with the 11
th
-year veteran. Given how thin they are at cornerback, it would make sense for the Steelers to bring Taylor back for one more season, assuming the two sides can reach common ground on a number that works for both of them.
The Steelers could also restructure the contracts of a couple of players by converting base salary into signing bonus money that can be spread out as far as cap hits over the length of the contract. Re-signing players going into the final year of their contract is another way to clear more cap room this year.
Tight end Heath Miller, whose cap number is $9.47 million in 2014, is a prime candidate for a long-term deal.
Whatever combination the Steelers employ to clear cap room, look for them to start making moves this week.
Here a few morning links:
Jason Worilds tops the list of the 21 Steelers players who can become free agents on March 11. If the Steelers don't re-sign the outside linebacker prior to the start of free agency, it may be difficult to keep him in Pittsburgh. The reason: Worilds, who turned 26 today, will be one of the top pass-rushers on the open market.
Wide receiver Plaxico Burress is eyeing a return to the playing field after missing last season with a torn rotator cuff. Burress, who will be a free agent on March 11, doesn't appear to be in the Steelers' plans but he doesn't want an injury to bring an end to his career.
Alabama's C.J. Mosley didn't generate much buzz at the NFL scouting combine as he only participated in a handful of the physical tests and did not run the 40-yard dash. He is still expected to be a first-round pick – and a player who could interest the Steelers – and Mosley received a strong endorsement from Crimson Tide coach Nick Saban.
January, 22, 2014
1/22/14
4:00
PM ET
PITTSBURGH -- This is the third in a series in which I will examine every position relative to the 2013 season -- and take a look ahead.
WIDE RECEIVERS
2014 free agents
:
Emmanuel Sanders
,
Jerricho Cotchery
and
Plaxico Burress
.
Brown
The good
:
Antonio Brown
answered any questions about whether the Steelers had a No. 1 wide receiver after
Mike Wallace
left for Miami with an exclamation point. Brown put together the greatest season by a Steelers receiver by catching 110 passes for 1,499 yards and eight touchdowns. The Steelers don't have to worry about Brown getting complacent as he is a tireless worker who hasn't forgotten that 194 players were taken ahead of him in the 2010 NFL draft. Cotchery made the most of his first extensive playing time with the Steelers, catching a career-high 10 touchdown passes and showing that he can still play 10 seasons into his NFL career.
The bad
: Sanders put up decent numbers in his first season as a starter but he was also inconsistent. The Steelers need more reliability out of their No. 2 wide receiver since teams will have a whole offseason to game plan for Brown. The Steelers got almost nothing out of rookie
Markus Wheaton
as a finger injury stunted the third-round draft pick's development.
Derek Moye
has intriguing size but he hasn't shown enough for the Steelers to count on him emerging as the tall wide receiver that the offense is missing.
The money
(2014 salary-cap numbers): The Steelers only have serious money tied up in Brown, whose cap hit will be $8.47 million. One of the biggest questions of the offseason is what they are willing to pay Sanders to bring back the fourth-year veteran in 2014. The Steelers matched the one-year, $2.5 million contract that the Patriots signed Sanders to last year as a restricted free agent. They are likely to let the market set Sanders' price before deciding if they want to make a serious run at re-signing him. Cotchery, who made $1.5 million in 2013, has said he wants to stay in Pittsburgh and his price shouldn't be too prohibitive for the Steelers to bring him back.
Draft priority:
Moderate to high depending on what happens with Sanders. If he leaves the Steelers could take a wide receiver with one of their top picks and possibly their first-round selection. This appears to be a deep draft for wide receiver and the Steelers may be tempted to take a tall one with the 15
th
overall pick.Texas A&M's
Mike Evans
and Florida State's
Kelvin Benjamin
are among the wide receivers who fit that profile and are projected first-round picks.
January, 3, 2014
1/03/14
8:00
AM ET
PITTSBURGH -- A number of underclassmen who figure to be high picks have declared for the 2014 NFL draft, and one in particular should intrigue the
Pittsburgh Steelers
.
Allen Robinson
needed just two seasons to rewrite the receiving part of Penn State's record books, and there is a lot to like about him for a team that might make wide receiver a priority in the draft.
Robinson has been incredibly productive -- he caught 97 passes for 1,432 yards in 2013 despite playing with a true freshman at quarterback and regularly facing double coverage -- and has good size and ball skills. The 6-foot-3, 210-pounder is also athletic enough that he could have played basketball at a Division I school had he taken that route.
[+] Enlarge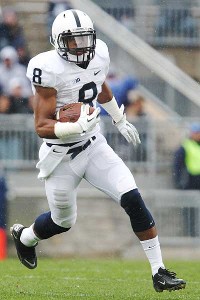 Matthew O'Haren/USA TODAY SportsPenn State's Allen Robinson had 97 catches for 1,432 yards in 2013.
What should really put Robinson on the Steelers' radar: he could be available when they make their second-round pick.
He has been projected to go anywhere from the first to the third round, and my guess is that Robinson is selected in the second round as I think questions could be raised about his speed -- or at least enough of them to drop him into the second round.
I think the only way the Steelers go offense with the 15
th
overall pick of the draft is if there is a left tackle prospect they feel they cannot afford to pass on, or if there is a transcendent wide receiver that gives quarterback
Ben Roethlisberger
the big downfield target he has long coveted.
Other than that, I think the Steelers take a playmaker on defense, whether it is for the back end of their secondary, their linebacking corps, or a nose tackle who fits the prototype more than incumbent
Steve McLendon
does.
Assuming they don't take a wide receiver in the first round for the first time since Plaxico Burress in 2000, the Steelers could seriously be in play for one in the second round.
Emmanuel Sanders
is, at best, 50-50 to return next season , and if he signs elsewhere the Steelers should bring in a taller wide receiver or give 6-foot-5, 210-pound
Derek Moye
a serious look there.
There is a lot to like about Robinson, who is already polished as a receiver, but doesn't turn 21 until next August and still has plenty of upside.
General manager Kevin Colbert said the Steelers do extra homework on NFL prospects in their backyard, so they don't miss on a player who is right in front of them. You can bet Colbert and the Steelers coaches and scouts will take plenty of interest in Robinson, as they should.