Pittsburgh Steelers:

Randy Fichtner
December, 19, 2013
12/19/13
12:00
PM ET
PITTSBURGH -- A significant number of
Pittsburgh Steelers
fans were ready to run Todd Haley out of Pittsburgh a couple of months ago, blaming him for the slow start of an offense that essentially opened the season with one arm tied behind its back.
Now, I don't see how the Steelers can't bring their offensive coordinator back for a third season in 2014.
The offense has steadily improved in 2013, and it has become the biggest reason for optimism that the Steelers can rebound from their first back-to-back non-winning seasons since the late 1990s.
Consider former NFL scout Matt Williamson's take on the job Haley has done this season.
"I think the best I've seen
Ben Roethlisberger
play is with Todd Haley as his offensive coordinator," said Williamson, an ESPN NFL analyst. "I think he's really gotten the most out of Ben Roethlisberger."
Even most ardent Haley critics might be hard-pressed to dispute that.
Roethlisberger has already established a new Steelers' season record for completions (340), and the 10th-year veteran is on pace for 4,474 passing yards, which would eclipse the franchise record he set in 2009 for passing yards in a season.
Roethlisberger has never looked more in command, especially when running the Steelers' no-huddle offense.
Continuity lends itself to that attack running smoothly and the Steelers only have two significant skill players who will be unrestricted free agents after this season, wide receivers
Emmanuel Sanders
and
Jerricho Cotchery
.
An offense that isn't expected to experience much turnover in the offseason, especially relative to the defense, shouldn't undergo a lot of coaching changes if it wants to build on this season.
And that starts with Haley.
Roethlisberger himself has said how excited he is over the direction of the offense, something he reiterated on Wednesday.
"I think production has gone up and I think that the mistakes have really come down," Roethlisberger said. "I think guys enjoy doing it. I'm sure if you ask the receivers they say they like it. Le'Veon [Bell] likes it, mixing in the run and the pass so it's not just pass-heavy.
"I think just being able to take what Coach gives helps me with and what we, whether it's [quarterbacks] coach Randy [Fichtner] and coach Todd [Haley], the other quarterbacks, we put so much work in. I know I get a lot of credit, but it's all of us really. This is a lot about communication."
November, 18, 2013
11/18/13
5:00
PM ET
PITTSBURGH --
Ben Roethlisberger
has repeatedly -- and vehemently -- said he no desire for the Steelers to trade him.
It sounds like Steelers wide receiver
Jerricho Cotchery
wouldn't trade Roethlisberger for any other quarterback in the NFL.
"I came here to play with him," said Cotchery, who signed with the Steelers as an unrestricted free agent in 2011. "He's a top-flight quarterback and people are going to have to respect it sooner or later.
"He doesn't get all the attention the other guys get but the amount of passing yards, the amount of touchdowns he's put up over the years in cold-weather city it speaks volumes about what type of quarterback he is. It's just blast to be able to play with him."
His teammates couldn't say enough about Roethlisberger after he threw for 367 yards and four touchdowns in the Steelers' 37-27 win over the Lions. Just as key as his timely passing was the way Roethlisberger and offensive coordinator Todd Haley collaborated before and during the game.
Roethlisberger called the majority of the plays while running the no-huddle offense, but he also gave plenty of credit to his supporting cast afterward.
"On the sidelines I'm talking to all of the receivers, running backs, tight ends, coach Haley (quarterbacks) coach (Randy) Fichtner, all of the coaches," Roethlisberger said. "We are trying to brainstorm so they can prepare me when I'm on the field to call the best play possible."
The veteran quarterback called the right one more often than not.
"He put us in good situations," tight end
Heath Miller
said. "He had a good feel for what they were trying to do. He called most of the game."
Roethlisberger also dominated it.
And his play dominated talk in the locker room after the Steelers improved to 4-6.
"Seven is seven," wide receiver
Antonio Brown
said. "He's always amazing. He's always rallying the troops, no matter if we're down or we're up. He's always positive."
November, 12, 2013
11/12/13
12:06
PM ET
PITTSBURGH -- Incredulous and angry,
Ben Roethlisberger
again assailed an NFL Network report that he may ask the
Pittsburgh Steelers
to explore trading him after the season because of his frustration over the direction of the franchise.
"It's stinkin upsetting. It fires me up because it's like where do you make this stuff up. It's unbelievable," Roehtlisberger said Tuesday on 93.7 The Fan during his weekly radio show. "I love putting that jersey on every week and it's the only one I could ever see myself in. That helmet, there's something special about that logo and putting those colors on.
Roethlisberger
"I've said from day one I want to play for one organization and there's not one organization in the world that I would rather play for than this one. I look at the Rooneys like they're family. We have never asked, are not going to ask (for a trade). This is home and this is family and that's why I'm so upset this even got brought to my attention at the end of the (Bills) game."
The Steelers and Roethlisberger's agent, Ryan Tollner, issued denials of the report before and during Pittsburgh's
23-10 win
against the Bills. NFL Network insider Ian Rapoport stood by his report on two Pittsburgh radio stations, including The Fan, on Monday.
Roethlisberger didn't just take issue with the report that he may want out of Pittsburgh. He also refuted the part of the report that contends he is unhappy with the Steelers' offensive coaches -- and not just coordinator Todd Haley.
Roethlisberger said when quarterback coach Randy Fichtner has been mentioned in the past as a candidate for college coaching jobs that he all but begged Fichtner to stay with the Steelers.
"Randy's a great guy," Roethlisberger said. "I would never want another quarterback coach. I enjoy our coaches."
That, said Roethlisberger, includes Haley, the oft-criticized coordinator whose relationship with Roethlisberger has been a source of fan intrigue since he joined the Steelers in February 2012.
"Our relationship has grown so much and I'm not just saying that to appease the media and the fans," Roethlisberger said. "It's becoming a really good relationship and I'm enjoying how it's growing every week and I'm looking forward to it continuing to grow. I feel like I'm getting better and we're getting better."
Roethlisberger said he is frustrated that the 3-6 Steelers haven't won more this season, but added he is fully vested in turning the team into a perennial Super Bowl contender again.
"I hate when people say you're rebuilding because to me that's a slap in the face to the people that are out there playing," Roethlisberger said. "No one wants to win more than I do, I promise you that, at everything. That's who I am. It pains me to lose at anything. That's why I'm going to do everything I can to turn it around and win football games. Just because we lose football games I'm not going to jump ship and quit."
October, 22, 2013
10/22/13
5:00
PM ET
PITTSBURGH -- Mike Tomlin remains open -- at least publicly -- to keeping the Wildcat in the
Pittsburgh Steelers
' offensive repertoire.
But
Ben Roethlisberger
sounds like he wouldn't mind if the Steelers shelved the gimmick out of which they ran four plays in their 19-16 win against the
Baltimore Ravens
.
[+] Enlarge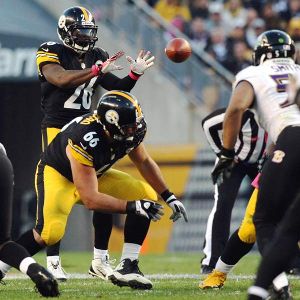 Jason Bridge/USA TODAY SportsSteelers RB Le'Veon Bell takes a direct snap against the Ravens during the second half at Heinz Field.
"I don't like to go over and just be split out wide and take a chance that a (defensive back) is going to come up," Roethlisberger told 93.7 The Fan Tuesday during his weekly radio show. "I don't think we'll see a lot of it."
Tomlin is keeping his options open with the Wildcat if only to keep the
Oakland Raiders
guessing. Another reason he isn't ready to ditch the attack: it is relatively easy to install during game preparations.
Tomlin said the three runs that
Le'Veon Bell
made after taking a direct snap from center and his hand-off to wideout
Antonio Brown
are in the Steelers' base offense.
"The play themselves aren't new. The window dressing is," Tomlin said. "It doesn't require a bunch of work from a practice standpoint in that regard. Some of the formations and pre-snap movements is walk-through, classroom-type work so it's not as intensive of an endeavor as it appears to be."
Roethlisberger, for his part, isn't just leery about getting leveled by an opposing defensive back when the Steelers are in the Wildcat. He also has concerns about Bell taking direct snaps even though the rookie running back handled all of his ball exchanges flawlessly against the Ravens.
"To take a shotgun snap, even as a quarterback, there's a chance of fumbles and things happening and we do it all the time," Roethlisberger said. "So I think your chances of something bad happening goes up when you do that Wildcat stuff because it's just unnatural, things that (running backs) are just not used to doing. It makes you nervous but it did good things for us."
Roethlisberger is considerably more excited about the shovel pass, which the Steelers installed last week and resulted in their only touchdown against the Ravens.
How that play evolved showed how much more in sync Roethlisberger and offensive coordinator Todd Haley are in their second season together.
Roethlisberger said he suggested to quarterbacks coach Randy Fichtner last Wednesday that the Steelers bring back the shovel pass, which had also been retired after
Hines Ward
called it a career.
Fichtner told him it was already in the game plan, and Roethlisberger suggested the Steelers make tight end
Heath Miller
the recipient of the pass instead of a wide receiver.
"It was kind of crazy that we were all on the same page and we just tweaked it and got Heath to do it," Roethlisberger said. "It worked out good because we can run some other plays off that formation."
The collaboration on the play, Roethlisberger said, is a marker of how far he and Haley have come in their oft-analyzed working relationship.
"What's different this year is the ability and willingness to be open to change. For all of us," Roethlisberger said. "If Randy or I go to Todd and say 'I think we should tweak this or change this' he's open to changing it, and same thing when he comes to me and say, 'Hey Ben on this play let's do it like this.'"