Pittsburgh Steelers:

Rex Ryan
November, 14, 2014
Nov 14
4:40
PM ET
PITTSBURGH -- A late-game leap over the line of scrimmage that
New York Jets
coach Rex Ryan called "bush league" left
Pittsburgh Steelers
free safety
Mike Mitchell
with a sore hip. Even Steelers coach Mike Tomlin called it "unprofessional" earlier this week.
But Mitchell's wallet did not take a hit because of the play.
The NFL did not fine Mitchell for diving over the line of scrimmage at the end of the Jets' 20-13 win as they were running out the clock.
The league did dock Jets outside linebacker Jason Babin $16,537 for a hit on Steelers quarterback Ben Roethlisberger that drew an unnecessary roughness penalty. Babin hit Roethlisberger below the waist early in the second quarter after officials had whistled a play dead because of a delay of game penalty.
Babin later said he kept playing because he didn't hear any whistles.
November, 12, 2014
Nov 12
6:50
PM ET
PITTSBURGH --
Pittsburgh Steelers
safety
Mike Mitchell
declined to comment on
New York Jets
coach Rex Ryan calling his late-game dive over the line of scrimmage last Sunday "bush league."
Mitchell
The sixth-year veteran angered Ryan and the Jets when he hurtled himself at quarterback
Michael Vick
with just over a minute to play in New York's 20-13 win. Vick took a knee with the Steelers out of timeouts and Mitchell landed awkwardly, leaving him with a sore hip.
His leap touched off pushing and shoving between the two teams and Ryan later condemned the play.
Steelers coach Mike Tomlin largely agreed with Ryan calling it "unprofessional" on Tuesday. Tomlin also said there may have been some miscommunication between the two and that Mitchell may have mistakenly thought the eighth-year coach gave the green light for Mitchell's leap.
When asked if he and Tomlin have worked through any communication issues that may have occurred at the end of the Jets game, Mitchell said, "We're always on the same page."
Mitchell otherwise declined to answer questions that weren't related to the Steelers' upcoming game against the Tennessee Titans.
The Titans are just 2-7 but they have beaten the Steelers in each of the past two seasons. The Steelers, meanwhile, are just 1-2 against teams that are currently five games under .500 or worse.
They are the only team in the NFL with more than one loss against a team that falls into that category.
"I feel like if you have a losing record I'm real nervous when we play you," Mitchell said. "We've never overlooked an opponent before but for whatever reason it's been tough for us this year, so we've got to find a way to beat the teams we're supposed to beat. This is going to be a tough game. It's on the road, hostile environment on 'Monday Night Football,' so it's going to be a good test for us."
November, 6, 2014
Nov 6
10:30
AM ET
PITTSBURGH --
New York Jets
coach Rex Ryan has more than film at his disposal to game plan against
Pittsburgh Steelers
wide receiver
Martavis Bryant
.
He may also call on his son to help him figure out how to stop the first player in NFL history to score five touchdowns in his first three games, according to Elias Sports Bureau.
Seth Ryan is a wide receiver at Clemson, and he and Bryant were teammates last season.
[+] Enlarge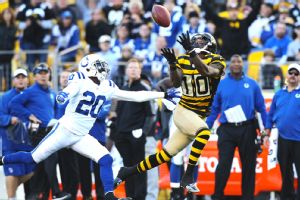 Jason Bridge/USA TODAY SportsMartavis Bryant has 10 catches for 167 yards and five touchdowns in the past three games.
"My son thought the world of him when he was there," said Ryan, whose team hosts the Steelers Sunday in a 1 p.m. ET game. "It's hard to cover 6-foot-4 and 210 running a 4.3 (seconds in 40-yard dash)."
The Steelers' last three opponents won't argue with Ryan.
Bryant has burst onto the scene after not dressing in the first six games of the season.
The rookie fourth-round pick has caught 10 passes for 167 yards, and Bryant's five touchdowns are more than any Steelers player not named
Antonio Brown
.
Bryant made a passing reference to Clemson as "Wide Receiver U" on Wednesday, and it is easy to see why he sees his alma mater that way given the prism through which he views the Tigers.
Two of Bryant's former teammates are among the top 15 in the NFL in receiving yards.
Second-year
Houston Texans
wide receiver
DeAndre Hopkins
, is 11th with 684 yards.
Sammy Watkins
, whom the
Buffalo Bills
traded up for to take No. 1 overall in the 2014 NFL draft, is 15th (590 yards) and is going to be a star. Watkins, who overshadowed Bryant at Clemson, also has five touchdowns.
He and Bryant are the first rookies who were college teammates to combine for at least 10 touchdowns through the first nine weeks of an NFL season, according to Elias.
The contributions of the young NFL wideouts who played for Clemson make it staggering to think of the talent Tigers coach Dabo Swinney had at the position over the previous two seasons.
Hopkins, Watkins and Bryant have combined for 90 catches for 1,441 receiving yards and 14 touchdowns through the first nine weeks of the season.
"Coach Swinney always said if you work hard in practice it's going to come out in a game," Bryant said. "We just took that and ran with it. You put your work in through the week and after that you go cut loose and have fun. Like (Steelers) coach (Mike Tomlin) says, 'Have fun.' "
Bryant is, and he is just getting started.
November, 5, 2014
Nov 5
3:30
PM ET
PITTSBURGH --
Ben Roethlisberger
's status as the hottest quarterback on the planet has also led to national recognition that he is an elite signal-caller – a due he hasn't always received even though he is one of only three active quarterbacks to win multiple Super Bowls.
As for Roethlisberger's reaction to his enhanced national profile after throwing for 862 yards and 12 touchdowns the last two weeks, well, there wasn't one when the Steelers quarterback was asked about it on Wednesday.
"It didn't matter to me when I wasn't. It doesn't matter to me that I am," Roethlisberger said of getting classified with elite quarterbacks such as
Peyton Manning
and
Tom Brady
. "I'm just trying to win football games and you guys know me well enough that wins and losses mean more to me than any individual stats."
The statistics Roethlisberger has put up the last two weeks have been staggering. But he insists he won't reflect on this current stretch until after the season.
"When I get asked about last week it's over, the week before that it's over," Roethlisberger said. "It's all about this week right now. We play against a good defense and a good team at their place and so we need to come out and play our best football."
The Steelers put their three-game winning streak on the line Sunday against the 1-8
New York Jets
.
The Jets' season has spiraled so far out of control after an opening-week win that New York coach Rex Ryan fell back on some gallows humor Wednesday during his conference call with the Pittsburgh media.
When asked what a victory over the Steelers would mean for the Jets, Ryan laughed and said, "I hope I get to find out."
The Steelers, meanwhile, are on high alert for a letdown at team headquarters.
Coach Mike Tomlin has emphasized the Jets' miserable turnover ratio – New York is minus-15 – to his players to make the point that the Jets are a good team if they can clean up that aspect of their game.
Roethlisberger said he has not talked to younger players about taking the Jets too lightly but made it clear they he should not have to do that.
"If you have to send that (message), they're not doing their own work," he said. "They've just got to follow the older guys on the practice field, watch how we get ready, prepare. I'm not going to miss a snap today in practice. That's the way it's got to be."
January, 28, 2014
Jan 28
10:00
AM ET
PITTSBURGH -- An ESPN NFL Nation survey identified Seattle's Pete Carroll as the coach whom players would most like to call their own.

Tomlin
That is not a surprise given Carroll's success in Seattle, his caffeinated and optimistic approach to coaching and his reputation as a players' coach.
What is also not surprising: that Steelers coach Mike Tomlin finished second in the polling of more than 320 players.
Tomlin collected 44 votes compared to 71 for Carroll, and he might have received more had some of the Steelers' players I polled not answered the question as the coach they would most like to play for aside from their own.
Tomlin collected five votes in the Steelers' locker room compared to four for Carroll and one for the Jets' Rex Ryan.
Tomlin's greatest strength is his ability to connect with his players and motivate them. He has done this while also maintaining a clear line between a coach and his players that is necessary for the kind of sustained success Tomlin has enjoyed, the last two seasons notwithstanding.
The seventh-year coach is cool, confident -- and, yes sometimes arrogant -- and if there is any doubt how much faith the Steelers' players have in him, witness the second half of last season.
The Steelers went 6-2 in their final eight games and came within a missed field goal by inches -- and a missed call -- of sneaking into the playoffs.
Tomlin never lost his players despite 0-4 and 2-6 starts, and there were multiple times that the season could have jumped the track but didn't.
To get an idea how his players feel about Tomlin, consider what
Jerricho Cotchery
said recently when talking about why he would love to stay in Pittsburgh (the veteran wide receiver can become an unrestricted free agent on March 11).
"He's just an unbelievable guy to be around and work for," Cotchery said of Tomlin. "He's a guy that you would love cutting his grass."
Tomlin should get that written in Cotchery's next contract if the latter re-signs with the Steelers.
And such effusive praise of Tomlin is pretty typical around the Steelers' locker room. It also comes from those who have played for him and are no longer on the Steelers
Tomlin can be as blunt as any coach behind closed doors but players appreciate that honesty. And I've never heard any player complain -- and we're taking off the record here -- about not knowing where they stand with him.
My guess is that Tomlin will stay in Pittsburgh as long as he wants, and that will be until he no longer wants to coach.
Here is a breakdown of the voting after the top two spots: The Broncos' John Fox (26) and the Patriots' Bill Belichick and Ryan (23) rounded out the top five. Other top vote getters included the Chiefs' Andy Reid (22), the Saints' Sean Payton (21) and the brothers Harbaugh.
The 49ers' Jim Habaugh received 16 votes and the Raves' John Harbaugh got 10 votes.
December, 29, 2013
12/29/13
8:00
AM ET
PITTSBURGH -- If the Steelers win Sunday at Heinz Field, they will finish 8-8 and also end the season with eight wins in their final 12 games after the franchise's worst start since 1968.
Whether a 10
th
consecutive win over the Browns in Pittsburgh is enough for the Steelers to extend their season will depend on three other teams. The Steelers also need the Jets, Bengals and Chiefs to win to emerge from a logjam and secure the No. 6 seed in the AFC playoffs.
Despite the Steelers needing outside help, right guard
David DeCastro
insists their focus won't stray from beating the Browns.
"I think we're all professionals," DeCastro said. "We want to win and go out there and beat the guy ahead of you. It's as simple as that."
If only the same could be true of the Steelers' precarious playoff situation.
Here is a look at the three other games will impact their chances of sneaking into the playoffs:
Jets vs. Dolphins, 1 p.m. ET at Sun Life Stadium
Last time they played:
Miami beat New York, 23-3, on Dec. 1.
What's to like:
The Jets would love to knock the Dolphins out of playoff contention and they may be playing for coach Rex Ryan's job. Ryan appears to have the support of his players and they figure to at least
give their best effort
. Their defense is legit and the Dolphins managed just 103 total yards in a 19-0 loss at Buffalo last Sunday.
What's not to like:
The Jets are just 1-6 on the road this season and they have been beaten by an average of 19.5 points in those six losses. The Jets – and the Steelers – will depend on rookie quarterback
Geno Smith
, who has been all over the map this season. Smith completed just 4 of 10 passes for 29 yards and was intercepted before getting benched the first time he played against the Dolphins. Yikes.
Ravens vs. Bengals, 1 p.m. ET at Paul Brown Stadium
Last time they played:
Baltimore beat Cincinnati, 20-17 in overtime, on Nov. 10.
What's to like:
The Bengals have an outside shot of securing the No. 2 seed in the AFC playoffs – and the all-important bye that come with it – and they need a victory to assure themselves of the No. 3 seed. There shouldn't be any worries from the Steelers' end about the Bengals playing to win, and coach Marvin Lewis' team is almost a touchdown favorite at home.
What's not to like:
Andy Dalton
threw three interceptions last month in Baltimore and he is always a bit of a wild card. The Bengals needed a Hail Mary touchdown pass from Dalton to
A.J. Green
the last time the AFC North rivals played just to send the game into overtime. The Ravens should be sky high for this game as they want to at least get a chance to defend their Super Bowl title, and
history says they will play considerably better
after getting shellacked by the Patriots last Sunday.
Chiefs vs. Chargers, 4:25 p.m. ET at Qualcomm Stadium
The last time they played:
San Diego beat Kansas City, 41-38, on Nov. 24.
What's to like:
The best thing for the Steelers, if this AFC West game means something to them, is that everything broke their way earlier in the day. The Steelers would love nothing more than to still be alive for the playoffs after the 1 p.m. ET games – even if that means depending on team that is locked into its playoff seed and
won't play key starters
the entire game.
What's not to like:
Where to start?
Philip Rivers
torched the Chiefs for 392 passing yards and three touchdowns last month -- and that was when he played against Kansas City's first-team defense. Chiefs No. 2 quarterback
Chase Daniel
could get significant playing time, and he has thrown all of 17 passes in his NFL career. The Chargers will have everything to play for if the Dolphins and Ravens lose in the early games.
October, 9, 2013
10/09/13
8:00
AM ET
PITTSBURGH -- The Steelers' offense appears to be heading in the right direction. The return of tight end Heath Miller and addition of running back Le'Veon Bell has totally changed the dynamic of a unit that had been woeful in the Steelers' first two games.
Now the
defense has to step up
if the Steelers are to get their season untracked. The Steelers traditionally torment rookie quarterbacks such as the one they will face Sunday when they visit the Jets.
But Geno Smith shouldn't be lacking for confidence when he faces the Steelers, and not just because the former West Virginia star threw three touchdown passes and led a game-winning drive that stunned the Atlanta Falcons on Monday night.
The Steelers have not put enough pressure on the quarterback this season, making it debatable how uncomfortable they will make things for Smith at MetLife Stadium.
Defensive end Cameron Heyward has replaced Ziggy Hood in the starting lineup, and he is second on the team in quarterback hurries with nine. Hood
joins left tackle Mike Adams
as the two players who have been demoted following the Steelers' first 0-4 start since 1968. Will more
players be on the hot seat
if the Steelers continue their losing ways?
Their 1 p.m. game against the Jets looked like one of their easier road contests before the start of the season.
But the Jets are 3-2 and have emerged as one of the NFL's early surprises. Coach Rex Ryan appeared to be on his way out of New York after a disastrous 2012, but
he has the Jets playing well
despite starting a rookie quarterback who is surrounded by no-name skill players.
At least one NFL analyst has Ryan and the
Jets beating the Steelers
and moving to 4-2.