Pittsburgh Steelers:

Rob Gronkowski
April, 8, 2014
Apr 8
4:30
PM ET
I wrote an earlier post that included ESPN NFL analyst Matt Williamson's take on what defines a No. 1 pass catcher as part of a larger argument for the Steelers
drafting a tall receiver
.
What is interesting to note is that tight ends
Jimmy Graham
and
Rob Gronkowski
are among the players Williamson thinks are bona fide No. 1 receivers.
Williamson followed that piece with one on potential No. 1 receivers, a mix that includes wide receivers and tight ends and players who are already in the NFL as well as ones who will be drafted next month.
Seventh on his list is
North Carolina tight end Eric Ebron

.
The 6-4, 250-pound Ebron would qualify as a tall receiver and his production and athleticism in college -- he caught 62 passes for 973 yards and three touchdowns last season -- make him the No. 1 tight end in the draft
Here is what Williamson wrote about Ebron:
While Ebron lacks the height and bulk of Graham or Rob Gronkowski, he might possess better pure speed. This guy can truly stretch the field like few NFL tight ends. Ebron is fluid and smooth, but he also has an instant acceleration burst. He is versatile in terms of his alignment on the field and should be an instant-impact tight end, as he is noticeably above average in all receiving categories for an incoming prospect.
ESPN NFL draft analyst Mel Kiper Jr. has projected Ebron going between picks 12 and 18 next month, which would put him in the range of where the Steelers are drafting. What makes Ebron intriguing for the Steelers is he could help right away given the increasing frequency with which teams use two-tight end sets and also give them Heath Miller's eventual replacement.
Former Buccaneers general manager Mark Dominik wrote that tight end is a hidden need for the Steelers, which is why he thinks
Ebron could be an option

for them.
Here is what Dominik, an ESPN Front Office Insider, wrote:
Heath Miller is still a very talented player, and he is a great fit in the Steelers' offense. However, he will turn 32 this season, and the team needs to find a big-bodied tight end via the draft so Ben Roethlisberger can begin building trust in him. They'll need a young tight end to take over as their primary target at the position in the near future. North Carolina's Eric Ebron, the consensus top tight end in this year's draft, could be in play for the Steelers at No. 15 overall if he's still on the board.
Also of note from Williamson's story on future No. 1 receivers is he has LSU wide receiver Odell Beckham Jr. fifth on his list -- three spots ahead of Texas A&M's Mike Evans.
The 5-11, 198-pound Beckham doesn't have great size but he makes up for it in other areas, writes Williamson:
He gets separation with the more technical intermediate routes, as well as just using his pure ability to run past defensive backs. Beckham is also a good return man and excels with the ball in his hands. I think I'm actually higher on Beckham than most others, but expect him to make an instant impact in the NFL. I could see Beckham landing in Pittsburgh, Kansas City or Carolina in Round 1.
Kiper has the Steelers taking Beckham No. 15 overall in the Grade A Mock Draft he released last week. The mock draft is one in which Kiper's picks are based on what he thinks teams should do in the first three rounds of the draft.
November, 3, 2013
11/03/13
10:33
PM ET
FOXBOROUGH -- The
Pittsburgh Steelers
' defense couldn't stop the run, couldn't stop the pass and made
Tom Brady
look like the old Tom Brady who will be a first-ballot Hall of Famer -- not the recent version who struggled at times this season because of how much turnover his support cast endured.
One of the top pass defenses statistically heading into the game allowed three --
three!!!
-- 100-yard receivers, and it couldn't have covered Patriots tight end
Rob Gronkowski
even if he had been wearing cinder blocks under his jersey instead of shoulder pads.
[+] Enlarge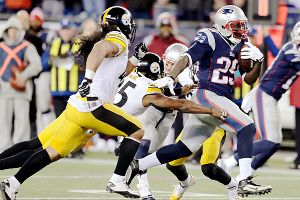 AP Photo/Charles KrupaThe Steelers defense gave up 610 yards to the LeGarrette Blount and the Patriots.
If all of that wasn't bad enough, a veteran defense couldn't even keep its assignments straight, which is why free safety
Ryan Clark
took the blame for the unit's epic collapse in a 55-31 loss to the Patriots at Gillette Stadium.
"I was trying to do too much," said Clark, one of the team's captains who positions players from the back end of the defense. "I'm the hub of communication. I need to make sure everybody's on the same page, everyone knows the calls."
When a defense that is old and slow starts blowing assignments then the kind of disaster that leveled the Steelers in the second half takes place.
The defense was so helpless against Brady -- he more than tripled the 118 yards he threw in the previous week's win over Miami -- that it was hard to remember the unit had actually gotten the team back into the game in the second half.
Strong safety
Troy Polamalu
forced a fumble that outside linebacker
LaMarr Woodley
recovered deep in New England territory on the first possession of the second half.
Ben Roethlisberger
and the Steelers offense turned the takeaway into a touchdown that cut the Patriots' lead to 24-17. The defense forced a three-and-out and
Antonio Brown
returned the ensuing punt 24 yards.
Roethlisberger again took advantage of the short field, and he continued to go after the Patriots' cornerbacks who were picked on almost as much as their counterparts on the Steelers.
An 8-yard touchdown pass to
Jerricho Cotchery
tied the game midway through the third quarter.
That is when Brady really went to work and
when the Steelers' defense really, really got worked.
The Patriots scored the final five times they had the ball. Their four fourth-quarter possessions all ended in the end zone.
That kind of stuff doesn't happen to the Steelers, even if the defense is old and in desperate need of an offseason overhaul.
"Probably as disappointed as I have been," Coach Mike Tomlin said after the Steelers fell to 2-6, "especially under the circumstances of how we were able to fight back there at the beginning of the second half. I am angry. We are capable and better than that. We've got to be better than that. We weren't so we are going to fix it."
The Steelers have plenty to fix.
The Patriots' 55 points were the fifth-highest in franchise history. And they have only gained more than the 610 yards they piled up against the Steelers just two other times.
The secondary isn't all that let down the Steelers. They surrendered almost 200 yards on the ground, and Brady had way too much time to throw.
That is on the front seven.
"They were able to run it when they wanted to run it, which is an 11-man job," Clark said, "and they were also able to pass it when they wanted to pass it, which is an 11-man job so defensively we didn't show from the first snap to the last. We were beat by a much better team."
They are also in need of some serious soul-searching after arriving at the midway point of the season an utter mess.
"Frustrating, embarrassing, it's all that," Polamalu said of the loss.
Emmanuel Sanders
agreed though he refused to point a finger at the reeling Steelers' defense.
"Tonight's game was embarrassing and that's obvious and that's not the Steelers' way," the fourth-year wide receiver said. "I've been around here for four years and we've never gotten our butts whupped like that. A lot of guys' pride is hurting, including myself."
November, 3, 2013
11/03/13
7:54
PM ET
FOXBOROUGH, Mass. -- A few observations from the
Pittsburgh Steelers
'
55-31 loss
to the
New England Patriots
.

What it means:
There shouldn't be any playoff talk around the Steelers' locker room after the team lost six of its first eight games for just the fourth time since 1970. This team would have to win seven of its final eight games to have any chance of making the playoffs, and the Steelers haven't shown that they can string more than two wins together at a time. Focus now will turn to bigger-picture issues such as what younger players the Steelers should play over veterans in the second half of the season and who will take the fall for what is sure to be Mike Tomlin's first losing season in Pittsburgh.
Stock watch:
A complete and utter collapse by the defense has left that proud unit in tatters. The Steelers allowed
Tom Brady
to throw for 400 or more yards for the fifth time in his career and also yielded 100-yard games to three Patriots receivers, including rookie
Aaron Dobson
. New England was also quite effective running the ball, as evidenced by the 610 yards of offense it rolled up against a defense that had allowed the fewest total yards in each of the past two seasons. The Steelers have scoffed for several years now at the perception that their defense has gotten old. Brady, who threw for 116 yards last Sunday, made the Steelers' defense look ancient.
Gronk effect:
The Steelers had done a good job of holding opposing tight ends in check save for a 61-yard reception allowed to the Bengals'
Tyler Eifert
in the second game of the season. That changed Sunday, when
Rob Gronkowski
announced that he is back from forearm and back injuries in a big way. He and Brady exploited the Steelers' lack of speed at the back of their defense as the two hooked up seven times for 119 yards and a touchdown in the first half alone. Gronkowski, who graduated from Woodland Hills High School in Pittsburgh, finished with a career-high nine receptions for 143 yards and a touchdown. He also drew a pass-interference penalty in the end zone late in the first half that set up a Patriots touchdown. Gronkowski has four touchdowns in three games against the Steelers.
Next up:
The Steelers return home next Sunday to play the 3-6 Bills. It will be interesting to see the reception the Steelers get from their fans -- and how many empty seats there will be at Heinz Field. The last time fans saw the Steelers in person the team had just beaten the Ravens on a field goal as time expired to breathe new life into their season. Now the Steelers have little hope of turning their season around after deflating losses at Oakland and New England. The boo birds could be out in full force as the unthinkable in Pittsburgh has happened: the Pirates played meaningful games in October, while the Steelers won't play any meaningful games after October.
November, 1, 2013
11/01/13
1:25
PM ET
PITTSBURGH -- He gave answers that were a mixture of bland and cliché.
And he did so with such consistency that you imagined Bill Belichick standing over
Rob Gronkowski
with his arms folded as the
New England Patriots
tight end conducted a conference call with Pittsburgh reporters this week.
Gronkowski
Polamalu
One thing did stand out – aside from the utter banality of the interview – and that was how effusive Gronkowski was in his praise of
Pittsburgh Steelers
strong safety
Troy Polamalu
.
"He's one of the best players I've played against," Gronkowski said. "It's just unbelievable how quick he can hit that gap, how quick he can hit that hole. Coverage-wise to blitzing to tackling, he's a great player overall."
Polamalu's play has been one of the few bright spots for a team that has lost five of its first seven games. And the Steelers will need Polamalu to be his usual disruptive self, and help contain Gronkowski on Sunday when they visit the Patriots at Gillette Stadium.
Gronkowski poses all kind of matchup problems because of his size, speed and soft hands.
"And the fact that he has a quarterback that can put the ball anywhere," Polamalu said. "Of course he catches anything near him as well."
Tom Brady
has thrown Gronkowski's way early and often since the 6-6, 265-pounder returned to action after missing the Patriots' first six games because of back and forearm injuries.
Gronkowski has been targeted 23 times in two games, and he has caught 10 passes for 141 yards.
"You don't have to be a genius to see that (Brady) likes that guy," Steelers defensive coordinator Dick LeBeau. "He's a great catcher, and has a size advantage on everybody. They've been better since he has been back. We have to keep him from controlling the game."
Gronkowski said the Patriots have to do the same with Polamalu, who made his 31
st
career interception last Sunday.
"You see him make some crazy plays," Gronkowski said. "He just has a knack for the game. He's been around it for so long. I think he knows what's going to go on and where the play is going to go sometimes."