Pittsburgh Steelers:

Ryan Tannehill
December, 6, 2013
12/06/13
12:00
PM ET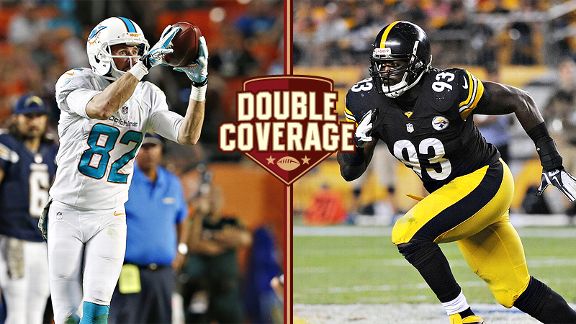 Getty ImagesBrian Hartline, left, and Miami face Jason Worilds and Pittsburgh in a game with playoff implications.
The postseason has started early for several teams around the NFL. The
Miami Dolphins
(6-6) and
Pittsburgh Steelers
(5-7) are two of those clubs, and they will meet Sunday at Heinz Field in what could amount to a playoff eliminator.
Miami and Pittsburgh are fighting for the final wild-card spot in the AFC, which is currently held by the
Baltimore Ravens
(6-6). The winner of Sunday's game will remain firmly in the playoff hunt, while the loser falls behind the pack.
ESPN.com's Dolphins reporter James Walker and Steelers reporter Scott Brown weigh in on who will prevail in this important game.
Walker:
Scott, I think much of this game will be determined by the matchup between Miami's ninth-ranked pass defense against Pittsburgh's eight-ranked passing offense. This is a strength vs. strength clash. The Dolphins are very wary of Pittsburgh quarterback
Ben Roethlisberger
. Miami defensive coordinator Kevin Coyle knows Roethlisberger well from his days with the
Cincinnati Bengals
and has a healthy respect for "Big Ben." He's unlike any quarterback Miami has faced this season because of his ability to extend plays to throw deep, not necessarily to run for extra yards. There is a lot of pressure on Miami's cornerbacks and safeties to maintain their coverage longer than usual to prevent big gains on broken plays.
Speaking of which, Steelers receiver
Antonio Brown
is Pittsburgh's best playmaker, and leads the NFL in receptions. What makes him so dangerous?
Brown:
It's funny that Brown still doesn't get his due as a No. 1 wide receiver, even from some media types in Pittsburgh, despite the phenomenal numbers he has put up this season. Brown might not have the size associated with No. 1 receivers, and he does not have blazing speed, but he has excellent quickness, is a superb route runner, and Roethlisberger has said he's never seen a receiver who is able to adjust to a ball while it's in the air the way Brown regularly does. Above all, Brown works at it. I mean really works at it. He is maniacal about training, and it's not uncommon for Brown to hit the gym for a workout after spending all day at Steelers' headquarters.
James, you have been immersed in one the biggest stories of the season, and I'm sure Steelers' fans would appreciate your take on how the Dolphins have dealt with the turmoil and distractions caused by the
Jonathan Martin
bullying allegations. Have the Dolphins settled into any semblance of normalcy, or is their a new normal in Miami?
Walker:
Things have been as close to normal this week as it's been since Martin left the team Oct. 28. There was a huge dark cloud hanging over the Dolphins, and things intensified and became very uptight the week NFL lead investigator Ted Wells visited the team. I expect things to be relatively calm for a couple more weeks until Wells completes the report and releases his findings. After that, all bets are off. There will be no winners in this complex situation. I don't expect
Richie Incognito
or Martin to return to Miami. So the Dolphins have already taken a hit. More heads could roll if others are found culpable.
Scott, one Dolphin who is excited about this matchup is former Steelers receiver
Mike Wallace
. What type of reception do you think he will receive, and how will Pittsburgh's secondary defend Wallace?
Brown:
I think Wallace will hear his share of boos. I think he is perceived, fair or not, by a lot of Steelers fans as selfish and a player who did not produce enough last season or help the team chemistry because of his contract situation. I'm real interested to see how the Steelers try to defend Wallace. His speed is going to be a problem for a defensive backfield that has lost a collective step given the age of its starting safeties, not to mention top cornerback
Ike Taylor
.
Taylor usually draws the assignment of shadowing the opposing team's No. 1 wide receiver, but I'm not sure the Steelers will do that with Wallace, since coach Mike Tomlin has a lot of respect for
Brian Hartline
as well. Whoever draws Wallace will get help from a safety, but he could have a big game at Heinz Field. The Steelers have given up seven passing plays of at least 50 yards this season, and I'm sure Wallace would love nothing more than to add to his former team's total.
James, what are the early reviews on Wallace? It doesn't seem like the Dolphins are getting the return from the investment they made in him, though I know it's early.
Walker:
It's still a work in progress, Scott. Wallace hasn't put up the production many in Miami expected, but there is plenty of blame to go around. Starting with Wallace, the drops are on him. Wallace had too many drops early in the season, although he's gotten better in the second half of the year. But other factors such as scheme and quarterback
Ryan Tannehill
's inability to throw a consistent deep ball has made it tough for Wallace to make the same plays he made in Pittsburgh. Tannehill doesn't have Roethlisberger's arm strength or ability to extend plays. Wallace thrived off broken plays that Roethlisberger created. Tannehill doesn't have near the same elusiveness and ability to out-throw the coverage. Wallace is getting open, but many of Tannehill's deep balls have been underthrown, which allows defenders to recover. There are some things involved that Wallace cannot control. But he does have momentum coming into this game. Wallace has totaled 12 catches for 209 yards and two touchdowns in his past two games. I expect him to be amped for Sunday.
Finally, Scott, what do you think of Pittsburgh's playoff chances, and how it relates to this game?
Brown:
In spite of the latest wave of injuries to hit the offensive line, I actually think the Steelers have a chance to win their final four games and make the playoffs -- if they get the help they are going to need with the Ravens. My outlook probably changes if
Aaron Rodgers
is playing quarterback in the Steelers' Dec. 22 game at Green Bay. But if the Packers drop out of playoff contention, does Rodgers play against the Steelers? That is a big if as of right now.
Green Bay is the only remaining road game for the Steelers, so the schedule sets up favorably, especially given Rodgers' uncertain status. Roethlisberger is really locked in right now, and I think he is capable of carrying the Steelers and masking a lot of problems assuming an offensive line that is held together by duct tape can do a reasonable job of protecting him.
.
December, 6, 2013
12/06/13
8:00
AM ET
A hodgepodge of topics from this week at the Steelers:
Bracing for Wallace:
Teams have been throwing deep on the Steelers, who have given up 11 passing plays that have covered at least 40 yards. You can bet the Dolphins will take a couple of shots on Sunday with
Mike Wallace
, one of the fastest players in the NFL. Wallace has not gotten behind opposing defensive backs with as much regularity this season as he has just nine catches of 20 yards or longer -- the same number as Steelers' No. 3 wide receiver
Jerricho Cotchery
. The Steelers, however, are a favorable matchup for Wallace given how they have struggled with the speed of
Calvin Johnson
,
Josh Gordon
and
Torrey Smith
the past three weeks. When asked if teams are challenging the Steelers with the deep ball more, defensive coordinator Dick LeBeau said, "I would say that they're not really throwing it deeper any more than they ever have. It just appears to me that they're catching it a little more often than they did. We've got to cut that out. The games that we've been successful defensively are the games that we have done that."

Keeping the faith:
Dropped passes were an issue for
Emmanuel Sanders
in the Steelers' 22-20 loss to the Ravens but
Ben Roethlisberger
doesn't sound like his confidence in the fourth-year veteran has wavered. "We cannot afford to have guys get down if they do have a drop because I have bad passes," Roethlisberger said. "Everyone makes mistakes. That's why we're human. I'm proud of the way those guys have played this year." The Steelers used their no-huddle offense to get back into the Ravens game in the second half, and they scored three touchdowns after intermission. Injuries along the offensive line has raised questions about how much the Steelers will be able to use the no-huddle offense against the Dolphins. But Roethlisberger said he doesn't think the injuries will force the Steelers to rein in the no-huddle offense on Sunday.
Biding his time:
Markus Wheaton
's potential has not translated into much production, and offensive coordinator Todd Haley said part of the reason for that is there aren't enough snaps to get the rookie wideout more involved in the passing game. Wheaton has caught just six passes for 64 yards. He missed four games following surgery to fix a broken right pinkie. "He was showing a lot of signs that he was going to help us," Haley said. "He had some setbacks. When they occurred the guys that played were playing at a high level. He's continued to work and get better. He knows when his opportunity comes he has to make plays."
Welcome back:
Sunday will be something of a homecoming for Joe Philbin. The Dolphins coach played his college ball at Washington & Jefferson in suburban Pittsburgh, and he nearly became the head coach at his alma mater in the late 1990s. Philbin said he was about 12 hours from accepting the head coaching job at W&J when Iowa coach Kirk Ferentz offered him a job. Philbin went from Harvard to Iowa where he coached the offensive line and that move put him on a path toward the NFL. Philbin recalled how he gauged his wife's reaction to going to Iowa instead of W&J. "I asked her if she liked corn. She had certainly never been to Iowa," said Philbin, who spent four seasons at Iowa before moving onto the Packers. "It's funny how things work out."
Scouting Tannehill:
Second-year Dolphins quarterback
Ryan Tannehill
has thrown 17 touchdown passes but also 13 interceptions. Tannehill ranks 24th in the NFL in passer rating (83.2) though he is two sports ahead of Indianapolis'
Andrew Luck
, the first overall pick of the 2012 draft. "His mobility is surprising for me," Steelers coach Mike Tomlin said. "He's capable of creating when plays break down."
December, 3, 2013
12/03/13
9:15
AM ET
PITTSBURGH -- Are the
Pittsburgh Steelers
likely to win their final four games of the season to finish 9-7? No. Can it be done? Absolutely.
"We know our position," free safety
Ryan Clark
said. "We know where we stand but nothing matters if we don't win games."
The Steelers may not have a safety net under them as they try to walk a high wire for the rest of the season. But the remaining quarter of the schedule sets up favorably for them as the Steelers play three of their final four games at home.
And their lone remaining road contest is against the Packers, who may or may not have starting quarterback
Aaron Rodgers
for that Dec. 22 game.
Here is a look at the Steelers' final four opponents (all times are ET):

Dolphins, 1 p.m. Sunday at Heinz Field:
The turmoil created by allegations of bullying in the Dolphins' locker room has not sunk Miami's season -- yet. The Dolphins are 6-6 despite all of the distractions swirling around the embattled franchise, and they will try to win in Pittsburgh for the first time since 1990. Second-year quarterback
Ryan Tannehill
is still finding his way but he has given the Dolphins hope that their search for a franchise quarterback since
Dan Marino
retired is over. Tannehill can make all of the throws, but all three of his multiple interception games this season have come in losses.

Bengals, 8:30 p.m. Dec. 15 at Heinz Field:
The Steelers could have beaten the Bengals in Cincinnati in September and that was without running back
Le'Veon Bell
and tight end
Heath Miller
. The Bengals are 8-4 and in control of the AFC North, but this isn't Denver or New England precisely because of the team's quarterbacks.
Andy Dalton
has yet to fully earn the trust of Bengals fans despite leading Cincinnati to the playoffs in each of his first two seasons. Dalton has again given them reason to worry. After throwing for over 300 yards in four consecutive games with 11 touchdown passes and six interceptions, Dalton has fallen into a bit of a slump. He is averaging 185.6 passing yards in the Bengals' past three games with six touchdowns and six interceptions.

Packers 4:25 p.m., Dec. 22 at Lambeau Field:
There is a huge X factor here and that is whether Rodgers plays. If the Packers (5-6-1) fall out of contention in the NFC North, there is no reason for them to bring Rodgers back this season from a broken collarbone. And if Rodgers doesn't play, the Steelers may well be favored in this game considering how badly the Packers have struggled since losing their Pro Bowl quarterback.

Browns, 1 p.m., Dec. 29 at Heinz Field:
This is as close to a gimme as there is, as the Browns (4-8) have lost three consecutive games and assumed their customary position at the bottom of the AFC North. The Browns have virtually no offense aside from wide receiver
Josh Gordon
, and their search for a capable quarterback continues. It's hard to imagine the Browns getting up for this game, although they would love nothing more than to knock off their archrivals if the Steelers have something on the line.