Pittsburgh Steelers:

Ryan Tollner
April, 24, 2014
Apr 24
8:00
AM ET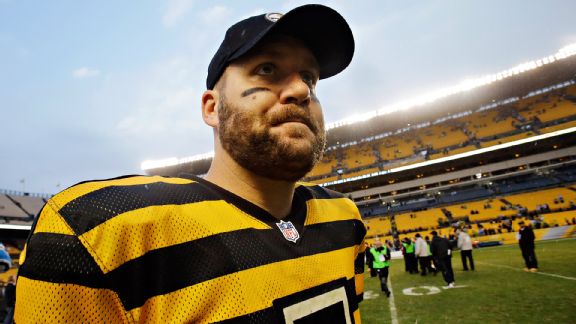 AP Photo/Gene J. PuskarBen Roethlisberger, the Steelers' first-round pick in 2004, has forever impacted the franchise.
PITTSBURGH -- The
Steelers
needed more than a little luck to end their long search for the rightful heir to Terry Bradshaw, the quarterback they had taken first overall in the 1970 NFL draft.
Ten years ago today -- and almost a quarter of a century after they selected Bradshaw by winning a coin toss to secure the top pick over the
Chicago Bears
-- the Steelers drafted
Ben Roethlisberger
with the 11th overall pick.
As with Bradshaw, the pick set the franchise on a glorious course.
Bradshaw struggled early in his career and was benched and booed by fans before winning four Super Bowls, but with Roethlisberger, the Steelers got a serious return on their quarterback investment earlier than anyone could have expected.
An injury to starter
Tommy Maddox
in the second game of the 2004 season thrust Roethlisberger into action. And the quarterback who had been considered more of a project than the two picked ahead of him (
Eli Manning
and
Philip Rivers
) because he hadn't played against top competition at Miami (Ohio) responded by winning his first 14 starts.
The Steelers suffered a disappointing loss to
Tom Brady
and the Patriots in the 2004 AFC Championship Game, but they finally found their quarterback after going through their share of them following Bradshaw's retirement in 1984.
Roethlisberger led the Steelers to three Super Bowls from 2005 to 2010, winning two of them, and he showed a flair for extending plays after his pass protection had collapsed, as well as directing clutch fourth-quarter drives -- both the result of a competitive streak that is as long as one of the three rivers that converge in Pittsburgh.
He authored his signature comeback in Super Bowl XLIII when the Steelers trailed the upstart Arizona Cardinals by three points and were backed up at their 10-yard line with less than three minutes left in the game.
Roethlisberger needed eight plays and a little more than two minutes to lead the Steelers to a game-winning touchdown, capping the drive with a 6-yard scoring pass to
Santonio Holmes
.
The pass was vintage Roethlisberger: daring and something more likely seen in a backyard game, not the NFL's biggest stage. Roethlisberger unleashed the pass under pressure, throwing it into a crowd but only where his receiver had a chance to catch it.
That unlikely play, in retrospect, serves as something of a metaphor for Roethlisberger's Steelers career, because so much had to break just right for him to wear black and gold in the first place.
"We didn't expect that he would end up in Pittsburgh," Ryan Tollner, Roethlisberger's agent, said.
Indeed, 10 teams picked ahead of the Steelers in the 2004 draft, including the Browns, who would have been hailed for taking the Ohio native to lift the struggling franchise.
And Roethlisberger's camp didn't know to what extent he was on the Steelers' radar.
The team had met with Roethlisberger at the NFL scouting combine and also hosted him for a pre-draft visit, but they never worked him out. Tollner figured he would go to the Raiders at No. 2, the Cardinals at No. 3, the Giants at No. 4 or the Browns at No. 6.
If none of those teams drafted Roethlisberger, Tollner thought, Buffalo at No. 13 would be the probable landing spot for his client.
Meanwhile, another member of Roethlisberger's inner circle was convinced the Giants were going to draft him. Terry Hoeppner, his coach at Miami, had spoken extensively with Ernie Accorsi about Roethlisberger and had gotten a good vibe from the Giants' general manager.
[+] Enlarge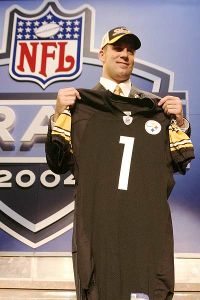 AP Photo/John Marshall MantelQB Ben Roethlisberger hasn't forgotten about all of the teams -- especially the Browns -- who bypassed him in the 2004 draft.
That is why when the Giants drafted Rivers -- they subsequently dealt him to the Chargers for Manning, who had been taken first overall -- Hoeppner fired a water bottle in disgust across the table where he was sitting with Roethlisberger and others at the draft in New York City.
The Redskins took safety
Sean Taylor
with the fifth pick, providing an opening for the Browns, who needed a quarterback after
Tim Couch
, the first overall selection in 1999, didn't pan out.
"[Roethlisberger] is a northwest Ohio kid, and played in-state at Miami of Ohio and here the Browns are, they've struggled at the quarterback position for a long time," Tollner said. "Ben is sitting there and they elect to go with a tight end. It's something Ben's never forgotten and he never will."
The Browns' picking tight end
Kellen Winslow Jr.
proved to be one of the draft's pivotal points. But the Steelers also came close to passing over Roethlisberger after he lasted through the first 10 picks.
The team had zeroed in on Arkansas offensive tackle
Shawn Andrews
, but owner Dan Rooney deftly shifted the conversation to Roethlisberger before the Steelers made their pick.
Rooney had good reason to speak up.
The Steelers had built their dynasty in the 1970s -- and transformed an organization once synonymous with losing -- through shrewd drafting.
They had missed an opportunity near the end of Bradshaw's career when they passed on local legend
Dan Marino
in the 1983 draft and instead selected Texas Tech defensive tackle Gabe Rivera with the 21st pick.
The Dolphins pounced on Marino with the 27th selection, and his strong arm and quick-as-a-hiccup release allowed the Pitt product to become an early star in Miami and eventually a first-ballot Pro Football Hall of Famer.
The Steelers, meanwhile, shuffled through enough quarterbacks in the post-Bradshaw era that seven different players led them in passing from 1983 to 2003.
Rooney fretted that overlooking Roethlisberger also might come back to haunt the Steelers.
"I couldn't bear the thought of passing on another great quarterback prospect," Rooney wrote in his book "Dan Rooney: My 75 Years With The Pittsburgh Steelers and The NFL."
"So I steered the conversation around to Roethlisberger. After some more talk, we came to a consensus and picked Roethlisberger."
Ten years later, Roethlisberger remains the youngest quarterback to win a Super Bowl -- he was only 23 when the Steelers beat the Seahawks in February 2006 -- and joins Eli Manning and Brady as the only active quarterbacks with multiple Super Bowl victories.
Roethlisberger, who turned 32 in March, already has broken many of Bradshaw's Steelers records and is five victories away from becoming the 13th quarterback in NFL history to win at least 100 regular-season games.
It hasn't all been smooth for Roethlisberger in Pittsburgh.
A motorcycle accident after his first Super Bowl victory left Roethlisberger seriously injured and may have contributed to his uneven play in 2006. And two sexual assault allegations made against him less than a year apart led to a four-game personal-conduct policy suspension by the NFL at the beginning of the 2010 season (Roethlisberger was never charged with a crime).
Roethlisberger since has rehabilitated his image, gotten married and started a family. He is considerably closer to the end of his career than the beginning of it, though he played every snap last season.
It's safe to say Roethlisberger is one of the best draft choices in Steelers history -- and the most critical one to reconnecting the team that has won a record six Lombardi trophies with its triumphant past.
Oh, and yeah, Roethlisberger is 19-1 in his career against the Browns, the most notable and personal of the teams that passed on him 10 years ago.
"I think that Ben getting where he did in hindsight was the best thing that could have happened to him because he went to a strong organization but he went in a position that kept him feeling like an underdog," Tollner said. "He entered the league a very respectable pick at No. 11 overall but very driven to prove that 10 teams made a very bad mistake in passing on him."
April, 23, 2014
Apr 23
7:00
AM ET
PITTSBURGH -- Quarterback
Ben Roethlisberger
's contract status has been a topic of interest because he has two years left on the $102 million deal he signed in 2008.
That is the same number of years Roethlisberger had remaining on his rookie contract when he and the Steelers agreed to the deal that made him the highest-paid player in franchise history.
That nothing has happened as far as a new contract -- and that nothing is imminent -- has generated a little anxiety among some Pittsburgh Steelers fans.
[+] Enlarge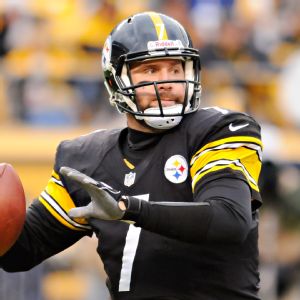 Mark Konezny/USA TODAY SportsSteelers quarterback Ben Roethlisberger has two years remaining on his contract.
What hasn't changed, however, is that the two most important factors to a new deal getting done are still in place: Roethlisberger wants to play his entire career in Pittsburgh, and the organization wants the 10-year veteran to retire as a Steeler.
"There's been ongoing [contract] discussions for quite awhile," Ryan Tollner, Roethlisberger's agent, told ESPN.com. "I think from the time we did the first extension there was sort of a plan moving forward. There's a plan in place, but both sides are pretty committed to doing that privately and not having it be something that's discussed in the media."
That is how the Steelers operate, whether it is with their franchise quarterback or a player who helps fill out the roster. But Steelers president Art Rooney II and general manager Kevin Colbert have each said the organization is committed to Roethlisberger playing his entire career in Pittsburgh and maximizing the remaining years he has left in him.
As for Roethlisberger's desire to play for just one team his entire career, Tollner said, "It's always been critical to him. From day one he's always admired players that could play with one organization and retire with that organization. That's an underlying goal that always drives him, that he would always be a Steeler."
The Steelers can lower Roethlisberger's cap hit -- it is just under $18.9 million in 2014, according to ESPN Stats & Information -- but they also can wait to get a new deal done because they already have done the bulk of their free-agent shopping and get more than $8 million in cap relief after June 1.
Whether that means the Steelers sign Roethlisberger to a new contract this summer, before the start of the 2014 season, or even next year remains to be seen. Tollner wouldn't predict when or if a new deal would get done, but he said, "I think there's mutual respect on both parties."
November, 12, 2013
11/12/13
12:06
PM ET
PITTSBURGH -- Incredulous and angry,
Ben Roethlisberger
again assailed an NFL Network report that he may ask the
Pittsburgh Steelers
to explore trading him after the season because of his frustration over the direction of the franchise.
"It's stinkin upsetting. It fires me up because it's like where do you make this stuff up. It's unbelievable," Roehtlisberger said Tuesday on 93.7 The Fan during his weekly radio show. "I love putting that jersey on every week and it's the only one I could ever see myself in. That helmet, there's something special about that logo and putting those colors on.
Roethlisberger
"I've said from day one I want to play for one organization and there's not one organization in the world that I would rather play for than this one. I look at the Rooneys like they're family. We have never asked, are not going to ask (for a trade). This is home and this is family and that's why I'm so upset this even got brought to my attention at the end of the (Bills) game."
The Steelers and Roethlisberger's agent, Ryan Tollner, issued denials of the report before and during Pittsburgh's
23-10 win
against the Bills. NFL Network insider Ian Rapoport stood by his report on two Pittsburgh radio stations, including The Fan, on Monday.
Roethlisberger didn't just take issue with the report that he may want out of Pittsburgh. He also refuted the part of the report that contends he is unhappy with the Steelers' offensive coaches -- and not just coordinator Todd Haley.
Roethlisberger said when quarterback coach Randy Fichtner has been mentioned in the past as a candidate for college coaching jobs that he all but begged Fichtner to stay with the Steelers.
"Randy's a great guy," Roethlisberger said. "I would never want another quarterback coach. I enjoy our coaches."
That, said Roethlisberger, includes Haley, the oft-criticized coordinator whose relationship with Roethlisberger has been a source of fan intrigue since he joined the Steelers in February 2012.
"Our relationship has grown so much and I'm not just saying that to appease the media and the fans," Roethlisberger said. "It's becoming a really good relationship and I'm enjoying how it's growing every week and I'm looking forward to it continuing to grow. I feel like I'm getting better and we're getting better."
Roethlisberger said he is frustrated that the 3-6 Steelers haven't won more this season, but added he is fully vested in turning the team into a perennial Super Bowl contender again.
"I hate when people say you're rebuilding because to me that's a slap in the face to the people that are out there playing," Roethlisberger said. "No one wants to win more than I do, I promise you that, at everything. That's who I am. It pains me to lose at anything. That's why I'm going to do everything I can to turn it around and win football games. Just because we lose football games I'm not going to jump ship and quit."