Pittsburgh Steelers:

Sean Payton
June, 9, 2014
Jun 9
8:00
AM ET
PITTSBURGH – The Steelers signed
Lance Moore
in March to take over for the departed
Jerricho Cotchery
as their No. 3 wide receiver.
The start of the 2014 season is still three months away but Moore has already assumed one of Cotchery's duties: mentoring young wide receivers like
Markus Wheaton
.
[+] Enlarge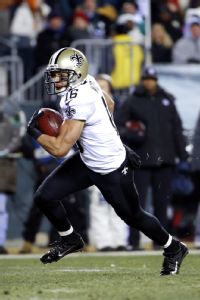 AP Photo/Matt RourkeWide receiver Lance Moore might be new to the Steelers, but is embracing a veteran role in the locker room.
Wheaton, in fact, has attached himself to Moore after doing the same thing last year with Cotchery.
"From the day that I got here we've kind of been in big brother, little brother mode," Moore said. "I want to teach him and I want to help him learn. I've shared my story with him."
And the point Moore wanted to drive home to Wheaton with his story?
"Everybody has their own route," Moore said, presumably no pun intended. "It doesn't matter where you come from. You're here now and what you do is going to dictate what happens in your career."
That message should have really resonated with Wheaton considering who delivered it.
Moore made the NFL as an undersized wide receiver and as an undrafted free agent. He got cut three times by two different teams and played in the now-defunct NFL Europe before sticking with the
New Orleans Saints
.
Despite getting cut twice by the Saints before making the team, Moore developed into one of Drew Brees' most trusted targets and an integral part of a high-powered passing attack that carried the Saints to a Super Bowl title in 2009.
The Saints thought so highly of Moore that after they released him in a cost-cutting move that coach Sean Payton released a lengthy statement praising Moore's perseverance and professionalism and thanking the 5-9, 190-pounder for the productive seasons he strung together in New Orleans.
Moore understands why his time with the Saints ran its course. But the ninth-year veteran is still guided by the sensibility that nothing is given in the NFL, particularly to undersized wide receivers who played their college ball at Toledo -- Moore and Steelers backup quarterback
Bruce Gradkowski
were teammates and roommates there -- and went undrafted.
"That's one thing that's enabled me to stay for so long is having a feeling that I still haven't really made it," said Moore, who was first cut by the Browns after signing with Cleveland as an undrafted free agent in 2005. "That's what makes me come out and compete with an edge every day. I've got a heck of a story but I've still got some chapters left to fill it."
The Steelers are counting on that.
They have a lot of production to make up for following the losses of Cotchery and
Emmanuel Sanders
. And Moore and Wheaton will be counted on heavily this season, which is another why the two have been working closely together during organized team activities, which resume this week.
Moore is still learning the offense but judging from the way he has looked in offseason practices, so far, so good.
"He's really come along fast," quarterback
Ben Roethlisberger
said. "Lance is a pro."
He is a pro who is fortunate enough to play with two top-tier quarterbacks during his career, going from Brees to Roethlisberger, one of only three active quarterbacks to win multiple Super Bowls.
"Ben is strong-armed with a sense of boldness," Moore said of his new pitcher. "He's going to throw some balls that maybe some other guys wouldn't, even guys with strong arms. I love that as a receiver."
And so a new chapter begins in Moore's unlikely story.
January, 28, 2014
Jan 28
10:00
AM ET
PITTSBURGH -- An ESPN NFL Nation survey identified Seattle's Pete Carroll as the coach whom players would most like to call their own.

Tomlin
That is not a surprise given Carroll's success in Seattle, his caffeinated and optimistic approach to coaching and his reputation as a players' coach.
What is also not surprising: that Steelers coach Mike Tomlin finished second in the polling of more than 320 players.
Tomlin collected 44 votes compared to 71 for Carroll, and he might have received more had some of the Steelers' players I polled not answered the question as the coach they would most like to play for aside from their own.
Tomlin collected five votes in the Steelers' locker room compared to four for Carroll and one for the Jets' Rex Ryan.
Tomlin's greatest strength is his ability to connect with his players and motivate them. He has done this while also maintaining a clear line between a coach and his players that is necessary for the kind of sustained success Tomlin has enjoyed, the last two seasons notwithstanding.
The seventh-year coach is cool, confident -- and, yes sometimes arrogant -- and if there is any doubt how much faith the Steelers' players have in him, witness the second half of last season.
The Steelers went 6-2 in their final eight games and came within a missed field goal by inches -- and a missed call -- of sneaking into the playoffs.
Tomlin never lost his players despite 0-4 and 2-6 starts, and there were multiple times that the season could have jumped the track but didn't.
To get an idea how his players feel about Tomlin, consider what
Jerricho Cotchery
said recently when talking about why he would love to stay in Pittsburgh (the veteran wide receiver can become an unrestricted free agent on March 11).
"He's just an unbelievable guy to be around and work for," Cotchery said of Tomlin. "He's a guy that you would love cutting his grass."
Tomlin should get that written in Cotchery's next contract if the latter re-signs with the Steelers.
And such effusive praise of Tomlin is pretty typical around the Steelers' locker room. It also comes from those who have played for him and are no longer on the Steelers
Tomlin can be as blunt as any coach behind closed doors but players appreciate that honesty. And I've never heard any player complain -- and we're taking off the record here -- about not knowing where they stand with him.
My guess is that Tomlin will stay in Pittsburgh as long as he wants, and that will be until he no longer wants to coach.
Here is a breakdown of the voting after the top two spots: The Broncos' John Fox (26) and the Patriots' Bill Belichick and Ryan (23) rounded out the top five. Other top vote getters included the Chiefs' Andy Reid (22), the Saints' Sean Payton (21) and the brothers Harbaugh.
The 49ers' Jim Habaugh received 16 votes and the Raves' John Harbaugh got 10 votes.