Pittsburgh Steelers:

Terrelle Pryor
October, 4, 2014
Oct 4
12:00
PM ET
Here is the latest
Pittsburgh Steelers
mailbag. If you have a question please send to
@ScottBrown_ESPN
with #steelersmail. And away we go ...
@ScottBrown_ESPN how is the finger never pointed at Lebeau? He calls the plays everyone knew it was going to Jackson #steelersmail

— Craig W. McKinney (@cwm0906) September 28, 2014
@ScottBrown_ESPN:
I think Dick LeBeau has taken his share of criticism over the last couple of seasons, and some of it is warranted. As great of a defensive mind as LeBeau is I'm not sure he has put the players he has in the best positions. It's tough when a 3-4 defense doesn't get a consistent pass rush from its outside linebackers, but LeBeau has to find a way to get pressure from somewhere. I will say this: It is ludicrous to say that the game has passed him by. I'm not sure that anyone could coax great defensive play from a group that is aging in key spots, is breaking in new players and is lacking in playmakers. As for the game-winning touchdown catch by
Vincent Jackson
last Sunday, it looked like cornerback
William Gay
had help inside so I'm not sure why he let Jackson get that open on the outside.
@ScottBrown_ESPN Everyone says team plays dwn to opps.Would it be more accurate to say O plays dwn? D's always average '12-'14 #steelersmail

— Carmen DeSantis (@DeSantis1984) October 1, 2014
@ScottBrown_ESPN:
I think it's been a team effort as far as playing down to opponents. Consider the Steelers' last two losses in Oakland. Last season, the Steelers allowed a 93-yard touchdown run to Terrelle Pryor on the first play from scrimmage and that set the tone in a terrible loss. The previous season in Oakland, the Steelers gave up 34 points to the Raiders in a three-point loss. There are certainly examples of the Steelers' offense playing down to the level of the opponents -- and last year's loss in Oakland would qualify as one -- but the common denominator in losses to lesser opponents is the Steelers beating themselves. Usually it's with turnovers. Last Sunday against the Buccaneers it was with penalties, an untimely poor punt and an uncharacteristic drop by Pro Bowl wide receiver Antonio Brown. I think we can agree that whatever is causing the Steelers to lose to teams they should beat it has to stop, and it is incumbent upon coach Mike Tomlin to put an end to it. The Steelers, after all, are 6-9 in their last 15 games against teams with losing records.
@ScottBrown_ESPN why so much hate for J Brown? He is the 3 receiver in an offense that features the 1,2 and tight end. Only so many targets

— Paul Barkley (@pdbarkley) October 1, 2014
@ScottBrown_ESPN:
I think hate it a pretty strong word.
Justin Brown
seems like a great guy and by all accounts he works his tail off so I'd love nothing more than for him to succeed. But I still don't see the Steelers
playing him over
Lance Moore
, who has much more of a body of work. Brown didn't produce much in the preseason, and if my math is correct he logged the most snaps of any Steelers skills player. Through four games, Brown has seven catches for 59 yards, has lost a fumble and dropped a touchdown pass. I'm not saying the Steelers should give up on the 2013 sixth-round pick after four games but I also question how patient they can be with Brown. This team needs to win in the worst way this season after consecutive 8-8 campaigns, and I simply think Moore playing the No. 3 wide receiver gives them the better chance of doing that.
@ScottBrown_ESPN is there a reason Shamarko Thomas isn't out on the field more? Have to believe he is more of a playmaker than backup CBs

— Grizzly Adams (@madams241) September 29, 2014
@ScottBrown_ESPN:
If I'm puzzled over why Justin Brown is playing over Lance Moore on offense, this is the biggest mystery to me on defense. Thomas had a really good training camp and preseason, and he appeared poise to make the kind of jump Mike Tomlin expects from his second-year players. Yet four games into the season, Thomas has played mostly on special teams. You would think the Steelers would use a package to get Shamarko Thomas on the field with starting safeties
Troy Polamalu
and
Mike Mitchell
-- or spell those two from time to time -- but we have yet to see that. The Steelers have gotten few impact plays from Polamalu and Mitchell, so why not get Thomas on the field more?
@ScottBrown_ESPN when can we expect martavis Bryant making his steelers debut

— Zack bickel (@Zackbic123) October 2, 2014
@ScottBrown_ESPN:
I doubt it will be this week after he missed practice Wednesday and Thursday with an illness, and it's hard to see
Martavis Bryant
making the game-day roster in the foreseeable future. The Steelers aren't going to dress six wide receivers and Justin Brown, Lance Moore and Darrius Heyward-Bey are all ahead of Bryant. Heyward-Bey plays on special teams so it's hard to see Bryant moving ahead of him, and he probably isn't going to dress unless there is an injury at wide receiver. It's a long season, so Bryant will get on the field at some point. But right now it looks like he is headed for the NFL equivalent of a redshirt season.
January, 17, 2014
Jan 17
4:00
PM ET
We've arrived at the play that most shaped the Steelers' season. Here is a look back at nine other plays that impacted the season.
No. 10:
Le'Veon Bell
rips off a 25-yard run
on his first carry after losing a costly fumble at Green Bay.
No. 9:
Shaun Suisham
misses a 32-yard field goal
in a 21-18 loss at Oakland.
No. 8:
Emmanuel Sanders catches
a 55-yard touchdown pass
against the Jets to help the Steelers win their first game of the season.
No. 7:
Vikings receiver Greg Jennings turns what should have been a short gain into a
70-yard touchdown
catch.
No. 6:
The Steelers
sniff out a fake field goal
by the Lions and stuff it in the fourth quarter at Heinz Field.
No. 5:
Sanders
drops a 2-point conversion pass
that would have allowed the Steelers to tie the Ravens in Baltimore and likely force overtime.
No. 4:
Antonio Brown
returns a punt 67 yards for a touchdown
, giving the Steelers a commanding 21-0 lead against the Bengals.
No. 3:
Brown comes
within inches of scoring a miraculous touchdown
on the final play of the game against the Dolphins.
No. 2:
Raiders quarterbacks Terrelle Pryor
runs 93 yards untouched
for a touchdown on the first play from scrimmage.
No. 1
Pouncey
The play:
Pro Bowl center
Maurkice Pouncey
went down with a devastating knee injury after right guard
David DeCastro
crashed into his right leg in the season opener.
The situation:
The Steelers had been given a gift safety following a gaffe by Titans kick returner
Darius Reynaud
and were driving when disaster struck. DeCastro tried to cut block Titans defensive tackle
Sammie Lee Hill
, but he missed and took out Pouncey. A hush fell over Heinz Field as medical personnel tended to Pouncey, and the injury turned out to be as bad as it looked. Pouncey suffered ACL and MCL tears, ending his season after just eight plays.
Why it mattered:
The injury to Pouncey cost the Steelers their best offensive lineman, and its ripple effect is why no other play shaped the season more than this one. The Steelers, and DeCastro in particular, were shell-shocked following the loss of Pouncey, and the Titans pulled off a 16-9 upset. I firmly believe the Steelers would have won the season opener if not for the injury to Pouncey. The Steelers could not have done any better replacing Pouncey than they did with
Fernando Velasco
(and later after
Cody Wallace
took over for the injured Velasco). But the Steelers scrapped the outside zone-blocking scheme they had installed during the offseason. They also delayed using the no-huddle offense extensively after the loss of Pouncey, and that attack might have been the biggest reason why the Steelers went 6-2 in the second half of the season.
January, 16, 2014
Jan 16
4:00
PM ET
A strong argument can be made that this play should top the list, and I gave it strong consideration.
No. 2
The play:
Raiders quarterback
Terrelle Pryor
ran untouched 93 yards for a touchdown on the first play from scrimmage in an Oct. 27 game at Oakland.
The situation:
Pryor struck right after a holding penalty on the opening kickoff had backed the Raiders into the shadow of their own end zone. Pryor faked a handoff to running back
Darren McFadden
and raced around right end where he encountered a huge opening. A handful of Steelers players had bit on the fake to McFadden and crashed the middle of the line. Strong safety
Troy Polamalu
couldn't shed wide receiver
Rod Streater
's block, and Pryor exploited the breakdown on the way to the longest run by a quarterback in NFL history.
Why it mattered:
The Steelers had righted themselves after an 0-4 start and appeared to be in good position to win their third game in a row as well as snap a two-game losing streak in Oakland. No play proved to be more deflating than Pryor's run. It also served as a microcosm for the alarming number of big plays the Steelers' defense yielded in 2013. The Steelers never seemed to recover from Pryor's touchdown, and a late rally couldn't save them in a 21-18 loss. The Steelers, who missed the playoffs by a game, had a handful of bad losses in 2013. None were worse than this one.
January, 1, 2014
Jan 1
10:00
AM ET
PITTSBURGH -- The Steelers' season is riddled with what-ifs. In (dis)honor of their eight losses here are eight things that shaped their fate.
Near miss in opener:
The Steelers took a shot deep down the right sidelines after getting a safety on the opening kickoff, but
Emmanuel Sanders
couldn't haul in
Ben Roethlisberger
's pass. It would have been a good catch but it turned into the kind of near-miss that defined Sanders' season as much as the big plays he delivered. You have to wonder if the Titans would have recovered had that play led to a touchdown and an early 9-0 Steelers lead. Instead the Steelers lost Pro Bowl center
Maurkice Pouncey
to a season-ending knee injury on the first drive of the season and didn't score when
Isaac Redman
fumbled out of the end zone.
Hard to handle in Cincinnati:
The Steelers were leading 3-0 in the second quarter when tight end
David Paulson
lost a fumble at the end of a 34-yard catch and run. Had Paulson held onto the ball the Steelers would have had a first down on the Bengals' 16-yard line. They would have been looking at least a 6-0 lead with Bengals quarterback
Andy Dalton
struggling with his accuracy. That play pivoted the game toward the Bengals and loomed large in a 20-10 loss at Paul Brown Stadium.
[+] Enlarge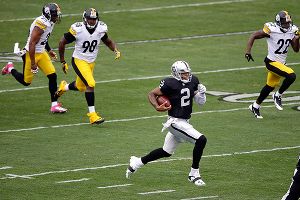 AP Photo/Marcio Jose SanchezTerrelle Pryor left the Pittsburgh defense in his wake en route to a 93-yard TD run.
Off and running in Oakland:
Terrelle Pryor
broke free for a 93-yard touchdown run on the first play from scrimmage and that set the tone for another bad trip to Oakland. A handful of Steelers were caught out of position on the scamper, and that run exceeded the number of passing yards Pryor had (88). It also set an NFL record for longest run by a quarterback. The Steelers seemed to be a step slow all afternoon and the loss blunted any momentum they had generated following back-to-back wins.
Not so automatic:
Shaun Suisham
missed just two field goals all season and was as good as any kicker this side of
Justin Tucker
. But his misses couldn't have been timed any worse as both came in what turned out to be a three-point loss in Oakland. Nothing is as hard to comprehend about what happened this season then Suisham losing it for one game -- and one game only in an otherwise outstanding season. Both of his misses came inside of 35 yards and Suisham blamed himself for the worst loss of the season afterward.
Costly drop in Baltimore:
The Steelers nearly rallied from a 12-point fourth-quarter deficit, but Sanders dropped a 2-point conversion pass that would have tied the game, and the Ravens recovered the ensuing onside kick. The Steelers were nearly out of offensive linemen by the end of another brutal battle of attrition with their archrivals, and the injuries that decimated them up front might have put them at a disadvantage in overtime. On the other hand, the Steelers clearly had the Ravens on their heels after scoring three touchdowns in the second half. And they would have loved to take their chances in overtime.
No doubting Thomas:
A backup running back playing on a bad wheel turned in the biggest play of the game when he broke free for a 55-yard run to set up the Dolphins' go-ahead touchdown in the fourth quarter. The Dolphins blocked the play well though
Troy Polamalu
said after the Steelers' 34-28 loss that he had not gotten to his assigned gap. The run propelled
Daniel Thomas
, who played on an injured ankle, to only the second 100-yard game of his career and first since his rookie season in 2011. It also led to another improbable loss for the Steelers.
Almost a miracle:
The Steelers came within inches of pulling off what would have been one of the greatest endings in NFL history. Sanders caught a pass at around the Steelers' 40-yard line and triggered a series of laterals after he gained about 5 more yards and tossed the ball back to
Jerricho Cotchery
. The ball reversed field and ended up tucked under
Antonio Brown
's left arm. Brown weaved his way through the Dolphins defense with no time left on the clock and reached the end zone. Officials however, correctly ruled that he stepped out of bounds at the 12-yard adding another heartbreaking chapter to the Steelers season. Brown probably could have avoided stepping out and still scored but snow made it difficult to tell where he was on the field. No single play epitomized the Steelers' near-miss season than this one.
No call shuts door on Steelers:
Wouldn't you have loved to hear what Mike Tomlin was yelling at his TV when he noticed the Chargers were lined up illegally before
Ryan Succop
's 41-yard field goal attempt? Succop should have gotten a mulligan -- and moved 5 yards closer -- after barely missing the field goal that would sent the Steelers to the playoffs but no penalty was called. A quick whistle may have also cost the Steelers in overtime when
Eric Weddle
was ruled down before a Chiefs player ripped the ball out of his arms and raced into the end zone. Tomlin is a member of the NFL's competition committee and you can bet he will have plenty to say on the state of officiating.
October, 28, 2013
10/28/13
8:00
AM ET
OAKLAND -- The Pittsburgh Steelers squandered any momentum a two-game winning streak had generated with yet another mystifying loss to the Oakland Raiders. The Raiders built an 18-point lead and
hung on for a 21-18 win
, snapping a 10-game losing streak following their bye week.
The Steelers, not the Raiders, started slow, and they couldn't recover from a
93-yard Terrelle Pryor touchdown run,
an offense that mostly sputtered for three quarters and abysmal special teams play.
Shaun Suisham's two missed field goals loomed large in the three-point loss, but the Steelers problems against the Raiders went beyond their kicker having an
uncharacteristic off day.
Positives were indeed hard to come by after the
Steelers dropped to 2-5
and lost their third game in a row in Oakland.
The Steelers
received subpar grades
across the board and there weren't many candidates for game balls. Slow starts have been
a recurring theme
for the Steelers this season, and it is incumbent upon coach Mike Tomlin to fix that problem.
Tomlin took the blame for the Steelers' worst half of the season and one that put them in a 21-3 hole after two quarters at the Coliseum. The Steelers can't afford a slow start next Sunday if they want to have any chance of handing the New England Patriots their first home loss this season.
The Patriots overcame a 14-point halftime deficit to beat the Dolphins with
their defense leading
them to a 27-17 win after pitching a shutout in the second half.
October, 27, 2013
10/27/13
9:55
PM ET
OAKLAND -- The Raiders struck a first blow Sunday that was as stunning as it was spectacular when quarterback
Terrelle Pryor
kept the ball on a read-option and raced 93 yards for a touchdown.
There were several factors behind how Pryor ripped off the longest run by a quarterback in NFL history, starting with his fake to running back
Darren McFadden
.
Pryor
"I saw D Mac carrying out the fake and I heard the crowd screaming and I was trying to figure out what they were screaming about," Raiders safety
Charles Woodson
said, "and all of sudden T. Pryor is at the 50-yard line running the ball."
The Steelers bit on the fake, though left outside linebacker
LaMarr Woodley
carried out his assignment when he went after McFadden and buried the seventh-year veteran.
That left strong safety
Troy Polamalu
as the key guy once Pryor kept the ball instead of putting it in McFadden's belly.
"I was saying in my head Polamalu has to get blocked," Pryor said.
Wide receiver
Rod Streater
took care of that, tying up the Steelers' best defensive player and allowing Pryor to flash through an opening on the right side and into the open field.
Polamalu couldn't shed Streater's block, but he didn't get any help from the back end of the Steelers' defense either.
"I should have been a little patient in the middle of the field so if things broke down I could kind of overlap," free safety
Ryan Clark
said.
The Raiders pulled a guard to help sell a hand-off to McFadden, but the Steelers were also guilty of overpursuing on the play.
"Even if you're excited about stopping McFadden, you have to understand the beast that's playing quarterback," Clark said. "Once a guy like him gets a in front of the whole defense, he's a legit 4.4 (speed in 40-yard dash). It just looks slow because he's 6-6 but he was moving."
Raiders coach Dennis Allen said Oakland picked that play to open the game as a way of easing Pryor into action against his hometown team.
Pryor's touchdown set the tone for the Raiders, who gashed the Steelers for 197 rushing yards en route to their
21-18 victory
. But, said Polamalu, "We had 59-and-a-half minutes to come back. We had our opportunities. We just didn't seize them."
October, 27, 2013
10/27/13
7:31
PM ET
OAKLAND, Calif. -- A few observations from the
Pittsburgh Steelers
' 21-18 loss to the
Oakland Raiders
at O.co Coliseum.

What it means:
The Steelers' season is back on life support after everyone, as coach Mike Tomlin might say, had their hand in the pile in the team's third consecutive loss in Oakland. The defense allowed a 93-yard touchdown run by
Terrelle Pryor
on the first play from scrimmage. The Steelers' offense managed just 3 yards shorter than Pryor's jaunt, the longest run by a quarterback in NFL history, through the first two quarters. The special teams were simply awful, and Tomlin did not put on a clinic, either, as the Steelers fell to 2-5.
Stock watch:
The good times for kicker
Shaun Suisham
and the Steelers' offensive line lasted exactly one week. Suisham, the reigning AFC Special Teams Player of the Week, missed a pair of field goals from inside of 35 yards after making his first 15 kicks to start the season. The gaffes turned out to be huge after the error-prone Raiders insisted on keeping the Steelers in the game. The offensive line, meanwhile, is all beat up after starting guards
Ramon Foster
and
David DeCastro
left the game with a concussion and ankle injury, respectively, and did not return.
Guy Whimper
, who replaced Foster at left guard in the first half, was also knocked out of the game when he injured his left knee.
Inconsistency still an issue:
Zoltan Mesko
's days in Pittsburgh could be numbered. Mesko bobbled a snap that was partially blocked in the first quarter and set up the Raiders' second touchdown of the season. He managed just a 30-yard punt near the end of the half and received an earful from Tomlin after he walked to the Steelers' sideline. Tomlin said last week that Mesko needed to eliminate the "junior varsity" punts from his game and become more consistent. Mesko was really good at times against the Raiders -- his 56-yard punt in the third quarter pinned the Raiders inside their 1-yard line -- but there was no middle ground for the punter who was already on shaky ground.
Next up:
It doesn't get any easier for the Steelers as they visit
Tom Brady
and the
New England Patriots
next Sunday in Foxborough. Brady rallied the Patriots from a 17-3 halftime deficit in a 27-17 win over the Dolphins on Sunday as New England improved to 6-2. The Steelers haven't been good enough on the road -- or good enough period -- to think they can hand the Patriots their first home loss in five games.
October, 26, 2013
10/26/13
10:00
AM ET
PITTSBURGH -- Here is a quick-hit breakdown of the teams that will meet Sunday in Oakland:
0:
Runs of 20 or more yards allowed by the Raiders this season
1:
Runs of 20 or more yards by the Steelers this season
2.1:
Average yards per carry for Raiders running back
Darren McFadden
in his first two games against the Steelers
3:
Consecutive games in which Steelers quarterback
Ben Roethlisberger
has completed more than 70 percent of his passes
4:
Games in which Steelers inside linebacker
Lawrence Timmons
has recorded at least 10 tackles
5:
Runs of 20 or more yards by Raiders quarterback
Terrelle Pryor
5
: Passing touchdowns allowed by the Steelers, tied for fewest in the NFL
6.3
: McFadden's yards per carry in the Raiders' 34-31 over the Steelers last season
7
: Rushing first downs the Steelers had against the Ravens, a season high
9
: Wins for the Steelers in their 10 games in October
9
: Turnovers forced by the Raiders in their last three games
10
: Rushes of at least 20 yards by the Raiders, second most in the NFL
13
: Career defensive touchdowns by Raiders safety
Charles Woodson
42
: Career field goals of 50-plus yards made by Raiders kicker
Sebastian Janikowski
42.0
: Net average by Raiders punter
Marquette King
, sixth best in the NFL
47
: Catches by Steelers wide receiver
Antonio Brown
, second most in the NFL
70.2
: Pryor's completion percentage in two home games this season
106
: Career receptions by Raiders fullback
Marcel Reece
106.3
: Roethlisberger's career passer rating against the Raiders
285
: Rushing yards by Pryor, third-most among NFL quarterbacks
October, 25, 2013
10/25/13
4:00
PM ET
PITTSBURGH -- The quarter package that the
Pittsburgh Steelers
have employed with increasing frequency would appear to be a good way to counter
Oakland Raiders
dual-threat quarterback
Terrelle Pryor
.
Six defensive backs would put more speed on the field for the Steelers and allow them to use one of those players to spy Pryor if they wanted.
But free safety
Ryan Clark
said the key to containing Pryor lies elsewhere, as much as he is a proponent of the quarter package.
[+] Enlarge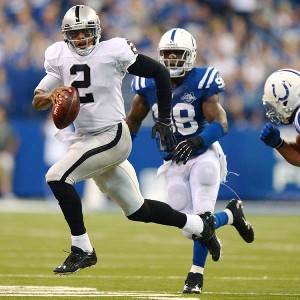 Kirby Lee/USA TODAY SportsThe Steelers are wary of Raiders QB Terrelle Pryor's ability to make things happen outside the pocket.
"I think it's more the athleticism of your front that you worry about with Pryor," Clark said. "You have to have guys that can chase him down, and players who play with high motors and continue to get after the passer."
Few Steelers play with a higher motor than defensive end
Cameron Heyward
, and that is not the only reason why he will be a key player Sunday at Oakland.
No Steeler knows better Pryor and his tendencies better than Heyward.
The two played AAU basketball together growing up and Heyward helped recruit Pryor to Ohio State. They also practiced against one another countless time in Columbus, though hitting Pryor was not allowed.
"There were times I got close and I got reprimanded for it," Heyward said. "This is finally my opportunity."
Heyward would love nothing more to register his first sack of the season against his good friend. And Pryor is well aware that his former Ohio State and Pittsburgh JOTS teammate has been harassing opposing quarterbacks on a consistent basis this season.
Heyward, who moved into the starting lineup two weeks ago, leads the Steelers with 17 quarterback pressures.
Of course getting to Pryor and getting him on the ground are two different things. The 6-4, 233-pounder is big for a running quarterback, and his long, effortless strides can make it seem like he isn't moving as fast as he is.
"He may not look that fast," Steelers defensive coordinator Dick LeBeau said, "but we all know he is."
Heyward recalled a game at Ohio State when Pryor, wearing a knee brace, escaped the pocket. An Illinois defender appeared to have an angle on Pryor, but he underestimated the latter's speed and Pryor blew past him.
"You've got to take a really good angle, because if you don't he's going to turn that corner on you," Heyward said. "No trying to gauge (his speed). You've got to be running full speed to catch him."
That is not the only part of Pryor's game that will test the Steelers.
He is evolving as a passer, and is constantly working on the mechanics that have held him back at times.
"His passing has gotten a lot better," Heyward said. "He's throwing a great deep ball and he's really seeing the pocket well. When it breaks down, he's able to run or buy time for his receivers. We've really got to keep him in the pocket, get to him quick and wrap up."
October, 24, 2013
10/24/13
7:00
PM ET
Taylor

The Steelers have restructured cornerback Ike Taylor's contract, a source told ESPN, freeing up around $3 million under the salary cap this year. The Steelers and Taylor agreed to turn his base salary this year into a signing bonus that can be spread over the remaining two years on his contract. The Steelers may still have to pay Isaac Redman close to $850,000 after releasing the fourth-year veteran last week. Redman signed a one-year, $1.3 million contract last April and the deal was not guaranteed. Redman, however, has the option of claiming the rest of the money on the contract via a termination payment that the collective bargaining allows players to exercise one time during their career.


All of the Steelers players were listed as full participants in practice Thursday. Right tackle Marcus Gilbert (quadricep), defensive end Brett Keisel (ribs), left tackle Kelvin Beachum (ribs), tight end Richard Gordon (toe) and tight end Heath Miller (coach's decision) had been limited Wednesday. Offensive coordinator Todd Haley was non-committal about Gilbert playing Sunday in Oakland, but Gilbert said he should be good to go against the Raiders. "Feeling great," he said.


Haley said he is happy with the Steelers' running backs and that goes beyond rookie Le'Veon Bell, who rushed for a career-high 93 yards in the Steelers' 19-16 win over the Ravens. "I like the way all of those guys go about their business," Haley said. "They are acting like professionals. When their number is called, they are getting things done for us. Guys are hungry and want to play. That's always a good thing."

-- Defensive coordinator Dick LeBeau said the Steelers face a similar challenge in containing dual-threat quarterback Terrelle Pryor as they did last season when they faced Redskins quarterback Robert Griffin III. The 6-4, 233-pound Pryor's size and speed make him as difficult as any quarterback to tackle, LeBeau said. "He's like having another tailback in the game," LeBeau said. "He's a great athlete." Pryor leads all AFC quarterbacks with 285 rushing yards but Ike Taylor said one thing the Steelers cornerbacks cannot do is peek into the backfield when they are covering a Raiders receiver. Steelers defensive backs coach Carnell Lake calls that watching TV. Said Taylor, "You don't want to watch TV because nine times out of 10 its going to be on the wrong channel."
October, 24, 2013
10/24/13
8:00
AM ET
Steel City wake-up: morning links
The Steelers have won consecutive games but if they intend to go on the kind of run that would allow them to overcome a miserable 0-4 start, they need to visit the end zone more often.
The Steelers have scored just two touchdowns in their past two games, and
their problem is two-fold
: They aren't giving themselves enough opportunities to get six, and when they do get inside the red zone the offense bogs down.
The Steelers finally look like they have a credible running attack, and the emergence of Le'Veon Bell is a big reason for that. So too is the maturation of right guard David DeCastro. The second-year man has overcome a nightmarish start to the season to become the
Steelers' best offensive lineman
and one of the better guards in the NFL.
DeCastro played his best game of the season in the Steelers' 19-16 win over the Ravens. Meanwhile inside linebacker Lawrence Timmons played arguably the
best game of his career
against Baltimore. The Steelers' coaches credited Timmons with 20 tackles after a review of the game film, and he made a handful of those stops after breaking his left hand.
Another big game from Timmons on Sunday would go a long way toward the
Steelers winning in California
for the first time under seventh-year coach Mike Tomlin. Containing Raiders dual-threat quarterback Terrelle Pryor will be one of the keys to the Steelers winning in Oakland for the first time since 1995.
Pryor grew up outside of Pittsburgh, and he became
a high school legend
before attending Ohio State and then going to the other side of the country in his quest to play quarterback in the NFL.
He is too young to remember the battles the Steelers and Raiders waged in the 1970s, but that
rivalry shaped the decade
and went down as one of the fiercest in NFL history.
October, 23, 2013
10/23/13
6:25
PM ET
PITTSBURGH -- A meeting between
Terrelle Pryor
and
Pittsburgh Steelers
coach Mike Tomlin in August 2011, could have resulted in Pryor living a boyhood dream and playing for his hometown team.
But Pryor said he took a pass on Tomlin's offer to draft him because he wanted to get away from the kind of distractions that would hinder his development as an NFL quarterback.
[+] Enlarge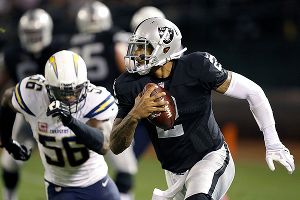 AP Photo/Ben MargotTerrelle Pryor turned down Pittsburgh's offer to be drafted by the team.
Pryor still remembers what Tomlin told him after the two all but mutually agreed that the Steelers would not take the former Ohio State star in the NFL supplemental draft.
"He said 'When the time comes and we play you I'm coming after you, I'm blitzing you,' " Pryor said.
That time comes Sunday, and Pryor said he and Tomlin are sure to share a laugh about that conversation before the game. After the opening kickoff, though, it is all business as Pryor tries to lead his team past the Steelers. The Raiders have beaten Steelers in their past two meetings in Oakland.
Pryor is in his first full season as a starter, and he has shown promise but also experienced growing pains for the perpetually rebuilding Raiders. He said playing against Pittsburgh will be "surreal" but that he won't get too caught up in the moment since he has watched enough film to equal five games against the Steelers.
When asked who won those games, Pryor said, "I can't tell you that. I always win in my mind though."
That confidence as well as off-the-charts athleticism and limitless potential made Pryor one of the most intriguing prospects in years when it came to the supplemental draft. The Steelers knew about Pryor's legend from when he starred in football and basketball at nearby Jeannette High School, and they hosted him for a visit shortly before the draft.
How serious where they about drafting Pryor?
"Mike said, 'Hey, I'll draft you if you want to play here,' " Pryor recalled. "But he gave me a story about when he was in Tampa Bay about a quarterback and he ended up being in the same hometown as the NFL team and it was just hard for him because of all the distractions around him.
"I don't know what the guys up top were thinking and whether they wanted to take me or not. [Tomlin] gave me an opportunity to say if I wanted to [play for the Steelers] or not and I ended up saying no because at a young age I didn't want to be near home and have distractions around me."
It turned out to be the right choice.
Pryor always made it clear that he wanted to play quarterback in the NFL, and he said the Steelers' interest in him was "100 percent" at the position and not another one.
He never would have gotten the opportunity in Pittsburgh that he has in Oakland because of
Ben Roethlisberger
.
Pryor has not yet established himself as the kind of quarterback the Raiders can build around, but he at least gives the organization some hope at the position. He has completed 64.5 percent of his passes while throwing for 1,061 yards and five touchdowns and five interceptions. His 285 rushing yards not only leads the Raiders but also all AFC quarterbacks.
And coach Dennis Allen likes the maturity and mental fortitude Pryor has shown so early in his career as a starter.
"I think every time that he's had a little bit of a setback he's always responded," Allen said. "The results will take care of themselves if he does the things that are necessary for him to play well."