Pittsburgh Steelers:

Terry Bradshaw
October, 27, 2014
Oct 27
11:00
AM ET
PITTSBURGH -- When the
Pittsburgh Steelers
' offense broke out it did so in a big way.
The numbers from the 51-34 win over the
Indianapolis Colts
are staggering.
[+] Enlarge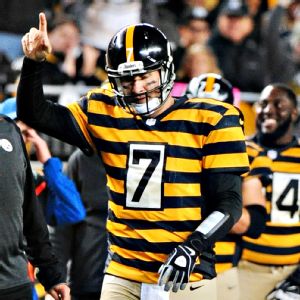 AP Photo/Don WrightBen Roethlisberger joined some elite company with his career day against the Colts.
The 639 total yards were the most by the Steelers since 2002 and the third-highest in team history. The yards that the Steelers piled up as if they were playing a video game and not an actual opponent also translated into mega points.
The Steelers scored 50 or more points for only the sixth time in franchise history and the first since 1984.
The biggest question with the 5-3 Steelers at the midway point of the season and only a half-game out of first place in the AFC North is this: How do they bottle what they did against the Colts?
In short answer, they can't.
Quarterback
Ben Roethlisberger
played a game for the ages while taking aim at the Colts and a slew of records. All you have to know about how rare his performance was is that Roethlisberger joined the iconic Y.A. Tittle as the only quarterbacks in NFL history to throw for at least 500 yards and six touchdowns in a game with no interceptions, according to ESPN Stats & Information.
One positve sign after the Steelers eviscerated the Colts, who had been one of the NFL's hottest teams: There was hardly any chest-thumping in the locker room after the resounding win.
"We played well but we left a lot out there," Roethlisberger said after joining
Tom Brady
, Joe Montana and Terry Bradshaw as the only NFL quarterbacks to win 100 games in 150 or fewer starts. "We showed flashes of being really good but, like I said, I missed some throws and we turned the ball over so we still left stuff out there. But I'm sure any offense in the NFL will take it if they could be like this offense."
Ramon Foster
agreed.
"Our job now is to go back and not get comfortable with success," the Steelers' starting left guard said. "We have to be on top of our job next week and the week after that and continue to build."
To Foster, the offense's play against the Colts wasn't just a testament to the talent the Steelers have on that side of the ball. It also showed how the Steelers stuck together when the offense struggled and came under heavy criticism outside of team headquarters.
"There was a lot of growing pains along the way," Foster said. "Our job was to not get frustrated. You can't have guys splitting saying, 'Why isn't this working? Why isn't that working?' We showed that if we hold it together the way we did and not do what we did against Cleveland in the first game of the year and not sputter out [in the second half] that we can be special."
October, 23, 2014
Oct 23
12:10
PM ET
PITTSBURGH --
Pittsburgh Steelers
quarterback
Ben Roethlisberger
lavished praise on the player who will be his counterpart Sunday at Heinz Field.
And
Indianapolis Colts
quarterback
Andrew Luck
couldn't say enough good things about Roethlisberger.
"His ability to extend plays is incredible [and] maybe the best in the league what he does in finding an open guy if something breaks down," Luck said. "I know as a quarterback if you can [do] that every now and then, it can be demoralizing for a defense, and he certainly does a great job at it."
Luck
Roethlisberger
Luck, the No. 1 overall pick of the 2012 NFL draft, has been demoralizing teams with his right arm. The third-year quarterback has passed for more than 300 yards in five consecutive games, tying a Colts record held by
Peyton Manning
.
Luck leads the NFL with 333 passing yards per game.
"He's emerging as one of the best in the league, and I think a lot of us saw that coming," Roethlisberger said. "I always enjoy watching other quarterbacks because anything you can take, whether they're older or younger, and use it in your game, I think you've got to do it. Hopefully he has a bad day because our defense is playing well."
Roethlisberger is hoping to play enough well enough to deliver a victory, one that would leave the Steelers with a 5-3 record at the halfway point of the season, and reach a career milestone.
Roethlisberger will try to win his 100th career game on Sunday, and the 11th-year quarterback would join some pretty exclusive company.
If Roethlisberger beats the Colts, he will become just the fourth quarterback in NFL history to win 100 games in 150 or fewer starts, according to ESPN Stats & Information. Sunday will be Roethlisberger's 150th start.
The only other players to accomplish that feat are
Tom Brady
, Joe Montana and Terry Bradshaw.
"Amazing, great football player," Luck said of Roethlisberger. "I know when I was a rookie, I watched a lot Steelers tape to try and learn [former Steelers and Colts offensive coordinator] Bruce Arians' offense and ended up watching a lot of Ben and the things he does, did [and] still does. So a ton of respect for how he plays football."
September, 5, 2014
Sep 5
7:00
PM ET
PITTSBURGH –
Ben Roethlisberger
to the
St. Louis Rams
?
The veteran quarterback could only laugh off a tweet, which surfaced earlier this week, that has the Steelers dealing him before the trade deadline if they get off to another slow start this season.
Roethlisberger
"I guess that's the world we live in. People can make up whatever they want [on social media] and it's unfortunate," Roethlisberger said. "That's why I don't tweet and Facebook and all that other stuff."
Roethlisberger – and the Steelers – can each say until they are blue in the face that the shared goal is for him to play his entire career in Pittsburgh, and it still won't stop speculation about his future.
If team president Art Rooney II is looking to unload the most important Steelers' most important player since the dynastic teams of the 1970s, he sure doesn't sound like it.
"I don't see anything physically that would lead you to believe [Roethlisberger] is starting to tail off in any way," Rooney told ESPN.com recently. "So I think maybe some of his best years are still ahead of him here."
Roethlisberger, who turned 32 in March, still certainly appears to be in his prime.
He is coming off a season in which he threw for the most second-most yards (4,261) and touchdowns (28) in his career. The 6-foot-5, 241-pound quarterback is also taking fewer hits with the Steelers running the no-huddle offense more frequently.
Just as significant: Roethlisberger and Todd Haley are in a good place after an, ahem, adjustment period when the latter succeeded Bruce Arians as the Steelers' offensive coordinator in 2012.
For all of the talk about how the two aren't exactly golfing buddies, they have in fact hit the links a couple of times together this year, Haley said.
"He's as competitive as they come," said Haley, who has a similar reputation. "It doesn't matter whether it's on a Sunday or on the golf course. That's a trait that you love to see guys have. He's competitive when you start naming '80s music too. He is surprisingly good."
He's not bad at playing quarterback, either.
Roethlisberger is in the process of rewriting the Steelers' record book, and he has the best winning percentage (.669) this side of
Tom Brady
and
Peyton Manning
among active NFL quarterbacks.
Cornerback
Ike Taylor
said Roethlisberger is the most underrated quarterback in the NFL even though Big Ben, Brady and
Eli Manning
are the only active quarterbacks who have won multiple Super Bowls.
"Just being a tough, hard-nosed guy, I don't think he gets the credit," Taylor said of Roethlisberger. "How he plays, the injuries he plays through, that's why he's a Steeler."
Until they trade him to the Rams, anyway.
August, 27, 2014
Aug 27
1:15
PM ET
Pittsburgh Steelers quarterback
Ben Roethlisberger
, who played every snap in 2013 and turned in one of his best statistical seasons, is the team's highest-ranked representative on ESPN.com's list of the NFL's top 100 players on offense and defense.
Roethlisberger
The question is whether six quarterbacks are better than Roethlisberger, one of only three active passers to win multiple Super Bowls.
Roethlisberger is
No. 28 on offense
, two spots behind
Seattle Seahawks
quarterback
Russell Wilson
, who won the 2013 Super Bowl.
Despite throwing for 4,261 yards and 28 touchdowns -- and holding the Steelers together after a ghastly 0-4 start -- Roethlisberger somehow slipped four spots from his 2013 ranking.
The 11th-year veteran has already broken many of Terry Bradshaw's Steelers passing records and is one of only four quarterbacks in the modern era to win 80 games in 113 or fewer starts.
His ranking confirms what I have long thought about Roethlisberger: He doesn't get the recognition he deserves for what he means to the Steelers.
Maybe consecutive 8-8 seasons slightly dimmed opinions on Roethlisberger from a national perspective. Imagine, however, the losing the Steelers would have endured as they rebuilt their defense on the run without Roethlisberger, who is a franchise quarterback in every sense of the word.
That he is still playing at an incredibly high level at the age of 32 is the Steelers' biggest reason for optimism as they try to return to the playoffs for the first time since 2011.
July, 28, 2014
Jul 28
12:45
PM ET
LATROBE, Pa. -- I'm not sure why
Ben Roethlisberger
's contract situation was ever an issue.
He wants to play his entire career with the
Pittsburgh Steelers
and the Steelers went through too many quarterbacks after Terry Bradshaw to play a high-stakes game of chicken with Roethlisberger over money.
Roethlisberger
The two sides will get a deal done when the time is right. Roethlisberger still has two years left on the eight-year, $102 million deal he signed in 2008, and next year is much better for the Steelers to get a new deal done with Big Ben. The Steelers will have the kind of salary-cap space after this season to lock up Roethlisberger without compromising the construction of a competitive roster because of the investment they make in their franchise quarterback.
In terms of Roethlisberger and his third contract with the Steelers, it has always been a matter of when and not if, and Kevin Colbert doesn't anticipate protracted contract talks once the two sides get serious about a new deal.
"Most negotiations aren't that complicated or time consuming if you have two parties that want to do a deal," the Steelers general manager said Monday.
That is the case with Roethlisberger and the Steelers. The only question is how much the organization will pay a quarterback who will be 33 years old when he plays under his next -- and presumably final -- contract.
Roethlisberger is still playing at a high level, and his command of the no-huddle offense, from which the coaches lifted the reins in the second half of last season, might be the biggest reason the Steelers won six of their final eight games in 2013.
The 11th-year veteran reported to training camp in excellent shape, and Roethlisberger is as engaged as ever when he is on the field, pointing out to the Steelers' young and new wide receivers the correct way to run a route or simply offering encouragement.
The Steelers, meanwhile, remain committed to building around Roethlisberger.
And if there is any doubt about how much they value him, consider this: When asked if he buys into the thinking that if you have a franchise quarterback in the NFL you have a chance, Colbert did not hesitate to answer.
"Absolutely," he said.
July, 21, 2014
Jul 21
3:00
PM ET
I wrote following a fan vote for the most memorable play in
Pittsburgh Steelers
history that all were vying for second place behind Franco Harris' "Immaculate Reception."
That turned out to be true for every other NFL team as well.
Harris' galloping touchdown after making a shoestring catch of a desperation pass – one that had caromed backwards -- won ESPN.com's bracket challenge for the most memorable play in NFL history.
The Immaculate Reception beat Dwight Clark's touchdown catch that launched the San Francisco 49ers' dynasty in the early 1980s, capturing 52 percent of the fan vote over a three-day period.
Harris' play was the last one standing despite some stiff competition, confirming how enduring it is -- and that it transcends the Steelers and even Pittsburgh.
The play as ESPN.com NFL columnist
Kevin Seifert wrote
had a little bit of everything: drama, a great individual effort and intrigue.
We may never know if Terry Bradshaw's pass first touched Steelers running back Frenchy Fuqua, which would have made Harris' reception an illegal one, despite Zapruderesque dissection of the play.
The controversy over the final play -- and the Steelers' 13-7 win over the Raiders at Three Rivers Stadium -- touched off a rivalry that shaped the 1970s.
And while the Steelers lost the following week in the AFC championship game to the
Miami Dolphins
no less an authority than Dan Rooney has said Harris' catch and game-winning touchdown gave the franchise hope and belief.
It might be difficult for a younger generation of Steelers fans to believe but Pittsburgh was badly in need of both before the Immaculate Reception. The Steelers had never won a playoff game before Harris' miraculous catch and run.
Since beating the Raiders in 1972, two days before Christmas, the Steelers have won 32 times in the postseason and six Super Bowls.
May, 4, 2014
May 4
6:28
PM ET
CLEVELAND, Ohio -- Terry Bradshaw brought his self-deprecating one-man show to Cleveland Sunday as part of the Pro Football Hall of Fame FanFest.
Between songs, self put-downs and stories about his humble beginnings and football success, Bradshaw weaves a fine tale.
Titled "America's Favorite Dumb Blonde -- A Life in Four Quarters," Bradshaw plays himself perfectly. Not because he's playing a part, but because he's being himself, and being genuine always works. In this case, he allows fans a peek into his background, but he does it the same way he does it while analyzing games on FOX or in his semi-regular TV appearances.
"Dumb is my calling card," he said with a cackle.
[+] Enlarge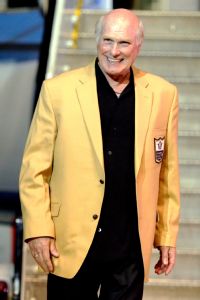 AP Photo/Mark DuncanTerry Bradshaw is entertaining in his one-man show "America's Favorite Dumb Blonde -- A Life in Four Quarters."
We should all be so dumb. Bradshaw takes big swipes of life, embraces its ups and downs, and comes out of every experience with a big, bold smile.
He called his one-man show "almost a bucket list" kind of thing. It has played at The Mirage Hotel in Las Vegas and now is on the road. With former teammate Franco Harris sitting in the second row, Bradshaw filled his show with jokes about his ex-wives and his playing days.
"I'm gonna enjoy myself," he said, walking around the stage in sneakers and jeans. "Whether it's good or bad makes no difference to me."
Despite timing issues and a pregnant pause here and there, the audience enjoyed it, too.
This is not Broadway, but Bradshaw can sing a country tune and can make fun of himself with the best of them.
He admitted doing the show in Cleveland, where the Steelers are the hated rivals, "is not where I need to be." But he added, "For $1,500 I'll go about anywhere."
The show almost seemed like a spinoff of Bradshaw's motivational talks. He is an energetic, lively speaker, which is part of his post-NFL success.
Those expecting a treasure trove of Steelers stories will be disappointed. The show is mainly about life outside football, though he does spend a fair amount of time on the "Immaculate Reception."
The show started with Bradshaw asking everyone to turn and shake the hand of a stranger, then hug someone, then give someone a kiss. He talked about how poor he was growing up in Louisiana (he said he used pages from the Sears and Roebuck catalog for toilet paper) and how he got to Louisiana Tech (because he "failed" the ACT and couldn't go to to LSU).
He made fun of his naked appearance in the film "Failure to Launch" with Matthew McConaughey, saying his "white butt" was on the screen far too long. He saw the film with his daughter, and all she could say was "oooh Daddy."
His songs -- "Going Deep," "Humble Beginnings" and "You Never Know How Good You Got It" (the last recorded with Glen Campbell) -- keep the show moving.
It seems like its' simply in Bradshaw's to be upbeat. He knows what he is and what he is not, and he's not afraid to share it.
Harris chuckled through the show, especially the part when Bradshaw said "Franco was supposed to blocking" on the Immaculate Reception. Another former Steeler,
Rod Woodson
, said he did not attend but he heard some of the music while wandering the FanFest.
"I think," Woodson said, "I'll wait until it's on TV, or Netflix."
Somehow it seems Bradshaw would hear this and laugh that famous laugh, head back, mouth wide open.
At the age of 65 and doing a one-man show, Bradshaw seems to be, as Warren Zevon urged, enjoying every sandwich. Which is really a pretty good way to go through life.
"Hug your momma, hug your daddy," he said at the show's conclusion. "Hug your kids. Be nice. And learn how to smile."
January, 20, 2014
Jan 20
8:00
AM ET
PITTSBURGH -- This is the first of a series in which I will examine every position relative to the 2013 season -- and take a look ahead. Let's start first with the most important position on the field.
QUARTERBACKS
2014 free agents
: None.
Roethlisberger
The good
:
Ben Roethlisberger
, one of just three active quarterbacks to play in multiple Super Bowls, may have had the best season of his career. Roethlisberger set a Steelers record for completions in a season (375), and he passed Terry Bradshaw for the most touchdown passes (219) in Steelers history. Roethlisberger thrived in the no-huddle attack that the Steelers used extensively in the second half of the season, and at no other point of his career has he had more ownership of the offense. Roethlisberger turned 32 in March but he is still clearly in his prime, and he played every snap this season, something that bodes well for him holding up as he advances in age.
The bad
: Not a lot to quibble with in terms of Roethlisberger, who also nearly set a career-high in passing yards for a season with 4,261. Roethlisberger had some ball control issues early in the season, and he committed four turnovers alone in a 40-23 loss to the Bears. Roethlisberger committed just five turnovers in the Steelers' final eight games. Despite his production, durability and leadership, the Steelers finished 8-8 for the second consecutive and that is not acceptable to Roethlisberger.
The money
(2014 salary-cap numbers): Roethlisberger ($18.9 million),
Bruce Gradkowski
(1.8 million) and
Landry Jones
($604,805). Steelers president Art Rooney II said the team intends to sign Roethlisberger to a contract extension but he did not commit to getting a deal done this offseason. Roethlisberger still has two years left on his contract so there is still plenty of time to get a deal done. It would help the Steelers if they could sign Roethlisberger to a new deal this offseason so they reduce his cap hit the next two years. Gradkowski and Jones are set as the No. 2 and No. 3 quarterback, respectively.
Draft priority
: None. Zilch. Zero. The Steelers took Jones with the second of their two fourth-round picks last year and the former Oklahoma star didn't even dress for a game in his rookie season. The only way a quarterback comes into play in the draft is if a team tries to trade up in the first round and makes the Steelers a deal they can't refuse for the 15
th
overall pick.
December, 9, 2013
12/09/13
1:15
PM ET
PITTSBURGH -- He passed Terry Bradshaw for the most touchdown passes in
Pittsburgh Steelers
history Sunday at snowy Heinz Field. He posted a passer rating that exceeded 100 for the 56th time during the regular season, and he is on track to set career highs for passing touchdowns and passing yards in a season.
[+] Enlarge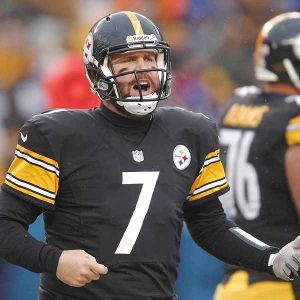 Charles LeClaire/USA TODAY SportsPittsburgh Steelers QB Ben Roethlisberger says he's not ready to quit on the season, and he expects his teammates to do the same.
Ben Roethlisberger
, by just about any metric, is having a Pro Bowl-caliber season except the one that matters most to the veteran quarterback: his win-loss record.
Roethlisberger is 5-8 this season after a disappointing
34-28 loss
to the Dolphins and what probably hurt most for the 10th-year veteran is he couldn't rally his team despite getting the ball twice in the fourth quarter with the Steelers trailing.
When asked where the loss ranks in terms of heartbreak, Roethlisberger said, "A lot. That's kind of a silly question. Sorry."
Roethlisberger had every reason to be disappointed after another game in which he put up big numbers.
His greatness has been defined by moments, not statistics and Roethlisberger simply hasn't delivered enough of the former this season as well as he has played.
It can be argued that the Steelers have not done enough to help Roethlisberger -- both on and off the field -- and that they have even wasted a season from a franchise quarterback in his prime. That won't ease the sting of losing for a quarterback who will experience back-to-back non-winning seasons for the first time in his career.
The Steelers are clearly a team in transition, and a lot of change is coming during the offseason. How much turnover remains to be seen, and Roethlisberger passed when given a chance to weigh in on whether the Steelers need to make wholesale changes following back-to-back non-winning seasons for the first time since 1998-99.
"I'm not going to answer that question," Roethlisberger said. "We are just going to give it everything we have every day. There isn't going to be any quit from anybody."
It is not in Roethlisberger's DNA to pack it in even if the Steelers aren't playing for much more than pride the rest of the season.
One of the biggest questions that will be answered over the final three games is how many of his teammates follow Roethlisberger's lead.
November, 5, 2013
11/05/13
10:00
AM ET
PITTSBURGH --
Ben Roethlisberger
appears to be getting further and further away from his goal of winning five Super Bowls. But the quarterback he is chasing in
Pittsburgh Steelers
lore said Roethlisberger is the biggest reason why the team will not necessarily be down for long despite losing 11 if its last 15 games dating back to last season.
Bradshaw is among those who believe if you have a quarterback, you have a chance in the NFL.
"Absolutely," said Bradshaw, who led the Steelers to four Super Bowl titles in the 1970s and is now an NFL studio analyst for FOX Sports, "and [the Steelers] have the quarterback so you're good. Everybody wants to have Roethlisberger, [Tom] Brady, [Peyton] Manning, [Drew] Brees."
Roethlisberger joined Bradshaw on Sunday as the only quarterbacks in Steelers history to throw for 200 career touchdowns. He needs 10 more touchdown passes to move past Bradshaw (213) and into first place on the Steelers' all-time list. Roethlisberger is also on pace to establish a new Steelers' single-season high for passing yards in a season.
The Steelers are not nearly as recognizable to Bradshaw as they have been in recent years given their struggles stopping the run.
The Steelers collapsed on Sunday, and Bradshaw said a 55-31 loss at New England reinforced an inevitability for a defense that provided the foundation for the teams that won a pair of Super Bowls and played in a third one from 2005-10.
"It's had its run," Bradshaw said, "and you've got to rebuild it."
That is one of the harsh realities facing a team that is just 2-6 at the halfway point of the season.
"Am I surprised? Yes," Bradshaw said of the Steelers' record. "It's just because I'm spoiled with the Steelers. It doesn't mean they can't right the ship."
Roethlisberger has a more basic goal -- and message that he will impart to his teammates -- following the Steelers' fourth 2-6 start since 1970.
"Keep fighting," he said. "Don't give up. Don't quit."