Pittsburgh Steelers:

Terry Hawthorne
October, 18, 2014
10/18/14
11:00
AM ET
Here is the first of two
Pittsburgh Steelers
mailbags. The second one will run Sunday morning. If you have a question please send to
@ScottBrown_ESPN
with the hashtag #steelersmail.
@ScottBrown_ESPN next 3 games are brutal. Possible of the steelers being 3-6 post Balt. will new OC be in town #steelersmail #please #Bens32

— Alex Tatangelo (@AlexTatangelo) October 15, 2014
@ScottBrown_ESPN:
I don't know if I would characterize this upcoming stretch as brutal, especially with all three games at home. I do think the Steelers need to win at least two out of three if they want to put themselves into playoff contention. Even if they lose all three I would be shocked if there is a change made in regard to Todd Haley unless the wheels completely fall off the offense. There is nothing in the way that the Steelers operate that suggests they will make a significant coaching change during the season. Fans who are so disenchanted with Haley should also consider that the execution by the
players
hasn't been close to where it needs to be for this offense to start scoring more points. The Steelers players would be the first to say that.
@ScottBrown_ESPN If the Steelers miss the playoffs for the third time in a row, how safe are Tomlin and Colbert? #steelersmail

— Louis Rizzi (@lrizzi95) October 17, 2014
@ScottBrown_ESPN:
I think both return even if the Steelers miss the playoffs unless something drastic happens like they lose the rest of their games. Mike Tomlin will probably have to shake up his staff if the Steelers miss the playoffs for a third consecutive season and I think he officially lands on the proverbial hot seat if that happens. The Steelers would also have to take a hard look at their drafting process. Whatever the setup is in regard to Kevin Colbert and Tomlin doesn't appear to be working. The Steelers have made too many questionable draft picks since the two have been together. I think the Steelers would be wise to give Colbert the final say -- there appears to be 50/50 split between him and Tomlin -- and give him ownership the draft. Colbert's body of work going back to 2000 has earned him the right to get the Steelers' drafting back on track.
@ScottBrown_ESPN is Colbert a genius for letting @LaMarrWoodley go? He has 4 tack/0sacks/0FFs through 5. Worilds is still an upgrade right?

— Gregory Ian Frank (@GregoryIanFrank) October 15, 2014
@ScottBrown_ESPN:
I don't know if I'd say genius. Right now it looks like the Steelers simply made the better of two bad choices.
LaMarr Woodley
may be non-factor in Oakland but it's not like
Jason Worilds
has been tormenting opposing quarterbacks. He has just two sacks and seven quarterback hurries in six games. Coach Mike Tomlin said earlier this week that the Steelers need Worilds to make impact plays on a consistent basis. The best thing that the Steelers can say about Worilds right now is they are not bound to him as far as a contract after 2014. It would be nice if they got more from the $9.754 million they are paying him this season.
@ScottBrown_ESPN #steelersmail who makes the final call on the cut of Wesley Johnson to bring up Ross ventrone? Just didn't make sense

— Bobby Bentley (@Franco0710) October 17, 2014
@ScottBrown_ESPN:
The Steelers wanted another special teams player against the
Cleveland Browns
with Shamrko Thomas out because of a hamstring injury. I wondered too about the decision to expose
Wesley Johnson
to waivers when the Steelers presumably could have found someone on else on their 53-man roster to take Thomas' spot on special teams. Ventrone did play well in Thomas' absence, and what does it say about Johnson that the Steelers were willing to risk losing him, as they did to the
New York Jets
? The bigger question may be why they used the second of two fifth-round picks on Johnson in the first place. That round continues to be a black hole for the Steelers. Their fifth-round picks dating to 2011 are Johnson, cornerback Shaquille Richardson, cornerback Terry Hawthorne, running back Chris Rainey and outside linebacker
Chris Carter
. Ouch.
September, 1, 2014
9/01/14
3:30
PM ET
PITTSBURGH -- Here is the second half of our analysis of the
Pittsburgh Steelers
' 2013 draft class.
Fourth-round pick: QB Landry Jones
Jones
What he did as a rookie:
The former Oklahoma star did not dress for any of the Steelers' games, serving as the No. 3 quarterback behind
Ben Roethlisberger
and
Bruce Gradkowski
.
His projected role for this season:
It will be the same. There had been considerable speculation that the Steelers would release Jones and try to sneak him onto their practice squad after the second-year man did not lead any touchdown drives in three preseason games. He is safe for now.
Notable player taken after him in 2013 draft:
Kenny Stills
. One of Jones' favorite targets at Oklahoma averaged 20 yards per catch for the
New Orleans Saints
in 2013 and finished his rookie season with 641 receiving yards and five touchdowns.
Fifth-round pick: CB Terry Hawthorne
What he did as a rookie:
Hawthorne couldn't stay healthy and the Illinois product did not show the Steelers enough during training camp and the preseason to even make the practice squad.
His projected role for this season:
Hawthorne has seemingly vanished from the football landscape. His last known attempt to stay in the game -- Hawthorne reportedly gave the CFL a shot in June -- lasted just a few days.
Notable player taken after him in 2013 draft:
Micah Hyde
. The Iowa product has been a find for the
Green Bay Packers
. He projects as a starting safety this season after playing extensively as a rookie and recording 55 tackles, a sack and a forced fumble.
Sixth-round pick: WR Justin Brown
What he did as a rookie:
Brown spent the entire season on the practice squad.
His projected role for this season:
It's hard to imagine Brown dressing for many games after he caught just five passes for 32 yards in the preseason despite playing more snaps than any Steelers' skills player. The Steelers like him as a slot receiver and he still has plenty of room for growth. But unless No. 3 wide receiver
Lance Moore
falters, Brown is unlikely to get on the field much this season.
Notable player taken after him in 2013 draft:
Andre Ellington
. Could be a sixth-round steal along the lines of
Antonio Brown
in 2010. The
Arizona Cardinals
running back averaged 5.5 yards per carry last season and had 1,023 rushing and receiving yards combined as a rookie.
Sixth-round pick: LB Vince Williams
Williams
What he did as a rookie:
Started 11 games at left inside linebacker and got better as the season progressed. Williams finished sixth on the Steelers with 66 tackles.
His projected role for this season:
Williams is to back up
Lawrence Timmons
at right inside linebacker and will play special teams. The Florida State product is the biggest reason why the Steelers have excellent depth at inside linebacker. Williams has a serious motor and can play.
Notable player taken after him in 2013 draft:
LB
Michael Mauti
. The Penn State product will provide depth at outside linebacker for the
Minnesota Vikings
and contribute on special teams.
Seventh-round pick: DE Nick Williams
What he did as a rookie:
Spent the entire season on injured reserve after hurting his knee.
His projected role for this season:
Williams opens the season on the practice squad, and the 6-foot-4, 309-pounder has enough potential for the Steelers to see what he has after veteran defensive line coach
John Mitchell
gets an extended chance to work with him on the field.
Notable player taken after him in 2013 draft:
Zac Dysert
. Spent last season as the No. 3 quarterback in Denver behind
Peyton Manning
and
Brock Osweiler
.
May, 16, 2014
5/16/14
11:00
AM ET
PITTSBURGH -- The journey that led
Shaquille Richardson
to the practice fields he stepped onto Friday, the first day of
Pittsburgh Steelers
' rookie minicamp, started years ago on the other side of the country.
An unheralded recruit in Los Angeles, Richardson caught then-UCLA assistant coach Carnell Lake's eye at a summer camp with the way he stuck to wide receivers like paparazzi. On Lake's recommendation, the Bruins brought Richardson back for another camp.
[+] Enlarge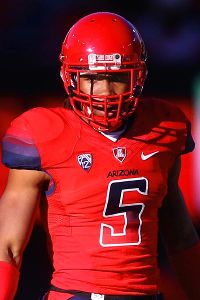 Mark J. Rebilas/USA TODAY SportsThe Steelers are banking on fifth-round draft pick Shaquille Richardson to help out Pittsburgh's secondary in the 2014 season.
"He came in and was the best cover guy we had," Lake said. "We offered him a scholarship the next day."
Richardson signed with UCLA in 2009, but neither he nor Lake stuck around Westwood -- though both for different reasons.
Their football paths have finally crossed again and this much is certain: the Steelers need their defensive backs coach to nurture the talent that he was one of the first to discern.
Richardson will receive more scrutiny than any fifth-round draft choice should, in large part because he is the only cornerback the Steelers drafted this year. The Steelers were expected to select a cornerback early in the draft and take two of them, something they have twice done since 2009.
They waited until the draft's third day to take the Arizona product. And the Steelers drafted Richardson in the same round that they selected Illinois cornerback Terry Hawthorne last year.
Hawthorne didn't make it out of training camp, and he was the only draft pick the Steelers gave up on after preseason practice.
They better have done a better job of evaluating Richardson given their lack of depth at cornerback and need to get younger at the position.
"He's definitely a good prospect that's got the measurables that you're looking for," Arizona defensive backs coach David Lockwood said of Richardson. "He's a smart player. He picks up things fast and he has some cover skills, which of course you need at that level."
Richardson started 37 of 49 games at Arizona and recorded 189 career tackles while intercepting 10 passes and breaking up 30 of them.
The 6-1, 194-pounder has good size, and he runs the 40-yard dash in the 4.5 seconds range, which Lake said, "is fast enough, especially if he is a good technician."
Lake never got to work with Richardson on the finer points of playing cornerback.
Richardson was arrested (along with three others) for felony theft before his freshman season -- charges were later dropped -- and he transferred to Arizona. Lake left the Bruins' coaching staff after the 2009 season to spend more time with his family, but he kept an eye on Richardson. The Steelers hired Lake in March 2011 to coach the defensive backs.
Lockwood, meanwhile, said Richardson never had any off-the-field issues the two seasons the two were together at Arizona.
"He's got a good personality and you can hold a conversation with him," Lockwood said. "He likes to have fun and joke around, but when it's time to work you go to work."
The Steelers hosted Richardson for a pre-draft visit last month, and Lake said he was "instantly likeable."
The Steelers liked Richardson enough that they were content to wait until the fifth round to select a cornerback and hope Richardson was still available.
"I did get a good vibe from coach Lake when I was there," Richardson said of his visit. "I'm so happy to be back under him, learn from him and be a Pittsburgh Steeler."
The Steelers are counting on Richardson -- and Lake -- for that to be the case for a long time.
"Shaquille Richardson has the prototypical size you want in a starter-capable corner," Steelers general manager Kevin Colbert said. "He's fast, he's athletic. He's got a chance."
May, 2, 2014
5/02/14
2:00
PM ET
PITTSBURGH -- The
Pittsburgh Steelers
have nine picks in the 2014 NFL draft. This is the ninth in a series that looks at the nine positions they could address in a week.
Our final look is at cornerback.
Added:
Brice McCain
Lost:
Curtis Brown
Skinny:
The Steelers have twice taken a pair of cornerbacks in their past five drafts (2009 and 2011) and their need at the position is such that they are likely to do it again this year. Cornerback is one of the deeper positions in the draft though it is not as strong as wide receiver. Michigan State's
Darqueze Dennard
would be an ideal pick for the Steelers as he is tough, physical and regarded by ESPN analyst Mel Kiper Jr. as the most complete cornerback in the draft. The biggest question with Dennard is whether he will be available at No. 15 as several teams picking ahead of the Steelers, including the Lions and Rams, could take a cornerback. The Steelers hosted Dennard as well as projected first-round picks
Kyle Fuller
of Virginia Tech and
Bradley Roby
of Ohio State for pre-draft visits. One small-school prospect to watch is
Pierre Desir
of Lindenwood. Desir showed excellent ball skills at the Division II school in Missouri, and he held his own against better competition at the Senior Bowl. Desir has good size and the Steelers have had success taking cornerbacks from smaller schools as they drafted
Ike Taylor
out of Louisiana-Lafayette in 2003 and
Cortez Allen
out of The Citadel in 2011. Both were fourth-round selections though the Steelers might have to take Desir in the third round if they really like him.
Draft likelihood:
High
Extra points
Last CB drafted by the Steelers:
Terry Hawthorne
, 2013, fifth round
Last CB drafted by the Steelers in the first round:
Chad Scott
, 1997
Last CB taken 15th overall in the draft:
Tye Hill
, Rams, 2006
CBs drafted under Kevin Colbert/Mike Tomlin:
Eight
CBs drafted under Colbert/Tomlin still with the Steelers:
Two
April, 19, 2014
4/19/14
12:00
PM ET
PITTSBURGH -- The is the last in a series that reviews the Steelers' drafts under general manager Kevin Colbert and coach Mike Tomlin.
Next up is the 2013 draft:
Total picks:
9
Picks still with the team:
8
Bell
Best pick:
RB
Le'Veon Bell
. The second-round selection set a Steelers record for yards from scrimmage by a rookie (1,259) despite missing the first three games because of a foot injury. Bell's receiving skills -- and the trust quarterback
Ben Roethlisberger
has in the Michigan State product picking up blitzes -- make him an every-down back. Bell improved as a runner as he adjusted to the speed of defenses at this level, and he rushed for 214 yards and two touchdowns in his final two games of the 2013 season. The only question with Bell moving forward is how much the Steelers will ease his workload after signing former Patriots running back
LeGarrette Blount
last month.
Worst pick:
QB
Landry Jones
. This is nothing against Jones and all on the Steelers for using a fourth-round pick on a quarterback when they had more pressing needs, particularly on defense. Jones didn't dress for a game last season, and what made taking a quarterback in the fourth round all the more curious is the Steelers did it after signing veteran
Bruce Gradkowski
to a three-year contract to back up Roethlisberger. Jones will continue to see limited snaps even in practice as long as Roethlisberger and Gradkowski stay healthy.
Best value pick:
LB
Vince Williams
. The second of the Steelers' two sixth-round picks started 11 games as a rookie, eventually settling in at left inside linebacker following a season-ending arm injury to veteran
Larry Foote
. Williams recorded 66 tackles and improved as the season progressed, particularly against the run. There are questions about whether Williams, the 206
th
overall pick of the draft, can play the pass well enough to establish himself as a long-term starter. But the Florida State product has already proven his value as a run-stopping linebacker and special-teams contributor. Even if he does not hang onto his starting job alongside
Lawrence Timmons
, Williams gives the Steelers quality depth at inside linebacker.
Also of note:
Outside linebacker
Jarvis Jones
, the 17
th
overall pick of the draft, started eight games last season but managed just one sack. Jones did record nine tackles in the regular-season finale, almost doubling his previous high (five) for stops in a game. ... Third-round pick
Markus Wheaton
played just 157 snaps and caught six passes for 64 yards. He is expected to get the first crack at replacing
Emmanuel Sanders
, who signed with the Broncos last month, in the starting lineup. ... Cornerback Terry Hawthorne, a fifth-round pick, has not signed with another team since the Steelers released him at the end of preseason practice. ... Seventh-round pick
Nick Williams
has a real opportunity after spending last season on injured reserve because of a knee injury. The Steelers are thin at defensive end and they will give Williams a long look during offseason practices and training camp.
Final analysis/grade:
So much of the Steelers' draft hinges on the jump Jarvis Jones and Wheaton make in their second season -- and whether the two become productive starters. Assuming that happens and fourth-round pick
Shamarko Thomas
works his way into the rotation at safety, this has the makings of a very good class. But it is too early to put a grade on it so I will give the Steelers an incomplete here.
December, 1, 2013
12/01/13
3:00
PM ET
How well did the Pittsburgh Steelers draft last April? Ask me in three years.
I think it takes at least three years before you can accurately -- and fairly -- judge a draft class. That said, 12 games have provided enough of a sample size to assess how the Steelers' rookies have fared in their first NFL season.
Here is a look at where the players in the Steelers' most recent draft picks stand three-quarters of the way into the 2013 season.
1. Jarvis Jones, OLB:
Jones has not made much of an impact as a pass-rusher, and the Steelers took the former Georgia star 17
th
overall to get after the quarterback. But it takes time for outside linebackers in Dick LeBeau's 3-4 defense to develop, so it's way too early to read much into the fact that Jones has just one sack and 30 tackles. Just as paramount as the 6-foot-2, 245-pounder improving his grasp of the defense in the offseason is Jones adding bulk.
[+] Enlarge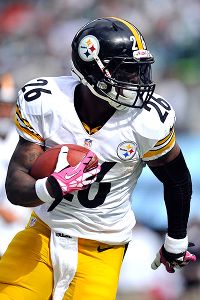 Joe Camporeale/USA TODAY SportsLe'Veon Bell has been one of the bright spots from Pittsburgh's latest draft class.
2. Le'Veon Bell, RB:
The early returns are good on this pick as Bell is almost a lock to win the Joe Greene Award, which is given to the team's top rookie. The former Michigan State star is already a focal point of the offense, and he is the kind of all-around back around which the Steelers can build. Bell is nearing 1,000 yards of total offense -- he has 847 -- and he is only going to get better as a runner.
3. Markus Wheaton, WR:
The Steelers have gotten minimal production from Wheaton, which has been surprising considering the praise he received from some of the veteran players before the start of the season. Wheaton, who has six catches for 64 yards, hasn't gotten on the field much as a No. 4 wide receiver, and he missed four games after needing surgery to fix a broken right pinkie. His development is crucial, especially if
Emmanuel Sanders
signs elsewhere after the season as an unrestricted free agent.
4a. Shamarko Thomas, S:
The former Syracuse star has played well enough to get on the field extensively as a third safety in the Steelers' quarter package, though he missed two games recently with a high-ankle sprain. Thomas, who has 29 tackles, has to be a big part of the future with
Ryan Clark
unlikely to return after the season and
Troy Polamalu
also anything but guaranteed to be back in 2014 since he is set to make just over $8 million in the final year of his contract.
4b. Landry Jones, QB:
Jones has not been on the active roster for any game this season. That is actually a good thing as it means
Ben Roethlisberger
has stayed healthy, and indeed the 10
th
-year veteran has avoided the kind of injuries that have sidelined him in past seasons. It's too early to call this a wasted pick but it certainly looks like the Steelers could have gone in another direction with the second of their two fourth-round selections, especially since they had signed a proven backup in
Bruce Gradkowski
before they drafted Jones.
5. Terry Hawthorne, CB:
The Illinois product did not show enough during offseason practices or training camp for the Steelers to even keep him on the practice squad after cutting Hawthorne at the end of August. Hawthorne couldn't overcome offseason knee surgery, and he is currently a free agent.
6a. Justin Brown, WR:
He lost the the battle for the final wide receiver spot on the 53-man roster to former Penn State teammate
Derek Moye
. Brown has been on the practice squad all season, and he will be given a chance to make the team next season. He also has potential as a punt returner.
6b. Vince Williams, LB:
The former Florida State star has been thrust into the starting lineup due to a season-ending bicep injury sustained by
Larry Foote
. Williams has probably played as well as can be expected but it's too early to tell whether he has a future with the Steelers as a starter or is more suited for a backup role. Williams has 40 tackles, but he has played sparingly in recent week as he comes off the field in the quarter package and has also lost some snaps to undrafted rookie
Terence Garvin
.
7. Nick Williams, DE:
Another small-school project for Steelers defensive line coach John Mitchell. The Steelers saw enough from Williams to place him on injured reserve instead of waiving him with an injury settlement in late August. Williams is working his way back from a knee injury, and the offseason will be a critical one for the Samford product.
Overall:
Could have been better but could have been worse, too. And that assessment comes with the caveat that it's way too early to label any of the rookies, which include Garvin, guard Chris Hubbard (practice squad), defensive end Brian Arnfelt (practice squad) and Devin Smith (practice squad) as anything but works in progress.
August, 26, 2013
8/26/13
4:34
PM ET
Le'Veon Bell
's foot injury probably cost third-year running back
Baron Batch
any chance of making the Steelers. Batch was among the players cut Sunday as the Steelers trimmed their roster to 75 players, and he was simply a luxury the team couldn't afford with its running game in such flux.

You can win with players like Baron Batch. He is excellent on special teams and is a more than willing and able blocker, especially when it comes to blitzing linebackers. The former seventh-round pick does all of the little things well and has a heart the size of his native Texas.
Batch would be an ideal fourth running back on a team that has a feature back since he could play primarily on special teams and provide injury insurance. But he wasn't a good fit on a team that will go with a running back by committee -– at least until Bell is healthy and able to fill the role of feature back.
Releasing Batch before the final cut might have come as a surprise to some Steelers fans. But it is probably a measure of how highly the Steelers think of Batch, as a person and a professional. The timing of his release gives Batch a chance to catch on somewhere else and get a couple of days to impress his new team.
The release of
Stevenson Sylvester
, the other veteran cut on Sunday, leaves the Steelers with very little experience behind
Lawrence Timmons
and
Larry Foote
at inside linebacker.
It all but assures
Marshall McFadden
and rookie
Vince Williams
, a sixth-round pick last April, of making the 53-man roster.
The only draft pick right now that won't make the 53-man roster is seventh-rounder
Nick Williams
, who has been shut down by a knee injury. The Steelers liked enough of what they saw from Williams, a defensive end, that they put him on the reserve/injured list instead of the waived/injured list.
Cornerback
Terry Hawthorne
(fifth round) and wide receiver
Justin Brown
(sixth round) are battling for roster spots, and I think Hawthorne makes the team, but Brown might have too much to overcome -- namely his former Penn State teammate
Derek Moye
and the real possibility that the Steelers only keep four wide receivers.
Moye appears to have separated himself among the wide receivers who aren't a lock to make the team. But he could get caught in a numbers cruch if the Steelers have to carry an extra tight end or running back because of injuries.