Pittsburgh Steelers:

Tim Couch
April, 24, 2014
Apr 24
8:00
AM ET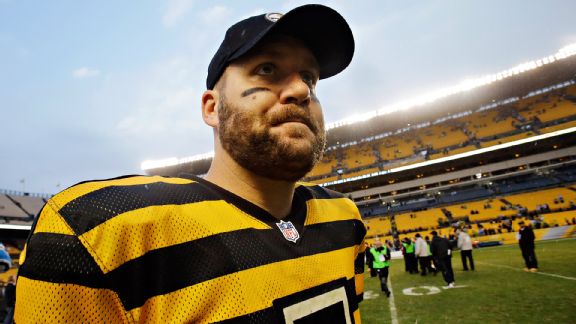 AP Photo/Gene J. PuskarBen Roethlisberger, the Steelers' first-round pick in 2004, has forever impacted the franchise.
PITTSBURGH -- The
Steelers
needed more than a little luck to end their long search for the rightful heir to Terry Bradshaw, the quarterback they had taken first overall in the 1970 NFL draft.
Ten years ago today -- and almost a quarter of a century after they selected Bradshaw by winning a coin toss to secure the top pick over the
Chicago Bears
-- the Steelers drafted
Ben Roethlisberger
with the 11th overall pick.
As with Bradshaw, the pick set the franchise on a glorious course.
Bradshaw struggled early in his career and was benched and booed by fans before winning four Super Bowls, but with Roethlisberger, the Steelers got a serious return on their quarterback investment earlier than anyone could have expected.
An injury to starter
Tommy Maddox
in the second game of the 2004 season thrust Roethlisberger into action. And the quarterback who had been considered more of a project than the two picked ahead of him (
Eli Manning
and
Philip Rivers
) because he hadn't played against top competition at Miami (Ohio) responded by winning his first 14 starts.
The Steelers suffered a disappointing loss to
Tom Brady
and the Patriots in the 2004 AFC Championship Game, but they finally found their quarterback after going through their share of them following Bradshaw's retirement in 1984.
Roethlisberger led the Steelers to three Super Bowls from 2005 to 2010, winning two of them, and he showed a flair for extending plays after his pass protection had collapsed, as well as directing clutch fourth-quarter drives -- both the result of a competitive streak that is as long as one of the three rivers that converge in Pittsburgh.
He authored his signature comeback in Super Bowl XLIII when the Steelers trailed the upstart Arizona Cardinals by three points and were backed up at their 10-yard line with less than three minutes left in the game.
Roethlisberger needed eight plays and a little more than two minutes to lead the Steelers to a game-winning touchdown, capping the drive with a 6-yard scoring pass to
Santonio Holmes
.
The pass was vintage Roethlisberger: daring and something more likely seen in a backyard game, not the NFL's biggest stage. Roethlisberger unleashed the pass under pressure, throwing it into a crowd but only where his receiver had a chance to catch it.
That unlikely play, in retrospect, serves as something of a metaphor for Roethlisberger's Steelers career, because so much had to break just right for him to wear black and gold in the first place.
"We didn't expect that he would end up in Pittsburgh," Ryan Tollner, Roethlisberger's agent, said.
Indeed, 10 teams picked ahead of the Steelers in the 2004 draft, including the Browns, who would have been hailed for taking the Ohio native to lift the struggling franchise.
And Roethlisberger's camp didn't know to what extent he was on the Steelers' radar.
The team had met with Roethlisberger at the NFL scouting combine and also hosted him for a pre-draft visit, but they never worked him out. Tollner figured he would go to the Raiders at No. 2, the Cardinals at No. 3, the Giants at No. 4 or the Browns at No. 6.
If none of those teams drafted Roethlisberger, Tollner thought, Buffalo at No. 13 would be the probable landing spot for his client.
Meanwhile, another member of Roethlisberger's inner circle was convinced the Giants were going to draft him. Terry Hoeppner, his coach at Miami, had spoken extensively with Ernie Accorsi about Roethlisberger and had gotten a good vibe from the Giants' general manager.
[+] Enlarge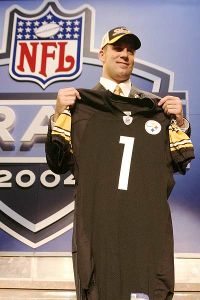 AP Photo/John Marshall MantelQB Ben Roethlisberger hasn't forgotten about all of the teams -- especially the Browns -- who bypassed him in the 2004 draft.
That is why when the Giants drafted Rivers -- they subsequently dealt him to the Chargers for Manning, who had been taken first overall -- Hoeppner fired a water bottle in disgust across the table where he was sitting with Roethlisberger and others at the draft in New York City.
The Redskins took safety
Sean Taylor
with the fifth pick, providing an opening for the Browns, who needed a quarterback after
Tim Couch
, the first overall selection in 1999, didn't pan out.
"[Roethlisberger] is a northwest Ohio kid, and played in-state at Miami of Ohio and here the Browns are, they've struggled at the quarterback position for a long time," Tollner said. "Ben is sitting there and they elect to go with a tight end. It's something Ben's never forgotten and he never will."
The Browns' picking tight end
Kellen Winslow Jr.
proved to be one of the draft's pivotal points. But the Steelers also came close to passing over Roethlisberger after he lasted through the first 10 picks.
The team had zeroed in on Arkansas offensive tackle
Shawn Andrews
, but owner Dan Rooney deftly shifted the conversation to Roethlisberger before the Steelers made their pick.
Rooney had good reason to speak up.
The Steelers had built their dynasty in the 1970s -- and transformed an organization once synonymous with losing -- through shrewd drafting.
They had missed an opportunity near the end of Bradshaw's career when they passed on local legend
Dan Marino
in the 1983 draft and instead selected Texas Tech defensive tackle Gabe Rivera with the 21st pick.
The Dolphins pounced on Marino with the 27th selection, and his strong arm and quick-as-a-hiccup release allowed the Pitt product to become an early star in Miami and eventually a first-ballot Pro Football Hall of Famer.
The Steelers, meanwhile, shuffled through enough quarterbacks in the post-Bradshaw era that seven different players led them in passing from 1983 to 2003.
Rooney fretted that overlooking Roethlisberger also might come back to haunt the Steelers.
"I couldn't bear the thought of passing on another great quarterback prospect," Rooney wrote in his book "Dan Rooney: My 75 Years With The Pittsburgh Steelers and The NFL."
"So I steered the conversation around to Roethlisberger. After some more talk, we came to a consensus and picked Roethlisberger."
Ten years later, Roethlisberger remains the youngest quarterback to win a Super Bowl -- he was only 23 when the Steelers beat the Seahawks in February 2006 -- and joins Eli Manning and Brady as the only active quarterbacks with multiple Super Bowl victories.
Roethlisberger, who turned 32 in March, already has broken many of Bradshaw's Steelers records and is five victories away from becoming the 13th quarterback in NFL history to win at least 100 regular-season games.
It hasn't all been smooth for Roethlisberger in Pittsburgh.
A motorcycle accident after his first Super Bowl victory left Roethlisberger seriously injured and may have contributed to his uneven play in 2006. And two sexual assault allegations made against him less than a year apart led to a four-game personal-conduct policy suspension by the NFL at the beginning of the 2010 season (Roethlisberger was never charged with a crime).
Roethlisberger since has rehabilitated his image, gotten married and started a family. He is considerably closer to the end of his career than the beginning of it, though he played every snap last season.
It's safe to say Roethlisberger is one of the best draft choices in Steelers history -- and the most critical one to reconnecting the team that has won a record six Lombardi trophies with its triumphant past.
Oh, and yeah, Roethlisberger is 19-1 in his career against the Browns, the most notable and personal of the teams that passed on him 10 years ago.
"I think that Ben getting where he did in hindsight was the best thing that could have happened to him because he went to a strong organization but he went in a position that kept him feeling like an underdog," Tollner said. "He entered the league a very respectable pick at No. 11 overall but very driven to prove that 10 teams made a very bad mistake in passing on him."
January, 7, 2014
Jan 7
11:00
AM ET
The lone AFC North team in the playoffs made another early exit Sunday when the No. 3 Bengals lost to the No. 6 Chargers, 27-10, at Paul Brown Stadium. With all four division teams now in offseason mode, here is a quick look at them by order of finish in the AFC North.
Cincinnati Bengals

2013 record:
11-5, 3-3 in division
Key free agents:
DE
Michael Johnson
, OT
Anthony Collins
Biggest question:
Have coach Marvin Lewis and quarterback
Andy Dalton
taken the Bengals as far as they can?
Biggest reason for hope:
Despite losing in the wild-card round of the playoffs for the third consecutive season, the Bengals have a very good nucleus. Rookie
Giovani Bernard
showed enough to think his time splitting carries with the plodding
BenJarvus Green-Ellis
is over.
Why they might disappoint:
Dalton has faltered too many times in big games to think he can take the next step, and just making the playoffs is no longer good enough in Cincinnati.
Overall state of the franchise:
The Bengals find themselves at a crossroads, but they have little choice but to stick with Dalton -- for now -- unless they want to draft a quarterback in the first round and hand over a veteran team to him.
Pittsburgh Steelers

2013 record:
8-8, 4-2
Key free agents:
OLB
Jason Worilds
, WR
Emmanuel Sanders
Biggest question:
Will the Steelers re-establish themselves as Super Bowl contenders while re-tooling their defense?
Biggest reason for hope:
The offense will be able to mask some of the issues the Steelers have on defense if it builds on its strong second half of the 2013 season.
Why they might disappoint:
The defense could get worse before it gets better if younger players don't emerge in the secondary and Worilds signs elsewhere.
Overall state of the franchise:
The Steelers are facing a lot of uncertainty, but a 6-2 finish and the way the offense has come together point to them returning to postseason play in 2014 after missing the playoffs in consecutive seasons.
Baltimore Ravens

2013 record:
8-8, 3-3
Key free agents:
TE
Dennis Pitta
, LB
Daryl Smith
Biggest question:
Did the Ravens suffer through the dreaded Super Bowl hangover or are they in decline?
Biggest reason for hope:
Joe Flacco
is a franchise quarterback, and there is still plenty of talent on both sides of the ball.
Why they might disappoint:
The Ravens, like the Steelers, are clearly in transition on defense. Two cornerstones of that defense -- outside linebacker
Terrell Suggs
and defensive tackle
Haloti Ngata
-- no longer dominate on a consistent basis.
Overall state of the franchise:
Ozzie Newsome and John Harbaugh are as good as any general manager-coach tandem in the NFL, and they have to be given the benefit of the doubt even though the Ravens slipped this season.
Cleveland Browns

2013 record:
4-12, 2-4
Key free agents:
C
Alex Mack
, S
T.J. Ward
Biggest question:
Will a new coach and a quarterback finally stabilize an organization that has floundered, often spectacularly, since the NFL returned to Cleveland in 1999?
Biggest reason for hope:
There are some pieces in place, most notably wide receiver
Josh Gordon
, cornerback
Joe Haden
and left tackle
Joe Thomas
, and the Browns have a pair of first-round picks, including the fourth overall selection.
Why they may disappoint:
Tim Couch, Brady Quinn and
Brandon Weeden
are the quarterbacks the Browns have drafted in the first round since 1999. Why should Browns fans think they will get it right in this draft?
Overall state of the franchise:
The Browns dumped coach Rob Chudzinski after just one season, and unless they find the right replacement and, oh yeah, a quarterback in the draft, the Browns will continue to bottom feed in the AFC North.