Pittsburgh Steelers:

Todd McShay
March, 7, 2014
Mar 7
1:00
PM ET
ESPN's Todd McShay has the Steelers taking Alabama safety
Ha Ha Clinton-Dix
with their first-round pick in his latest mock draft.
The Steelers could go a number of different ways with the 15
th
overall pick, and even if they use it on another position, they will take a safety at some point in the draft.
A potential safety target for the Steelers after the first round is Washington State's
Deone Bucannon
.
The 6-foot-1, 216-pounder stood out to ESPN draft analyst Steve Muench when the latter
broke down tape

of the defensive backs in this year's draft.
Muench compared Bucannon to 49ers safety Eric Reid, a first-round pick last year who made the Pro Bowl as a rookie.
Here is what Muench wrote in praising Bucannon's all-around game:
He has the upper body strength and arm length to play in the box in addition to the closing burst to get downhill when he lines up deep. The occasional missed tackle in space and bad angle show up, but they aren't repetitively glaring issues Bucannon isn't a one-dimensional run stopper either. He ran a 4.49 40 at the combine, and it's an accurate reflection of the speed you see on tape. He has the range to play a center fielder-type role over the top and he can run with most slot receivers, let alone tight ends.

His greatest strength may be his ability to change the complexion of a game. He's a turnover machine who intercepted 15 passes and forced seven fumbles in four seasons at Washington State. A heavy hitter, he has the closing burst, ball skills and aggressive nature to continue to make impact plays at the next level.

On the downside, he can get caught out of position biting on play-action or gambling in an effort to make a play. He also has tighter hips that make it tough for him to mirror receivers getting in and out of breaks. He has a similar height-weight-speed ratio to the 49ers' 2013 first-round pick and No. 18 overall, safety Eric Reid out of LSU, but Bucannon's not as fluid.
Muench projects Bucannon as a second-round pick and a player who still should be available when the Steelers make their second pick in the 2014 draft.
February, 27, 2014
Feb 27
6:30
PM ET
PITTSBURGH -- Few players helped themselves more at the NFL scouting combine than Texas A&M wide receiver
Mike Evans
.
[+] Enlarge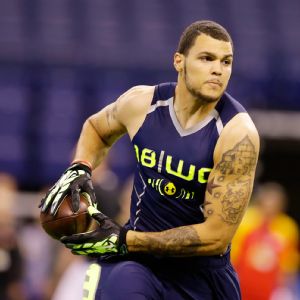 AP Photo/Michael ConroyMike Evans' combination of size and speed means he won't be on the board long come draft day.
That widely shared opinion is reflected in ESPN analyst Mel Kiper Jr.'s post-combine list of the top 25 players in the draft, and it is not necessarily a good thing for the Steelers.
Evans shot up
Kiper's "Big Board,"

moving from No. 15 to No. 6 after performing well in Indianapolis.
Evans, one of the tallest wide receivers in the draft, ran a better-than-expected 4.53 seconds in the 40-yard dash. That speed, along with Evans' size and ball skills, has solidified his standing as the second-best wide receiver in the draft -- and one who may have run himself out of the Steelers' reach.
The Steelers have the 15th overall pick in the draft but Evans could be gone before they make their first selection.
Here is what Kiper wrote about Evans on his updated Big Board:
Evans put together an exceptional combine with great speed and leaping ability for a player his size. No player in the draft is better on contested throws, and every quarterback wants a target like this. Evans uses his reach, jumping ability and long frame to beat shorter defenders like a good rebounder (and he was a good rebounder on the basketball court). I've been concerned about his off-the-line quickness, but he clearly has good top-end speed. Evans could also be a versatile threat -- used on the edge or in the slot to create matchup problems -- because you simply can't defend his size. Seems likely to land in the top 10 now.
Evans did not make as big a jump on ESPN analyst Todd McShay's list of the
top 32 players

in the draft, but had already been in the top 10 and he moved up a spot to No. 7. Here is what McShay wrote in a post-combine update of his top 32 prospects:
[Evans] showcased excellent hands during the gauntlet drill at the combine, and his 4.53 40 time is good for a receiver his size. I've been describing him as a pit bull in terms of his on-field competitiveness; he is one of the best receivers I've ever seen in terms of coming down with contested catches, and he is the most proven downfield threat in this class. I expect him to come off the board somewhere between Nos. 10 and 20.
Southern Cal wide receiver
Marqise Lee
is No. 15 on Kiper's Big Board while McShay has Louisville safety
Calvin Pryor
as the 15th-best prospect in the draft. Pryor is one spot ahead of Alabama safety
Ha Ha Clinton-Dix
.
February, 11, 2014
Feb 11
4:50
PM ET
PITTSBURGH -- ESPN NFL draft analysts Mel Kiper Jr. and Todd McShay have the
Pittsburgh Steelers
taking Notre Dame defensive tackle
Louis Nix III
in the two mock drafts each has done to this point.
McLendon
Cian Fahey of Football Outsiders provided insight into why the Steelers need to address the middle of their defensive line. Fahey wrote that
nose tackle is the Steelers' biggest need
because
Steve McLendon
did not prove to be a good enough replacement for five-time Pro Bowler
Casey Hampton
.
McLendon, according to Football Outsiders, made his average tackle following a gain of 3.0 yards, the worst of any starting nose tackle in a 3-4 defense last season.
The Steelers slipped to 20
th
in the NFL in
defense-adjusted value over average (DVOA)
, according to Football Outsiders. Last season marked the first time in five years that the Steelers did not finish in the top 10 in either rushing or passing DVOA. And the Steelers allowed 125 rushing yards per game last season after surrendering just 95 rushing yards per game in 2012.
Here is an excerpt from what Fahey wrote regarding the Steelers' need at nose tackle:

Everything the Steelers do on defense is predicated on their ability to stop the run. The most important run defender in Dick LeBeau's scheme is the nose tackle. Casey Hampton excelled in that role for years before Steve McLendon took over last season. McLendon had thrived in a pass-rushing role, but he struggled to sustain quality play as a full-time starter at the nose.

February, 6, 2014
Feb 6
4:00
PM ET
ESPN NFL draft analysts Mel Kiper Jr. and Todd McShay each have the
Pittsburgh Steelers
picking Notre Dame defensive tackle
Louis Nix III
in their second mock drafts, which were released earlier today. Here is what each wrote about Nix, who is the top nose tackle prospect in the 2013 NFL draft.
Kiper:

While I project Nix here because he's an obvious system fit working directly over the center or shading a little -- eating gaps and making everyone around him (particularly behind him) more effective -- he actually has decent quickness for such a mammoth human and could also work in a 4-3. To say Nix moves like a 300-pounder is a compliment, and Pittsburgh could use some help on the defensive line, particularly up the middle.
McShay:

Nix performed better in 2012 than he did in 2013, and he'll be coming off a knee injury, but you simply don't find many players with his enormous size who can move like he does. Nix has the potential to develop into the Steelers' next Casey Hampton and serve as the centerpiece of their 3-4 defensive scheme. He wouldn't be Pittsburgh's only option in this scenario, however; Alabama safety Ha Ha Clinton-Dix, Oklahoma State CB Justin Gilbert, Notre Dame OT Zack Martin and Alabama OT Cyrus Kouandjio would all be good fits. The Steelers might be able to get a bigger WR like Fresno State's Davante Adams or Florida State's Kelvin Benjamin on Day 2.
Kiper has Nix No. 22 on his Big Board of draft prospects, right behind Kouandijo and one spot ahead of Clinton-Dix.
Here is his analysis:
A rare commodity, Nix has the size and strength to handle a 0-technique role when he maintains proper leverage, keeping multiple blockers occupied and eating up two gaps while making life easy for linebackers cleaning up against the run. But he's not limited to that because he can really move, at least a lot better than you would expect from a player his size. Nix is occasionally moved too easily and loses gap control.
McShay has Nix No.17 among his top 32 prospects, right behind Clinton-Dix and one spot ahead of Michigan State cornerback
Darqueze Dennard
.
Here is his analysis:
Nix struggled some in 2013 after a dominant 2012 campaign, and his stock could suffer as a result. But it's hard to see him falling out of the first round, given his physical abilities. He is a disruptive, space-eating, two-gap nose tackle with ideal size and above-average lateral agility and quickness for the position, and his snap anticipation and first-step quickness are excellent.
February, 6, 2014
Feb 6
1:10
PM ET
The
Pittsburgh Steelers
' needs, especially on defense, are such that they could go in a number of different directions with their first-round draft pick.
ESPN draft analysts
Mel Kiper Jr.

and
Todd McShay

each have the Steelers taking Notre Dame defensive tackle
Louis Nix III
with the 15th overall pick, and that hasn't changed from their initial mock drafts.
What is incumbent upon general manager Kevin Colbert and coach Mike Tomlin is addressing pressing needs later in the draft, something that the Steelers have done with mixed results in recent years.
Two positions that stand out as ones where the Steelers should be able to find good players later are cornerback and wide receiver.
"Cornerback has turned out to be a pretty decent position overall," Kiper said Thursday during a conference call. "There's probably only going to be two to three first-round corners, a lot of second- and third-round corners so you can wait a little bit on that spot maybe."
That is what the Steelers have historically done.
They haven't drafted a cornerback in the first round of the draft since they took
Chad Scott
in 1997, but maybe this is the year to end that streak.
Ike Taylor
,
Cortez Allen
and
William Gay
are the only experienced cornerbacks on the roster and with Allen the only one of the three who possesses any kind of upside.
Kiper said the Steelers should have their choice between the top two cornerbacks in the draft, Michigan State's
Darqueze Dennard
and Oklahoma State's
Justin Gilbert
. He projects Gilbert going to the
Detroit Lions
at No. 10 with the Bengals taking Dennard No. 24 overall.
Wide receiver, unlike cornerback, is top-heavy in talent. But it is also deep in large part because of the nearly 100 underclassmen who have declared for the draft. Almost a fifth of those players are wide receivers.
"There's going to be an opportunity I think at wide receiver to see guys in the third, fourth and fifth round get done," Kiper said. "That's going to be a very deep position."
January, 24, 2014
Jan 24
12:00
PM ET
PITTSBURGH -- Aaron Donald has continued at the Senior Bowl what he did during a storied a career at Pitt.
[+] Enlarge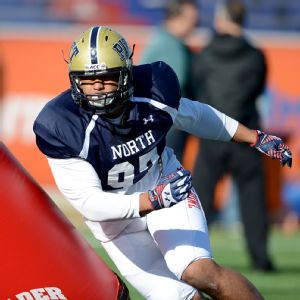 AP Photo/Johnny VyThe Steelers have the advantage of familiarity with Pitt's Aaron Donald but have to wonder whether he fits into their defensive scheme.
The Penn Hills High School graduate has been the hardest player to block during practices, according to anyone within three zip codes of Mobile, Ala. No less an NFL draft authority than the NFL Network's Mike Mayock has compared Donald to Bengals defensive tackle
Geno Atkins
.
Whoa.
ESPN's NFL draft experts on the ground are similarly impressed with Donald. Here is
one item from a story
that Todd McShay, Steve Muench and Kevin Weidl collaborated on after watching the Senior Bowl practices: "Donald showed the ability to beat offensive linemen with quickness, power and active hands, and his ability to do it so many different ways make it that much harder to keep him off the quarterback."
Sounds like a player who will really help a team.
And the Steelers should know as much if not more about Donald than any other team by the time the NFL draft rolls around in May.
Pitt shares a practice facility with the Steelers, and general manager Kevin Colbert has said the team does more homework on local prospects because proximity provides that advantage -- and because the Steelers don't want to let a potential great player get away.
The problem with Donald: He clearly is a better fit in 4-3 defense as an attacking tackle rather than a hold-the-point-of-attack end in a 3-4 scheme.
The 6-foot, 288-pound Donald is probably too small to play nose tackle in a 3-4 defense and would likely be miscast in that role, too.
But he also seems like a classic case of player who transcends measurables and can play regardless of scheme. The Steelers, I'm guessing, would love to keep Donald in Pittsburgh but their top picks will be used on players who are better fits for them and fill a need.
And since it is unlikely that Donald lasts beyond the second round of the draft, he will probably continue his football career outside of Pittsburgh.
December, 18, 2013
12/18/13
4:00
PM ET
PITTSBURGH -- And with their first pick of the 2014 NFL draft, the Steelers select ...
Louis Nix III
, NT, Notre Dame.
The first of many mock drafts to be released by ESPN Insiders Todd McShay and Mel Kiper Jr. has the Steelers addressing the defensive line with their top pick in 2014. McShay just completed his first
mock draft

, and here is his reasoning behind the Nix pick:
McShay: "Nix might be a little bit of a reach here. He didn't have a great season in 2013 for the Fighting Irish, and when NFL teams get a look at a couple of bad tapes of his play (he didn't perform well against Michigan State, in particular) his stock could drop. But I still have a hard time seeing him fall out of the first round, given the way he dominated in 2012. With his size and the way he can move, he has the potential to be a very good player. If the Steelers are comfortable with his durability and work ethic, he could become their new Casey Hampton. Offensive tackle and secondary are two other need areas they could address here."
McShay also lists offensive tackle, cornerback and safety among the Steelers' biggest needs. I would have no problem with the Steelers taking a nose tackle with their first pick given the difficulty they have had stopping the run this season.
The Steelers slipped from No. 2 in rushing defense last season to No. 19, and they are giving up 25 more rushing yards per game this season. They Steelers have already yielded 19 rushing touchdowns this season compared to nine in 2012.
That's not to pin such a precipitous decline in their run defense on nose tackle
Steve McLendon
, who took over for Hampton this season. But McLendon is not a prototypical nose tackle, and I think the Steelers need a player there more in the mold of a Hampton.
Here is what former NFL scout Matt Williamson said about McLendon's future with the Steelers:
"I think in a perfect world he would be your fourth defensive lineman," said Williamson, an ESPN NFL analyst. "This defense needs a
Vince Wilfork
and they don't have one."