Pittsburgh Steelers:

Wesley Johnson
July, 9, 2014
Jul 9
3:00
PM ET
This is the next in a series that previews every position on offense and defense with training camp approaching. Our sixth look is at guard.
DeCastro
Returning starters:
David DeCastro
and
Ramon Foster
. The Steelers are in good shape here as DeCastro has emerged as a Pro Bowl caliber-player at right guard, and the steady Foster has already made 57 career starts and is just 28 years old.
New faces:
Wesley Johnson
, Will Sutton and
Chris Elkins
. The Steelers took Johnson with the second of their two fifth-round draft picks and signed Sutton and Elkins as undrafted free agents.
On the bubble:
Johnson. The Vanderbilt product can play anywhere along the offensive line, and the Steelers should try to groom him for the all-purpose role that
Kelvin Beachum
played up front before becoming the team's starting left tackle. Johnson's versatility will be the key if he makes the 53-man roster.
By the numbers:
The Steelers have had just three guards selected to the Pro Bowl since 1975: Carlton Haselrig (1992), Duval Love (1994) and Alan Faneca (2001-07).
Did you know:
DeCastro's overall blocking grade on 96.88 percent as a senior at Stanford was the highest score recorded by a Pac 12 offensive lineman since the conference started tracking grades for offensive linemen in 1985.
Quotable:
"It's nothing right now, and I say that in the sense that [the group's potential] has been talked about the last few years. The talent is there, but if we come out here and [falter] we'll be saying the same thing next year. You can't just say because we have the high-round talent or guys that have experience, that it's supposed to be special. We've got to make it that way." -- Foster on the Steelers' offensive line.
Outlook:
The Steelers appear to be pretty set at guard with
Cody Wallace
, providing depth and DeCastro and Foster locked in as the starters. There is no reason to think that DeCastro won't develop into a perennial Pro Bowler as Faneca, another first-round pick, did in the 2000s.
July, 8, 2014
Jul 8
3:00
PM ET
This is the next in a series that look at every position on offense and defense with training camp approaching. Our fifth look is at offensive tackle.
Returning starters:
Kelvin Beachum
and
Marcus Gilbert
. Beachum stabilized left tackle after
Mike Adams
floundered there in the first four games last season, and it is his position to lose heading into training camp. Gilbert started every game last season at right tackle and was the only Steelers' offensive lineman to start every game in 2013.
On the bubble:
Guy Whimper
. A lot would have to happen for the 6-foot-5, 318-pounder not to make the team. Whimper proved to be a dependable reserve last season, and he has the flexibility to play inside as well. Whimper could be competing with rookie
Wesley Johnson
, a fifth-round draft pick, if the Steelers keep only eight offensive linemen when they finalize their 53-man roster.
Beachum
By the numbers:
Ben Roethlisberger
got sacked 24 times in the 11 games that Beachum started at left tackle last season. He was dropped 18 times in the five games that Adams started at the position.
Did you know:
The Steelers averaged 124 rushing yards in the six games that Adams started at right tackle as a rookie in 2012. Their season rushing average was 96.1 yards.
Quotable:
"I'm not a big-frame guy. I never have been. I'm not a 320- or 330-type of offensive lineman. I know I have to keep my weight down, keep my body fat down, stay lean, stay fast, use technique. That's something that I've used since college and have to continue to fine-tune that. I think with the addition of Coach [Mike] Munchak, technique is really going to be a thing that he focuses on and makes sure that we do a good job of." -- Beachum
Outlook:
It will be interesting to see where Adams gets to compete for a starting job at training camp. Beachum is not a prototypical left tackle but the 2012 seventh-round pick got the job done there last season. Adams has played considerably better at right tackle and Gilbert is going into the final year of his contract. Whoever is the odd man out at tackle as far as starting should give the Steelers a quality reserve there.
June, 23, 2014
Jun 23
8:00
AM ET
The
Pittsburgh Steelers
signed all nine of their draft picks before the end of offseason practices when defensive end
Stephon Tuitt
agreed to terms during minicamp.
A handful of rookies are expected to make an immediate impact --
Ryan Shazier
will enter training camp as the starter at weakside inside linebacker -- and they will provide cost-effective labor.
The maximum the rookie contracts will count against the Steelers' salary cap in 2014 is $5.887 million. And that is if all nine of the players they drafted make the 53-man roster, which is unlikely to happen.
Here is a breakdown of the draft picks' four-year rookie contracts, according to ESPN Stats & Information.
1. Ryan Shazier, LB.
Signing bonus:
$5,234,328;
Total value of contract:
$9,507,204;
Total guaranteed:
$9,507,204;
2014 cap hit:
$1,728,582.
2. Stephon Tuitt, DE.
Signing bonus:
$1,672,324;
Total value of contract:
$4,609,444;
Total guaranteed:
$2,721,844;
2014 cap hit:
$838,081.
3.
Dri Archer
, RB.
Signing bonus:
$506,016;
Total value of contract:
$2,748,016;
Total guaranteed:
$506,016;
2014 cap hit:
$546,504.
4.
Martavis Bryant
, WR.
Signing bonus:
$439,220;
Total value of contract:
$2,659,220;
Total guaranteed:
$439,220;
2014 cap hit:
$529,805.
5.
Shaquille Richardson
, CB.
Signing bonus:
$190,052;
Total value of contract:
$2,410,052;
Total guaranteed:
$190,052;
2014 cap hit:
$467,513.
5.
Wesley Johnson
, OL.
Signing bonus:
$144,560;
Total value of contract:
$2,365,560;
Total guaranteed:
$144,560;
2014 cap hit:
$456,140.
6.
Jordan Zumwalt
, LB.
Signing bonus:
$104,852;
Total value of contract:
$2,329,852;
Total guaranteed:
$104,852;
2014 cap hit:
$446,213.
6. Daniel McCullers, DT.
Signing bonus:
$78,680;
Total value of contract:
$2,298,680;
Total guaranteed:
$78,680;
2014 cap hit:
$439,670.
7.
Rob Blanchflower
, TE.
Signing bonus:
$59,400;
Total value of contract:
$2,279,400;
Total guaranteed:
$59,400;
2014 cap hit:
$434,840.
June, 12, 2014
Jun 12
5:15
PM ET
PITTSBURGH -- As Cam Heyward talked to a couple of reporters following the last of the Steelers' organized team activities on Thursday,
LeGarrette Blount
sidled up to him with a recording device that the running back had temporarily requisitioned.
Blount, a free-agent signee and emerging jokester on a team that has its share of them, waited patiently and then asked, "I just want to know how you feel about this guy LeGarrette Blount coming to your team?"
Heyward
"Who???" Heyward asked.
Blount was about to repeat the question when he realized that Heyward had played it perfectly. The two shared a hearty laugh, and the scene looked a lot different from the one in which Heyward fumed even after he and offensive lineman
Wesley Johnson
had to be separated during an 11-on-11 drill on Wednesday.
A day later Heyward shrugged off the altercation, chalking it up to the heat of the moment, even if it was a practice in shorts.
"I blacked out for a second," Heyward said. "It's practice. It happens. We're past that. We address it in house but I don't think it needs anything out of the ordinary where we have to address it in public. Just make sure we're on the same page and that we're trying to work and get better every day."
Heyward practiced at right defensive end during OTAs after starting the final 12 games last season on the left side. The 6-foot-5, 288-pounder, who led the Steelers with 31 quarterback pressure in 2013, said he doesn't have a preference where he plays this season since he has experience at both left and right defensive end.
Heyward also said that there isn't much difference between the two spots aside from hand placement.
"You're still going to get the same looks," the fourth-year veteran said. "Sometimes you'll get a heavier guy on the left side. On the right side you might have more of a versatile guy that's able to move quicker but you've got to be ready for both."
June, 11, 2014
Jun 11
2:30
PM ET
PITTSBURGH -- The most interesting sequence of the
Pittsburgh Steelers
' organized team activities took place late Wednesday morning.
Rookie linebacker
Ryan Shazier
made a breathtaking interception during an 11-on-11 drill, leaping high to pick off a
Bruce Gradkowski
pass and drawing oohs for the display of athleticism.
And the action was just getting started.
Defensive end
Cameron Heyward
and rookie center
Wesley Johnson
started fighting at the end of the play and it took coaches and teammates to break the two apart. Heyward was still fuming at the end of the 11-on-11 drill, though it is not clear what set him off.
The Steelers' next-to-last OTA session produced its share of good catches but none beat Shazier's after he dropped into coverage. Gradkowski tried to throw a pass over the first-round pick's head, but Shazier snagged it out of the sticky air after making a standing leap.
"He has a high vertical because I was right behind him," Steelers free safety
Mike Mitchell
said. "I was coming from the backside hash(mark) so I was just tracking the ball and then I saw it get snatched out of the air and I said, 'Wow.' He's a rookie but I came over to him and said, 'Good play young fella.'"
As for Shazier's take on the play, he said, "I had a zone drop and I just dropped over top and just read the quarterback's eyes and I knew he thought he could get it over me. I just jumped up and did what I could. Any time you can get a turnover that helps the offense get more points."
Also of note from the Steelers' ninth OTA session:
Outside linebacker Jason Worilds, who is nursing a calf injury, did not practice again but he did some work on the side. Cornerback Ike Taylor was a no-show for the second consecutive day. Wide receiver Markus Wheaton fielded punts and caught passes after practice but he did not take part in 11-on-11 drills. Not sure if there is some kind of injury issue but it appears Wheaton has been limited to drills in which he doesn't have to do much running.
Justin Brown has been getting extensive work with the first-team offense. The Steelers' sixth-round draft pick in 2013 showed why on Wednesday. Brown made a difficult touchdown catch in a seven-on-nine drill, outfighting two defenders for the ball in the corner of the end zone. More on Brown's development in a post that should go up later today.
Le'Veon Bell and LeGarrette Blount lined up together in the backfield though only for a couple of snaps. Look for the Steelers to try and find ways to get the two on the field together in different packages this season.
May, 27, 2014
May 27
6:00
PM ET
PITTSBURGH -- The Steelers signed two draft picks on Tuesday, leaving five unsigned with two months before the start of training camp.
Offensive lineman
Wesley Johnson
, a fifth-round pick, and linebacker
Jordan Zumwalt
, a sixth-round selection, each signed a four-year contract.
Johnson, the second of two fifth-round picks that the Steelers made earlier this month, took part in the Steelers' first full-squad offseason practice earlier on Tuesday. Zumwalt can't participate in organized team activities (OTAs) until UCLA completes its school year, and he will miss the majority of the voluntary practices.
The Steelers signed defensive tackle
Daniel McCullers
, a sixth-round pick, and tight end
Rob Blanchflower
, a seventh-round selection, to four-year contracts last week.
McCullers' deal is for approximately $2.3 million, according to ESPN Stats & Information, and includes a $78,680 signing bonus. Blanchflower's contract is for approximately $2.28 million and it includes a $59,400 signing bonus.
The signing bonus is the only guaranteed money in the contracts signed by McCullers and Blanchflower, according to ESPN Stats & Information.
May, 21, 2014
May 21
4:15
PM ET
PITTSBURGH -- This is the next in a series that takes a post-free agency, post-draft look at the all of the positions with the exception of quarterback.
Our fourth look is at an offensive line that returns every starter and should get Pro Bowl center
Maurkice Pouncey
back from a torn ACL.
OFFENSIVE LINE
[+] Enlarge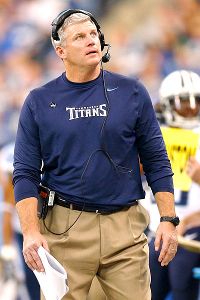 Gregory Shamus/Getty ImagesAdding Hall of Famer Mike Munchak to the coaching staff could take Pittsburgh's offensive line to the next level.
Who is new:
Wesley Johnson
. The second of the Steelers' two fifth-round picks, Johnson started 51 career games at Vanderbilt, and the 6-foot-5, 297-pounder is athletic and versatile. Johnson started at least two games at every position along the offensive line except for right guard. The Steelers should know plenty about Johnson considering coach Mike Tomlin is good friends with
James Franklin
, who coached Johnson at Vanderbilt.
Who is gone:
Fernando Velasco
. One of the unsung players of last season started 11 games at center before rupturing his Achilles tendon. Velasco remains unsigned as he works his way back from that injury.
Returning starters:
Kelvin Beachum
,
Ramon Foster
, Pouncey,
David DeCastro
,
Marcus Gilbert
.
Beachum goes into offseason practice as the starter at left tackle after stabilizing the position last season and playing well in 11 starts there. He could face competition from
Mike Adams
, whom Beachum replaced at left tackle after the fourth game of 2013. Adams could also challenge Marcus Gilbert at right tackle. The Steelers are set at guard with Foster and DeCastro, who is already a Pro Bowl-caliber player. Pouncey returns at center, barring a setback, after tearing his right ACL in the 2013 season opener. Pouncey is the only center in NFL history to make the Pro Bowl in each of his first three seasons.
Most significant addition:
Mike Munchak. The former Titans head coach joined Tomlin's staff and he could be coach who brings everything together for a promising offensive line. Munchak is a Pro Football Hall of Fame guard, and he coached the offensive line for more than a decade before becoming the head coach in Tennessee. His credentials as an offensive line coach are impeccable, and Munchak is not lacking for talent to mold.
Most significant loss:
Velasco. He probably would have signed elsewhere as a free agent after playing well at center last season. With Velasco hurt the Steelers opted to re-sign
Cody Wallace
to provide depth along the interior of the line. They could re-sign Velasco once he is close to full strength and bring him to training camp to compete with Wallace.
On outside looking in:
Johnson. Assuming the Steelers keep eight offensive linemen when they finalize their 53-man roster, Johnson will probably have to beat out veteran
Guy Whimper
to make the team.
Hidden number:
Nine different offensive linemen started at least one game last season as injuries again scrambled the offensive line.
Outlook:
The Steelers have yet to field an offensive line that consistently controls the line of scrimmage under Tomlin. That could change this year, especially if the Steelers can stay relatively healthy up front. The Steelers invested heavily in their line from 2010-12 spending two first-round picks and a pair of second-round selections on offensive linemen. Now they have a position coach who can get the most out of a young but experienced group that also has good depth. "I'm excited to work with them," Munchak said. "I think we can have a special group here."
May, 12, 2014
May 12
11:00
AM ET
PITTSBURGH – Here is a closer look at the Steelers' final five draft picks:
WR Shaquille Richardson
College:
Arizona
Round/pick:
5
th
/157
th
overall
Ht./Wt.:
6-0, 194
Last season:
Recorded 55 tackles with three interceptions while starting all 13 of the Wildcats' games.
Hidden number:
20 cornerbacks were drafted before the Steelers took Richardson.
Upside:
Richardson has good size and speed and the Steelers seem confident that he can develop into a starter down the road.
Possible red flag:
Didn't get invited to the NFL scouting combine and an off-field issue caused Richardson to transfer from UCLA to Arizona before his freshman season.
Defensive backs coach Carnell Lake:
"He gives us good size out there and somebody that has the ability to put a lot of pressure on tall receivers that have been drafted in recent years. He's a smart, young corner that can come in and contribute."
Richardson:
"I'm definitely coming in to learn from
Ike Taylor
and other veterans and defensive backs they have on the team. I got a lot to prove and I'm ready to work."
OL Wesley Johnson
College:
Vanderbilt
Round/pick:
5
th
/173
Ht./Wt.:
6-5, 297
Last season:
Started 13 games at left tackle and gave up just one sack in helping the Commodores gain 4,765 yards and average 30.1 points per game.
Hidden number:
22 of his blocks in 2013 led to touchdowns.
Upside:
Is versatile, having started at both tackle positions as well as at center for Vanderbilt, and is also very athletic for a big man.
Potential red flag:
Doesn't have long arms, which might make him an interior lineman at the next level, and may not get much bigger.
Offensive line coach Mike Munchak:
"He is definitely battle-tested playing in the SEC. He has played against guys like
Jadeveon Clowney
and played well against top-level competition week in and week out for a long time. That gives us the feeling that he will be very comfortable coming into the NFL."
Johnson:
"Being a Nashville guy, growing up [Munchak] was one of my favorite players. I knew all about him obviously because he's a Hall of Fame offensive lineman and he's been a great coach for a long time."
LB Jordan Zumwalt
College:
UCLA
Round/pick:
6
th
/192
Ht./Wt.:
6-4, 235
Last season:
Had a career-high 93 tackles with 5 ½ of those behind the line of scrimmage and also forced three fumbles and intercepted two passes.
Hidden number:
Zumwalt's 30 career starts came at four different linebacker positions.
Upside:
Big hitter who is passionate about football and is also versatile.
Potential red flag:
Not a great athlete and needs to get bigger. Also, is there room for Zumwalt in what has become a crowded field at inside linebacker?
Linebackers coach Keith Butler:
"This guy was probably the best player on the board for us (when the Steelers first picked in the sixth round). He's a long, tall kid but I would see him as in inside guy at this point. He can provide some backup for us and he should be able to play some special teams for us."
Zumwalt:
"I have a lot of passion for the game and if you've seen me play then you know what I can bring. I'm going to bring everything that I have possible to bring to the defense. It's like a dream come true."
DT Daniel McCullers
College:
Tennessee
Round/pick:
6
th
/215
Ht./Wt.:
6-7, 352
Last season:
Made 33 tackles, include 4 ½ for losses, and assisted on a sack while starting all 12 of the Volunteers' games.
Hidden number:
Wears size 18 shoes.
Upside:
Enormous and what general manager Kevin Colbert calls an "obstruction," McCullers also has the position flexibility to play both nose tackle and defensive end.
Potential red flag:
It could be tough getting the leverage necessary at nose tackle since McCullers' height makes it difficult for him to stay low after the ball is snapped.
Defensive line coach John Mitchell:
"He's a big guy but those types of guys are hard to find. I'd rather work with a guy that is too big than one that you can't see him when he goes down in a stance. I'm excited about that."
McCullers:
"Growing up I was always the big kid. Once I hit my sophomore and junior year of high school that's when I started getting my growth spurts. I guess I got like four of them each year and just kept growing."
TE Rob Blanchflower
College:
Massachusetts
Round/pick:
7
th
/230
Ht./Wt.:
6-4, 256
Last season:
Caught 27 passes for 313 yards and three touchdowns despite playing with an injury that required sports hernia surgery after the season.
Hidden number:
Four of the Steelers' seventh-round picks since 2009 have played at least one season for them.
Upside:
Is adept at blocking and catching, which is what attracted the Steelers to Blanchflower as well as his demeanor.
Potential red flag:
Has to make the jump from FBS competition (formerly Division I-AA) to the NFL, and the Steelers have four returning tight ends.
Tight ends coach James Daniel:
"He has a high level of aggression. He's played in a multiple-formation offense so that gave us a chance to look at him in a lot of things. I think he's special-teams capable."