Standing beats sitting at soccer matches
March, 3, 2012
3/03/12
4:45
PM ET
When I went to see my first-ever Bundesliga game, I was well-prepared. I had my scarf and a cap and also a bandana-like piece of cloth I wore around my wrist. I knew every player on our team and I even had a vague idea of who we'd be playing against. But most importantly, I had a small, beige-coloured folding chair.
Well, to be more precise: my sister's boyfriend Niko had it, because it was his duty to carry that contraption from my sister's flat to the ground, all the way through the city centre. At the time, it didn't occur to me that Niko must have been a tad embarrassed. After all, he was not only walking next to a fourth-grader who was so excited he literally forgot to breathe occasionally, but he was also lugging a wooden chair across town. However this piece of equipment was absolutely vital to the whole operation.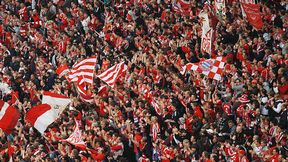 Alexander Hassenstein/Bongarts/Getty ImagesStanding fans, like these at Bayern Munich, are just a tad more spirited than their sitting friends.
We had tickets for the terraces, and even though the ground was not as well-filled and our stand not as packed as it would be in later decades, I was simply way too small to see anything but the backs of grown men without outside help. That's why we had the chair.
When we got to the stand, we found ourselves a nice crush barrier, my sister unfolded the chair. I stepped on the seat, grabbed the barrier with my little hands and was ready for action, safe and protected. At least that was the plan. But after a dozen or so minutes, we scored the first goal and a wave of surging bodies cleanly swept me off the seat. Suddenly I found myself about three yards from my sister, her boyfriend, the crush barrier and my chair. It was ... fantastic!
Or wait. Hang on, I think I have to rephrase that. It's just what you used to do. You didn't go to a football game and then sit down. That would've been daft. The old, the frail and the posh sat down during a game, but for anyone else it was out of the question. To do so would have been even more embarrassing than hauling a folding chair and a primary schoolboy in need of oxygen across town.
(
Read full post
)