Hopes abound for newborn foal of champion
May, 4, 2012
5/04/12
7:04
PM ET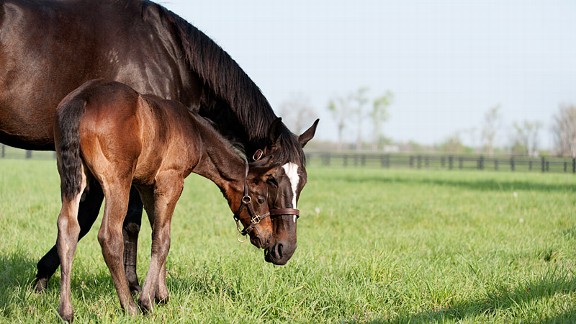 Kyle Acebo for ESPN The MagazineZenyatta's firstborn has a lot to live up to: His pop won the 2006 Preakness Stakes, and his mom is the highest female money earner in the history of the sport.
You need to catch your breath before you begin to describe the scene.
(Sigh.)
Under an April sky that's a tribute to the colors of the NCAA basketball champions crowned the night before, another champ frolics with her scruffy foal on an emerald pasture. To be more specific, the dark bay mare is the magnificent Zenyatta, the yet-to-be- named foal is her 26-day-old colt by 2006 Preakness winner Bernardini and the pasture is Paddock 1 at historic and majestic Lane's End Farm in Versailles, Ky. To be more metaphoric, they represent the past, present and future of horse racing. But at this particular moment, there's really nothing to discuss.
"Beautiful, isn't it?" asks Jerry Moss, the LA-based music executive who, together with his wife, Ann, owns Zenyatta and carefully watches over a legacy that brings even hardened horsemen and railbirds to tears. "To watch the two of them in this setting, there's nothing quite like it."
(Sigh again.)
Zenyatta gives her colt a little head start before she chases him down. "Look at her," says Ann. "She looks like she can race tomorrow. But she seems as happy to be a mother as she was on the track."
She certainly loved to run. Zenyatta won 19 straight races over four years, including the 2009 Breeders' Cup Classic, where she became the first female winner. Her only loss came in that same race the following year, her last race before retiring. But even that 2010 defeat, in which she came from far off the pace only to lose by a nose to Blame, enhanced her legend and popularity. Famed trainer Bob Baffert once said, "The minute Zenyatta passes my horse, I start rooting for her."
So it was a big deal when it was announced last year that Zenyatta was being bred to Bernardini, one champion to another. Horse breeding is something like alchemy: part science, part magic. There have been proven sires and brood- mares, but there are no guarantees. Derby winner Barbaro's full brother Nicanor has been a disappointment.
The first attempt to impregnate Zenyatta didn't take, but the second did, and as she approached full term, the web traffic on zenyatta.com became too much for the site to handle. Its popularity has a lot to do with Zenyatta, of course, but it also owes something to Dottie Ingordo-Shirreffs, the stable manager for the Mosses and the wife of Zenyatta's trainer, John Shirreffs. She also happens to be Zenyatta's ghostwriter. Diary Post #454 reads:
"Dear, dear, dear friends, I am so proud and elated to share the news with you that IamnowaMOM.Ijust gave birth to a lovely dark bay COLT, March 8th, at approximately 10:10 p.m. Eastern Time. My adorable foal weighed in at 130 pounds, has a white star on its forehead ... and some white on its feet. As Ann commented when she saw him, 'He has polka dots on his feet, Zennie, just likeYOU.'"
Charles Campbell is the assistant manager for the 174 broodmares at Lane's End, and he had already participated in the delivery of five foals that day when he went to check on Zenyatta. "I could tell it was time," he says. "But she was in excellent spirits, eating hay right up until her water broke." The Mosses, who had flown in for the birth, were having dessert at a local restaurant when they got the call that Zenyatta was about to deliver. They quickly paid the check, drove under a full moon to the nearby birthing barn and donned the special blue coveralls they'd been given for the occasion.
Normally, only a few people attend the birth of a horse—no need to distract the mother or the vets—but for this one, there were about a dozen folks, including Bill Farish, the son of the farm's patriarch, Will Farish; Mike Cline, the longtime general manager; a veterinary crew led by Dr. Richard Holder; and a small camera crew hired by the Mosses. "It was a textbook delivery," says Cline. "The foal was on his feet and nursing within an hour."
For those in the industry, the news of the birth to the equine version of Brangelina came at just the right time, as a counterpoint to all of the negative publicity surrounding the deaths of horses that led to the cancellation of the HBO series Luck. On March 17, California thoroughbred landmark Santa Anita Park held a special "equine baby shower" for Zenyatta. The track handed out "It's a Boy!" posters, and the Mosses, Shirreffs and jockey Mike Smith signed autographs.
Two weeks later, the Mosses returned to Lane's End for Zenyatta's own 8th birthday party. She received a mail sack full of cards and letters as well as a special carrot-and-pear birthday cake with a Z of carrots in the middle. The next day, Zenyatta and her owners attended the special presenta- tion of a check to the American Red Cross disaster relief fund—the proceeds came from the auction of one of Zenyatta's halters donated by Rood & Riddle Equine Hospital to help the victims of the recent spate of tornadoes in the area.
As with many retirees, Zenyatta is staying busy. She is scheduled to be bred to Tapit, the gray stallion who sired the nearly white Kentucky Derby entry Hansen. Needless to say, it will be interesting to see the result of that pairing next winter.
But for now, all eyes at Lane's End are on Zenyatta and the foal they call the Little Prince or Dumpling. And at this moment, they're both coming to the fence to see what all the fuss is about. It remains to be seen whether the foal can live up to his breeding, but he definitely has his mother's pointed ears.
Cline, holding a pail filled with carrots, says, "I've been at Lane's End for 33 years, but I've never known a horse who's meant so much to so many people. There's just something special about her. Take this carrot, for instance. Most horses will eat the whole thing, greens and all. She measures it and chomps it off right at the stem. Here, try it."
You do, and that she does, leaving you holding the stalk with just a little bit of orange showing. Then she looks at you and sizes you up, in a different way from how she measured that carrot. As beautiful and magnificent as Zenyatta is, it's the intelligence in her eyes that gets to you.
(Sigh.)
"She's more than a horse, you know," says Ann Moss. "She's just this incredible being."