Boldin, Fitzgerald take mission to Africa
June, 7, 2012
6/07/12
11:13
AM ET
By
Gary Belsky
| ESPN the Magazine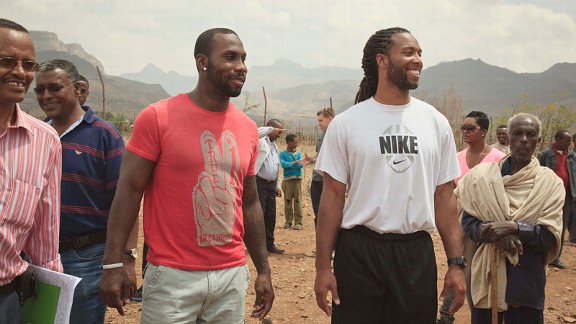 Audra Melton/Oxfam America"I wasn't put on this earth just to play football," Boldin (in red) says.
VISITING WITH VILLAGERS
in drought-ravaged Ethiopia,
Anquan Boldin
and
Larry Fitzgerald
have a problem: They can't give away their money fast enough.
Actually, they can't give it away at all.
The wide receivers are under strict orders to avoid handouts. Andrew Blejwas, an official with the nonprofit international relief and development organization Oxfam America, is coordinating this late-March trip for the two NFL players and their significant others, and he insists they focus on the task
at hand. At the moment, the wideouts are in the region of Tigray, helping about 50 locals move rocks in a ravine, part of the agency's effort to create small plots of farmable land. A day of hauling rocks earns each worker about 90 cents, paid out by an Oxfam America-supported organization. It's strenuous, monotonous labor, but it's pretty much the only job to be found. "I know what it's like to do without," Boldin says after working and talking to villagers, "but nothing like this."

Ethiopia, a country of 93.8 million people, has a per capita annual GDP of $1,100 (compared with $48,100 in the U.S.), but Blejwas is adamant that Boldin and Fitzgerald refrain from slipping anyone cash. "You can't just give money to random people," he says. "It could change the social dynamic." He explains to the NFL stars that even a gift of 500 birr (about $30) could cause serious disruption in this community. If a few villagers were suddenly to become "rich," many neighbors could resent their good fortune, and some might shun them if not given a share of the windfall.

To read the rest, check it out here.