May, 23, 2013
May 23
2:52
PM ET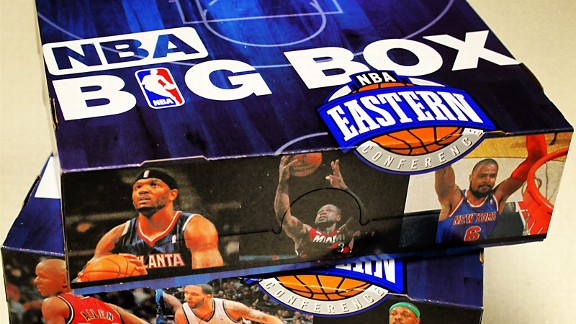 Courtesy of Taco Bell Eat your food and then play some hoops. You can now do this at Taco Bell.
Sponsorships are worth nothing to companies if they can't activate in ways that engage fans. Thursday, the NBA's official quick service restaurant, Taco Bell, is launching the NBA Big Box. There are six boxes in total, three from the Eastern Conference and three from the Western Conference, and 42 players are featured in total (including Kobe Bryant, Kevin Durant, Dwayne Wade and Carmelo Anthony).
These boxes are more than just a handy way to package your food, however. After you're done eating, you can tear the box across its perforated edges and make it into a half court -- or better yet, combine it with a friend and make a full court. Stick your cup in the dedicated hole, wad up your wrapper and it's game on.
"We did a similar box program with them a couple of years ago, and they had tremendous results," said Emilio Collins, senior vice president of global marketing partnerships with the NBA. "We've been having dialog about how to bring it back and bring it back in a bigger way during the playoffs. What's especially cool is they're making this offer very interactive. It's literally physically interactive. After you consume it, you can turn the box into a mini court and hoop."
It's not enough simply to have fans interacting with the box inside the confines of their local Taco Bell, however.