Beyonce marks shift in Super Bowl singers
October, 16, 2012
10/16/12
2:51
PM ET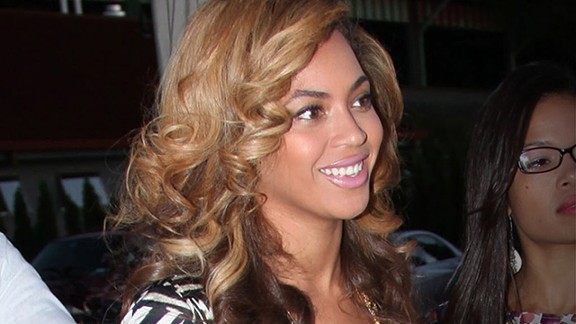 Johnny Nunez/WireImageBeyonce, 31, is the youngest Super Bowl halftime headliner since Justin Timberlake in 2004.
Beyonce being the halftime act for the Super Bowl, as reported by The Associated Press today, seems to be the beginning of the NFL skewing younger.
Following the "wardrobe malfunction" with Janet Jackson and Justin Timberlake in 2004, it seemed like the league loved going with the old. From 2005 through last year, the average age of the Super Bowl halftime performer was 52 years old. But now we'll have two out of the past three Super Bowls in which the halftime performers are under 50, with Beyonce the youngest since Timberlake.
The ages of the halftime performers since that infamous '04 show:
2005: Paul McCartney (62)
2006: Rolling Stones -- Mick Jagger (62), Keith Richards (62)
2007: Prince (48)
2008: Tom Petty (57)
2009: Bruce Springsteen (59)
2010: The Who -- Roger Daltry (65), Pete Townshend (64)
2011: Black Eyed Peas -- Will I Am (35), Fergie (35), Usher (32), Slash (45)
2012: Madonna (53)
2013: Beyonce (31)
ESPN.com Sports Business reporter
ESPN.com's sports business reporter since 2012; previously at ESPN from 2000-06
Appears on SportsCenter, ESPN Radio, ESPN.com and with ABC News
Formerly worked as analyst at CNBC
darrenrovell

darren rovell


If you didn't watch any Russell Westbrook tonight, at least treat yourself to these 6 seconds http://t.co/wPElx7ChGy
about 6 hours ago

darrenrovell

darren rovell


Special for uniform geeks, @philhecken & @UniWatch: In his early days with the Cowboys, he was J.C. Garrett http://t.co/WqGbGk2hC2
about 7 hours ago

darrenrovell

darren rovell


Classic Pic: Bill Walton in January 1977 http://t.co/G67g2XrVqK
about 7 hours ago

darrenrovell

darren rovell


Teams now understand that they can hit the same margins they got with hot dogs with creative new food items that fans want.
about 8 hours ago

darrenrovell

darren rovell


Diamondbacks announce "Churro Dog" today. Trends in US & Worldwide on Twitter http://t.co/wlGPeawyMF http://t.co/IclKRXYk4T
about 8 hours ago

darrenrovell

darren rovell


Athletes today would buy these for $500K RT @BeschlossDCCadillac Cyclone of 1959, never mass produced http://t.co/0igBlUdlTM
about 8 hours ago

darrenrovell

darren rovell


Appealing to a different demographic: At least 3 MLB teams (A's, Giants & Diamondbacks) will giveaway Hello Kitty bobbleheads this season
about 8 hours ago

darrenrovell

darren rovell


My favorite Muggsy Bogues picture is one you probably haven't seen: Bogues over J.R. Reid! http://t.co/ZPpeO9iBhL
about 8 hours ago

darrenrovell

darren rovell


Tony Romo among the Cameron Crazies (H/T @sjernigan14) http://t.co/dEuVqJqmRF
about 8 hours ago

darrenrovell

darren rovell


Peyton will get $2M if Broncos win Super Bowl. Former coach John Fox had $1M bonus if Broncos won while he was under contract
about 10 hours ago

darrenrovell

darren rovell


Rod Woodson is selling his '95 AFC champ ring, '09 Hall of Fame ring & 75th anniversary team award thru @SCPAuctions http://t.co/qf1QqMoJI7
about 10 hours ago

darrenrovell

darren rovell


Fabulous column by @CydZeigler on Daniel Murphy's anti-gay stance http://t.co/JhrKC8FWgd
about 10 hours ago

darrenrovell

darren rovell


At Timberwolves team store http://t.co/rj0CqVRSoq
about 10 hours ago

darrenrovell

darren rovell


Surprised MLS players agreed to deal with owners. Thought there might have been more value in holding out more.
about 11 hours ago

SportsBizMiss

Kristi Dosh


Excited to Skype with @SBCUW tonight! One of the best sports business clubs I've spoken to anywhere in the past.
about 11 hours ago

darrenrovell

darren rovell


ICYMI: Plane a little too close to beach goers in St. Maarten https://t.co/4NmFDEScxk (H/T @davidcanter)
about 12 hours ago

darrenrovell

darren rovell


Huge comeback for Miller Lite. Sold 43 million more cans in final 6 months of 2014 vs final 6 months in 2013 (via @FortuneMagazine)
about 12 hours ago

SportsBizMiss

Kristi Dosh


Who doesn't want to be sitting on this bench right now? #moonrise #nofilter @ Fernandina Beach, Florida https://t.co/ZxIl9VIOBv
about 12 hours ago

joshrawitch

Josh Rawitch


Aaand...Churro Dog is trending across the country! #GoDbacks http://t.co/Fz0wktfKE9
about 15 hours ago

darrenrovell

darren rovell


HBO Boxing has extended its deal with Jim Lampley. His 1st assignment for channel? Tyson vs Tony Tubbs (3/20/1988)
about 15 hours ago

SportsBizMiss

Kristi Dosh


She's so tired! This pillow fell over on her an hour ago, but she's too tired to do anything about… https://t.co/SDZDKe1GMA
about 15 hours ago

darrenrovell

darren rovell


Buy a Lauren Hill Upper Deck rookie card for $10, signed for $50. Proceeds to her foundation http://t.co/oWVhQ4Wk8V http://t.co/H7ASjOwWsb
about 15 hours ago

WarJessEagle

Jessica Smith


Love how the @Dodgers turn fan tweets into content. So simple + so smart. #smsports http://t.co/c2lHytrtZu
about 16 hours ago

darrenrovell

darren rovell


Frozen yogurt instead of ice cream will keep the Diamondbacks' Churro Dog under 1,600 calories http://t.co/VvUiL9jkny
about 16 hours ago

darrenrovell

darren rovell


Diamondbacks unveil "Churro Dog" to serve at ballpark this season http://t.co/wlGPeawyMF http://t.co/J5Zcv3pVmR
about 16 hours ago

ESPNSteinLine

Marc Stein


ESPN latest on sale of Atlanta Hawks and emergence of new bidder: Lionsgate chairman Mark Rachesky --> http://t.co/119wy8ggF6
about 16 hours ago

SportsBizMiss

Kristi Dosh


If you're a lawyer thinking about jumping ship to join a new firm, read this first: http://t.co/RUKwMjrkS9.
about 16 hours ago

jilane

Jilane Rodgers


#SportsBiz Opening - Team Reporter w/ @49ers (San Francisco) http://t.co/9qcODvjrzU
about 17 hours ago

SportsBizMiss

Kristi Dosh


A fun infographic from my colleague @allisonbanko for National Grammar Day: http://t.co/KyBbcB48VF.
about 17 hours ago

darrenrovell

darren rovell


Never forget when David Glass was the 1st kid in my middle school basketball league to get the Reebok Pumps. Was so jealous.
about 17 hours ago

darrenrovell

darren rovell


The Reebok Pump has been re-engineered. Great piece on its past by @KyleStock http://t.co/V28tHmxlNV http://t.co/DXElhTqVtQ
about 17 hours ago

darrenrovell

darren rovell


Man accused of using Seahawks players last names to get drugs http://t.co/orGTU7O3VC (H/T @MelissaKXLY4)
about 17 hours ago

darrenrovell

darren rovell


MLB player whose yearly salary was highest % of team value? Nolan Ryan. Made $1.1M in 1980 when team was worth about $13M.
about 18 hours ago

SportsBizMiss

Kristi Dosh


Keep up with the latest college athletics construction projects through our monthly updates http://t.co/1ptvvOdqEC
about 18 hours ago

SportsBizMiss

Kristi Dosh


New renderings of Sun Devil Stadium renovations http://t.co/TyRYRCTA7o
about 18 hours ago

darrenrovell

darren rovell


Matt Cassel had made more than $70 million in his NFL career.
about 18 hours ago

SportsBizMiss

Kristi Dosh


Kansas State sold 4,958 FB season tix on first day of sales; 1,623 were new buyers. http://t.co/S7uGQR0nEK
about 18 hours ago

darrenrovell

darren rovell


Walter Payton originally committed to Kansas St, but had to change buses in Jackson, Miss. where his brother played. Never connected on.
about 18 hours ago

darrenrovell

darren rovell


The Eugene Airport has an Oregon branded TSA Screening Area http://t.co/11Z5KOnzq9 (H/T @GoDucksJoe)
about 19 hours ago

SportsBizMiss

Kristi Dosh


Every hit Kyle Seager gets for the @Mariners this season = $112.30 to fight kids' cancer! Add your pledge today: http://t.co/Feb73S12eJ.
about 19 hours ago

darrenrovell

darren rovell


"When you have a name like Crum, you deal with it. It's nothing I can't handle." - Louisville coach Denny Crum in 1975
about 19 hours ago

ok_cle

Outkick CLE


Kentucky has approved our CLE on email scams with a story about a Madam from Amsterdam suing for unpaid escort fees. http://t.co/lR1ba7Ez4g
about 19 hours ago

darrenrovell

darren rovell


Mike Wilbon & Christine Brennan will teach part time in Northwestern's sports journalism graduate program http://t.co/vVXTx6iner
about 19 hours ago

darrenrovell

darren rovell


Classic RT @Rand_Getlin NFLPA is flying player reps, alternates and candidates out to Hawaii first class. Staying at the Ritz Carlton.
about 19 hours ago

darrenrovell

darren rovell


Thanks to the success of @FireballWhisky, Jack Daniels is launching its Tennessee Fire nationally next month http://t.co/MmMrE6j9xk
about 20 hours ago

darrenrovell

darren rovell


Report: Cristiano sends hairstylist to wax museum monthly to make sure statue hair is perfect http://t.co/nDM76LW5LJ http://t.co/iPxGwEMh3h
about 20 hours ago

darrenrovell

darren rovell


Yao Ming turns to crowdfunding to raise $ for Napa winery http://t.co/G9J7wHAgUb https://t.co/rggSWr6ezJ
about 20 hours ago

darrenrovell

darren rovell


My column on why MLS players hold historic leverage if they chose to strike http://t.co/1cYMSkIw1G
about 20 hours ago

darrenrovell

darren rovell


TaylorMade just announced branded outlet stores. For what? To further discount what the retail stores are already discounting?
about 20 hours ago

ArashMarkazi

Arash Markazi


Fun Fact: March 4th is the only day of the year that is also a command.
about 20 hours ago
BLOG ARCHIVE:
CATEGORIES: