Dollars - ESPN Playbook:

San Francisco 49ers
January, 30, 2013
Jan 30
7:59
AM ET

It was supposed to be a highly coveted Super Bowl ticket: the well-heeled 49ers fans, having not been to a Super Bowl since the mid-1990s, and a Ravens fans base, whom ticket-brokers preferred over the Patriots' been-there, seen-that crowd. But with four days to go before the big game, ticket prices have been plummeting. The get-in price, hovering around $1,400, is about $1,000 cheaper than it was at this time last year, according to numbers provided by Ticketmaster's resale site, the NFL Ticket Exchange. It has gotten to the point where some ticketing insiders are predicting that a good deal of tickets will sell for face value, perhaps the most since 2002. That year, a travel-wary fan base after Sept. 11 contributed to the price drop for the last New Orleans-area Super Bowl, in which Patriots and Rams fans could find $400 face-value tickets on the day of the game.

So what could have possibly happened this time?

To understand this, you first have to understand the complexities of the ticket market. The most important thing to understand is that the ticket today is bought and sold very much in the same way stocks are. Brokers short tickets by selling them before they get their hands on them, taking the risk of filling them closer to the game for a chance at better margins. And the transparency of the marketplace provided by the resale sites such as StubHub enables those who "trade" in the ticket market to see the sentiment of the masses as prices go up and down on information.


October, 29, 2012
10/29/12
3:58
PM ET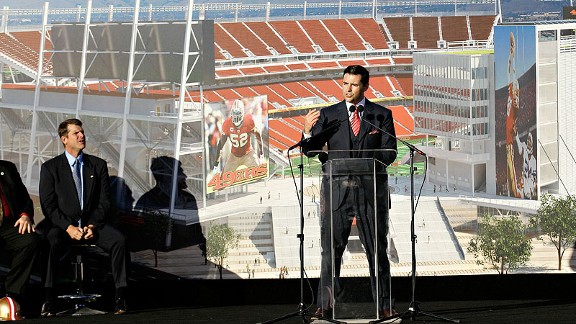 AP Photo/Jeff Chiu49ers CEO Jed York speaks at a groundbreaking ceremony for the 49ers' new NFL stadium.
If you're shocked by how quickly Jim Harbaugh turned around the San Francisco 49ers, wait until you see what 31-year-old Jed York does.
Yes, he's the son of former team president John York and the nephew of former owner Eddie DeBartolo Jr., but don't make the mistake of associating this guy with the likes of Tommy Callahan.
The Notre Dame graduate was working as a financial analyst at Guggenheim Partners -- yes, the same group that later bought the Los Angeles Dodgers -- in New York, but in the middle of the 2008 season, York headed across the country to begin the process of ascending to the top of the 49ers business hierarchy, where he is now chief executive officer.
Today, he's worrying about the team's record, the new $1.2 billion stadium -- which, six months in has already seen 60 percent of its 16,000 total steel pieces installed -- and trying to assemble the smartest team in the business world.
York, who has been named to both SportsBusiness Journal's Forty Under 40 list and Fortune's Hottest Young Business Stars Under 40 this year, sat down with me to talk shop.