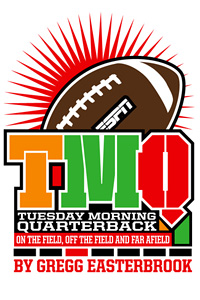 On Brett Favre's helmet
beer falls, and the cup crumples.
Sideline in autumn.
So began the very first Tuesday Morning Quarterback, a dozen seasons ago. In the intervening years, these trends have held:
• Each year the asides wander farther afield.
• Each year the readership grows larger.
• Each year the jokes don't get any better.
• And each year begins with America's original all-haiku NFL season predictions. Here they are for 2012.
AFC East
They fear scripture verse:
"There were Giants in the Earth."
The New England Pats.
Forecast finish: 11-5
Big Apple has eight
million pagans, plus Tebow.
The Jersey/B Jets.
Forecast finish: 9-7
• Click here to read Gregg Easterbrook's Tuesday Morning Quarterback.