Kingdome dugout can be yours for $7,500!
April, 25, 2012
4/25/12
9:15
AM ET
By
Matt Lindner
| Special to ESPN.com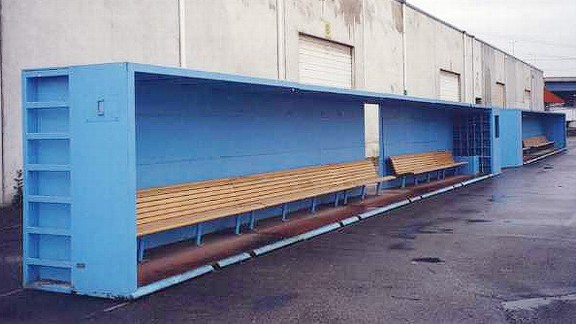 Courtesy of CenterField SportsJust think of all the famous ballplayers who have spit tobacco juice on the floor of this dugout.
Of all the unique pieces of memorabilia in Derek Jeter's collection, it's a safe assumption that he doesn't count a dugout among them.
If he moves quickly though, for a mere $7,500 he can change all that. Not just any dugout either – the very one he made his major league debut in on May 29, 1995, in Seattle's since-demolished Kingdome.
Of course, you could own it, too.
Seattle-based CenterField Sports is
auctioning off the old Kingdome visitors dugout
on eBay. Company president Ben Greaby said he bought both the home and visitors dugouts back in 2009 and has since stored them in a field in Monroe, Wash.
"Growing up getting autographs in the Kingdome, I have many memories lying on top of these dugouts trying to score autographs from the visiting team or the hometown stars," Greaby says.
But anyone who wants this unique piece of history better move quickly.
Greaby says he's currently negotiating to sell the dugout to Ripken Design, a firm co-owned by Hall of Famer Cal Ripken and brother Billy.
So what exactly will the buyer be getting for his money? Almost exactly the same dugout they played in throughout the 1980s and '90s when they visited the Kingdome, awash in faded blue paint.
"One of the end pieces has the helmet holders and bat racks, phone jacks to the bullpen and clubhouse, a section that has a doorway to the clubhouse and two sections that are solid bench," Greaby said.
Greaby also owns the home dugout from the Kingdome, which he says he's selling off in single sections for $3,000 apiece. Demand for those pieces has been fairly steady given the amount of nostalgia surrounding some of the great Mariners teams in the Kingdome's final years.
"We had it up as a whole, but were made an offer to split it up," Greaby said. "By splitting it up, it gives more people the chance to own some history."
Of course, having been stored outdoors has left the dugouts a bit weathered.
"Overall they are in good shape," Greaby said. "They have been stored outside the last four years, so the wood is a little rough. The company that purchased the single section [of the home dugout] sanded the bench and refinished it, and it looks as good as the last game in 1999."
The good news for Mariners fans? This dugout might not leave the Seattle area.
"[Ripken Design is] working on another magical field based around the Kingdome so it is fitting that this [dugout] would go there," Greaby says. "We will help Ripken Design moving these to their ballfield location once they break ground."
At $7,500, the dugout might be a bargain.
Greaby said the previous owner paid several times more than that to acquire the dugouts from King County, which owned the Kingdome. Greaby won't disclose what he paid for the home and road dugouts, but said the $7,500 price tag will earn him a profit.