Flem File: The Near Five-Hundred League
October, 18, 2012
10/18/12
3:00
PM ET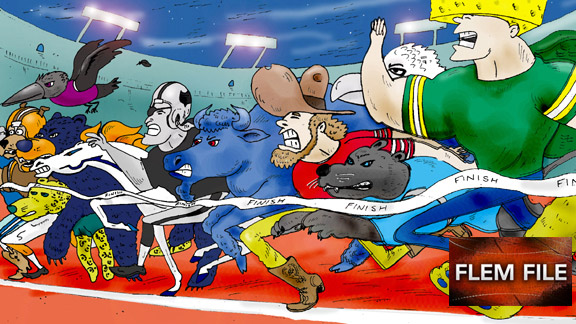 Kurt Snibbe/ESPN.comThis year's NFL has been a race to the middle of the pack. But can everybody finish .500?
"Everyone's special." – Helen Parr, aka Elastigirl

"Which is another way of saying no one is." – Dash
Well, I hope the NFL's happy. Years in the making, the league's ultimate dream of complete competitive balance has finally come to fruition: Heading into Week 7, an unprecedented 16 teams are either at 3-3 or within one game of .500.
In the AFC East, for example, all four teams are an identical 3-3 -- deadlocked, theoretically, in a four-way tie for both first -- and last -- place.
I tend to think of parity like Dash from "The Incredibles." But, hey, if the NFL wants to become the Near Five-Hundred League -- where everyone gets a trophy, there is no such thing as an elite team and the Chiefs are still in the running for the AFC West crown -- then I'm here to help.
The NFL dream is for everyone to end up 8-8 and in a 32-team tie -- and here's how we get there.
AFC
•
BALTIMORE
-- Now: 5-1; Needs to go: 3-7
The plan:
I won't sugarcoat it -- pulling an elite team like the Ravens back to the pack won't be easy. But I wonder if, even before injuries to Ed Reed, Terrell Suggs and Ray Lewis, this team hadn't already started to lose its identity after getting ripped for 136 yards rushing per game so far in 2012.
•
BUFFALO
-- Now: 3-3; Needs to go: 5-5
The plan:
It needs to start snowing in Buffalo -- and fast -- because a slippery field might be the only way this team (giving up 173.5 yards per game rushing) can slow anyone down.
•
CINCINNATI
-- Now: 3-3; Needs to go: 5-5
The plan:
It's been 30 years since the Bengals went to the playoffs in back-to-back seasons, and that streak won't be broken now that Andy Dalton (nine picks, three returned for TDs) has slowly begun to get acclimated to how they do things in the 'nnati.
•
CLEVELAND
-- Now: 1-5; Needs to go: 7-3
The plan:
The easiest way for the Browns to get to .500 would be to join the CFL. But does it even matter? The team went a dreadful 69-146 (77 games under .500) and nearly doubled in value to $1.05 billion. It's a very scary scenario for all teams struggling in the Near Five-Hundred League, where there is no longer a financial incentive to win.
[+] Enlarge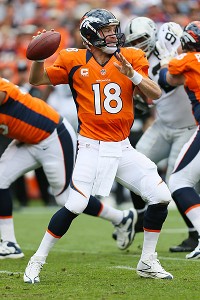 Rich Gabrielson/Icon SMIThe remaining schedule bodes well for Peyton & Co.
•
DENVER
-- Now: 3-3; Needs to go: 5-5
The plan:
Yikes. Six of the Broncos' remaining games are against teams with only one win so far. They could play Peyton Manning at middle linebacker and still finish .500.
•
HOUSTON
-- Now: 5-1; Needs to go: 3-7
The plan:
The Texans need to sit back in coverage and just continue to let those defensive backs do their thing, just like they did against the Packers when safety Danieal Manning led the DBs in hits. Unfortunately, they all came while under a pileup and to the tune of a $15,000 fine.
•
INDIANAPOLIS
-- Now: 2-3; Needs to go: 6-5
The plan:
This one's pretty simple, really -- rookie QB Andrew Luck needs to complete 53 percent of his passes in six more games. The Colts are winless when he doesn't.
•
JACKSONVILLE
-- Now: 1-4; Needs to go: 7-4
The plan:
Because the Jags are playing in London in 2013, the league will offer them an exchange rate on wins similar to the British pound, so that would mean they only need four more wins to get to .500 (and that still might not be enough.)
•
KANSAS CITY
-- Now: 1-5; Needs to go: 7-3
The plan:
According to GM Scott Pioli, the theme of the first six weeks of the season has been "mistakes have been made." Ya think? Four of the team's five losses have been by two touchdowns. After two decades without a playoff win, the fans' frustrations have begun to boil over in
ugly ways
. But I think Pioli's recent admission is a sign of hope for Chiefs fans. It proves that miracles can happen.
•
MIAMI
-- Now: 3-3; Needs to go: 5-5
The plan:
You saw this bumbling, uninspired team on "Hard Knocks," right? Well, this group was two OT losses away from being 5-1. Now they've got two weeks to get Reggie Bush healthy and Ryan Tannehill and Jabar Gaffney on the same page.
•
NEW ENGLAND
-- Now: 3-3; Needs to go: 5-5
The plan:
The Pats just need to keep doing their thing: losing close games and turning decent quarterbacks into Hall of Famers with that secondary.
[+] Enlarge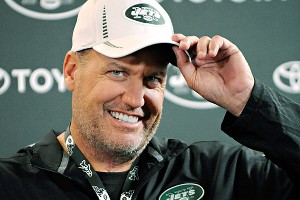 AP Photo/Bill KostrounDo you believe what this man says?
•
NEW YORK JETS
-- Now: 3-3; Needs to go: 5-5
The plan:
With Darrelle Revis out and a serious lack of targets for Mark Sanchez, I believe this is a 10-win team almost as much as I believe Rex Ryan when he says Bill Belichick is a better coach than he is.
•
OAKLAND
-- Now: 1-4; Needs to go: 7-4
The plan:
Our best bet would be to pray for relegation for the Raiders.
•
PITTSBURGH
-- Now: 2-3; Needs to go: 6-5
The plan:
Even with Ben Roethlisberger off to a great start, what the Steelers really need is to try and get road games called after the third quarter, because they'd be undefeated if they had been able to hold a lead late and on the road.
•
SAN DIEGO
-- Now: 3-3; Needs to go: 5-5
The plan:
The Chargers' remaining schedule is so easy they should have no trouble finishing 12-4 overall. This, of course, means they will have to battle in the final two weeks of the season just to finish 8-8. What more would you expect from a team that in the past decade has probably wasted more talent and opportunities than any other -- ever? Especially under the direction of Norv Turner, who has the second-worst record (49-69-1) in one-score games in NFL history -- a problem Turner referred to as "conjecture" before the Bolts' epic collapse against Denver. Bolts? We're still calling them the Bolts? The San Diego Static Electricity sounds better.
•
TENNESSEE
-- Now: 2-4; Needs to go: 6-4
The plan:
The Titans need six wins, and it just so happens that the suddenly soft and indecisive Chris Johnson faces six defenses (Bills, Jets, Saints, Colts and Jags, twice) ranked in the bottom six in the league in run defense. Done.
NFC
•
ARIZONA
-- Now: 4-2; Needs to go: 4-6
The plan:
The only way this team wins four more games is if Roger Goodell approves the use of a Pope-mobile contraption to protect the Cards' quarterbacks in the pocket.
•
ATLANTA
-- Now: 6-0; Needs to go: 2-8
The plan:
The Falcons need to stay soft against the run, keep dropping passes and, most importantly, undermine their confidence with memories of 2010's 13-3 team, which fell flat in the playoffs. Not to mention the fact that they were pushed to the brink twice by a 1-4 team this season.
[+] Enlarge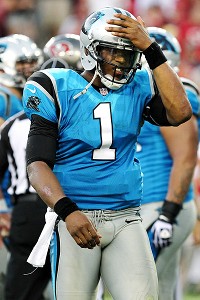 Mark LoMoglio/Icon SMISomehow, Cam needs to get his swagger back.
•
CAROLINA
-- Now: 1-4; Needs to go: 7-4
The plan:
On a potential game-winning pass against the Seahawks in Week 5, Cam Newton threw a 4-yard pass into the end zone to tight end Ben Hartsock. Unfortunately, Hartsock was 8 yards away. Newton needs to put his slow start behind him and get his swagger back.
•
CHICAGO
-- Now: 4-1; Needs to go: 4-7
The plan:
Having insulted and embarrassed everyone on offense, Jay Cutler needs to turn his sideline magic toward disrupting and undermining the Bears' stellar defense.
•
DALLAS
-- Now: 2-3; Needs to go: 6-5
The plan:
Sooner or later it's going to be politically incorrect to call this franchise America's Team. I mean,
the Cowdashians
were 8-8 last year and have, in many ways, epitomized the Near Five-Hundred League by going 132-129 since their previous Super Bowl title. Something's wrong when the most successful part of your season is the launch of your stadium's lingerie store.
•
DETROIT
-- Now: 2-3; Needs to go: 6-5
The plan:
The Lions need six wins, a total that used to take them three seasons to compile. Now, apparently all it takes for the Lions to win is for Matthew Stafford to face a huge deficit and man coverage in the fourth quarter.
•
GREEN BAY
-- Now: 3-3; Needs to go: 5-5
The plan:
Aaron Rodgers was sacked 36 times all of last year when he re-wrote the passing record books. He's been sacked 23 times already. When he's protected in the pocket, the only thing that can stop the Packers are the refs.
•
MINNESOTA
-- Now: 4-2; Needs to go: 4-6
The plan:
Christian Ponder is going to hit a wall in the second half of the season. And by that, I mean the Bears' defense.
•
NEW ORLEANS
-- Now: 1-4; Needs to go: 7-4
The plan:
Talk about the perfect balance for the Near Five-Hundred League: the Saints' passing offense is on record pace, while the defense, giving up 456 yards per game, also could make history for the wrong reasons. If anyone can throw for more yards and points than the Saints' sorry defense is giving up, it's Drew Brees.
•
NEW YORK GIANTS
-- Now: 4-2; Needs to go: 4-6
The plan:
Few QBs and speedy wideouts spread the field as well as the Giants do, so Eli Manning needs to start checking the ball down and handing it off, just enough so that a playoff spot and Tom Coughlin's job are both in jeopardy -- which, as we all know, is this team's postseason sweet spot.
•
PHILADELPHIA
-- Now: 3-3; Needs to go: 5-5
The plan:
I'm not sure I could do better than Andy Reid at ensuring the Eagles finish at .500. I mean, the key problem he has is developing some kind of consistency on the offensive line in order to protect Mike Vick and stop him from rushing into so many turnovers. That issue was something Reid solved by firing Juan Castillo, whom he had converted to defensive coordinator after 13 years as -- wait for it -- an offensive line coach.
[+] Enlarge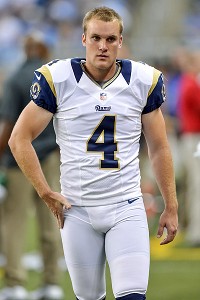 Icon SMIZuerlein went from being The Leg to The Goose Egg.
•
ST. LOUIS
-- Now: 3-3; Needs to go: 5-5
The plan:
I've heard of running backs burning out from too much work, but kickers? Greg Zuerlein went from The Leg to The Goose Egg with three misses last week for a team that is undefeated at home and winless on the road -- perfect.
•
SAN FRANCISCO
-- Now: 4-2; Needs to go: 4-6
The plan:
Just repeat the formula we saw from last week: Let teams rip you between the tackles and panic and abandon your game plan as soon as you go down by a touchdown.
•
SEATTLE
-- Now: 4-2; Needs to go: 4-6
The plan:
If that relentless, intimidating defense falls off a bit, the Seahawks will be forced to ask Russell Wilson to do more, which is never a good equation for even the most poised of rookie QBs.
•
TAMPA BAY
-- Now: 2-3; Needs to go: 6-5
The plan:
The Bucs' games are blacked-out so often in Tampa Bay, all we really have to do is start a rumor the team finished .500.
•
WASHINGTON
-- Now: 3-3; Needs to go: 5-5
The plan:
The Redskins just need to get RG3 out of New York in one piece this weekend, with his wits and his confidence still intact, and the rest will take care of itself.