Did Philip Humber make dubious history?
April, 27, 2012
4/27/12
11:34
AM ET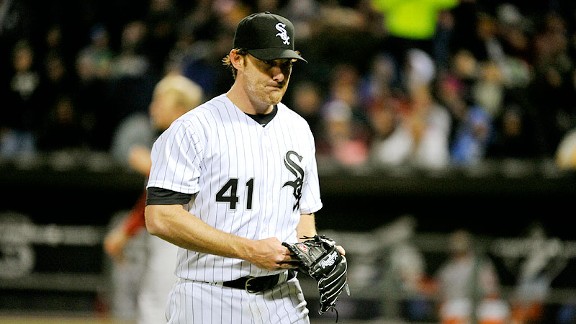 Brian Kersey/Getty ImagesPhilip Humber just might have pitched the worst follow-up to a perfect game in major league history.
So I decided to watch Phillip Humber's first start in the wake of his perfecto Thursday night. You know, just to see if he could do it again. Turns out he couldn't. Walked the first batter. Then it got worse. He gave up two runs in the first, five in the third and another pair in the fifth before finally hitting the road.
I got to wondering if this was the worst start after a perfect game, but that would require research and let me tell you, research makes my head hurt. Good thing my nephew is staying with me until some things cool down where he lives. I had him look all this stuff up for me.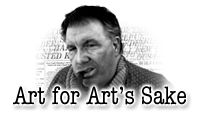 It turns out that Humber's in the running. The other contender is Don Larsen, who got chased in the second inning of his first start of 1957. (That was the third Yankees game that year. You'd think they might have given the Opening Day ball to the guy who just threw a perfecto in the World Series, right? Nope.) Humber gave up more damage than Larsen, but lasted longer.
Then I wondered if Humber was the first guy to lose his double-perfecto bid on the first batter. Turns out he wasn't – not by a long shot. My nephew looked at 16
perfect game pitchers
, starting with Larsen in 1956, and no less than seven of 'em allowed the first batter of the next game to get on. Larsen did it and so did Jim Bunning, Catfish Hunter, Mike Witt, Kenny Rogers and David Cone. Six more guys had their first baserunner on the second or third batter.
That means only three guys got out of the first inning of their next start with a second perfecto intact: Len Barker, Randy Johnson and Mark Buehrle. Barker's first runner came on the second batter of the second inning. Johnson's was the first man up in the third. Buehrle really gave it a nice run. He almost got through the Twins' lineup two times before he walked the ninth-place batter with two out in the sixth. Then he got chased in the seventh and lost the game. Oh well.
Buehrle and Humber weren't alone in losing their next starts. Those perfect pitchers went 5-8, with Larsen, Bunning and Cone getting no-decisions – although their teams went on to win. Hunter gave up five runs in the first inning and eight overall but still came away with a 13-8 victory. Only one of the perfect-game guys managed a complete game in his follow-up: Barker, who struck out 10 (most by a post-perfecto), but took the 3-1 loss.
So, who had the best outing on the heels of his moment of immortality? I'm going with Tom Browning of the 1988 Reds. He went eight innings the next time out and gave up just one run. The Big Unit got the job done, too: four hits, two runs, one walk and five Ks in seven innings. Roy Halladay had a decent outing in spite of giving up 10 hits, and David Wells had a quality start with a line of three runs, five hits and just one walk in seven innings.
So Phillip Humber just may have had the worst follow-up to a perfect game ever. Hey, every pitcher would like to be able to say that!