The Poll: MMA fighters discuss fight week
November, 17, 2012
11/17/12
10:00
AM ET
By
Chuck Mindenhall
| ESPN.com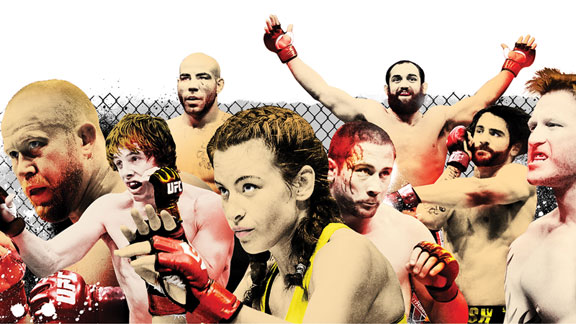 Josue Evillaphoto for ESPN The MagazineFor MMA combatants, the week leading up to the fight can be as stressful as the fight itself.
Editor's note: This story appears in the Nov. 26 issue of
ESPN The Magazine.
Subscribe today!
After months of physical preparation, MMA combatants have to endure fight week – three to seven mentally exhausting days during which they must travel, cut weight and make a litany of fan and media appearances, all while putting the finishing touches on a game plan for their opponents.
According to our poll of 10 fighters, the time leading up to the bout can often be even more brutal than the scrap itself.
1. What is the worst part of fight week?
" 70% Weight cut
" 20% Media obligations
" 10% Other
"It just feels like the fight will never come. On weigh-in day, it takes four hours just to step on a scale."
-- Johny Hendricks
2. Cutting weight is ...
" 50% A science
" 50% Pure hell
"It's down to a science at this point, but it's no fun."
-- Mike Pierce
3. Appearing in your underwear in public for a weigh-in is ...
" 100% Never a problem
"It's part of the show. I feel like guys come to see the fights, but their wives come to see the weigh-ins."
-- Matthew Riddle
4. What's the biggest out-of-pocket expense during the week?
" 80% Cornermen
" 10% Watching movies
" 10% Food
"The biggest expense is paying travel for the cornermen. You always fly with at least one cornerman, but the more you bring, the more it adds up."
–- Miesha Tate
5. Do bonuses for victories and the night's best fight, knockout or submission weigh on your mind throughout the week?
" 50% A lot
" 50% Not much
"Big time. I am going out there to put on a show. I want to win by some devastating knockout that people haven't seen to get that big-ass bonus."
-- Ben Saunders
6. Do you feel the need to sell the fight you're in?
" 70% Yes
" 30% No
"Your ability should sell the fight. People aren't going to believe you if you lose after so much trash-talking."
-- Johny Hendricks
7. How extreme is the pressure to score tickets for friends and family?
" 60% No pressure
" 40% Extreme pressure
"My friends are pretty good about tickets, and most of them aren't needy, so they can go buy their own tickets."
-- Ben Askren
Participants
: (pictured left to right above)
" Tim Boetsch, UFC (middleweight),
" Matthew Riddle, UFC (welterweight),
" Ben Saunders, Bellator (welterweight),
" Miesha Tate, Strikeforce (bantamweight),
" Mike Pierce, UFC (welterweight),
" Johny Hendricks, UFC (welterweight),
" Charlie Brenneman (welterweight),
" Ed Herman, UFC (middleweight).
Not pictured: Ben Askren, Bellator (welterweight), Chad Mendes, UFC (featherweight)