Kareem's personal collection tours U.S.
November, 15, 2012
11/15/12
11:00
AM ET
By
Jason Feifer
| ESPN The Magazine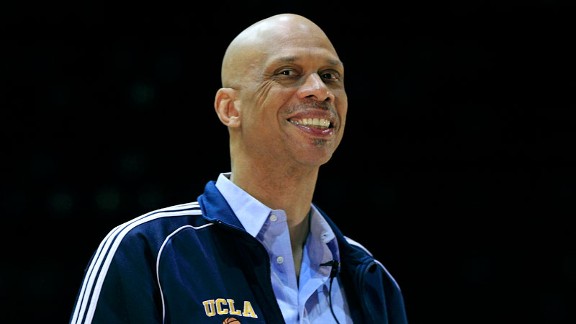 AP Photo/Carlos OsorioAbdul-Jabbar, the NBA's all-time leading scorer, is bringing a career's worth of "stuff" on a nationwide tour.
For much of his career, Los Angeles Lakers legend Kareem Abdul-Jabbar gave the same answer when someone asked if he'd like a game-winning ball or an All-Star jersey.
"Send it to my mom."
She kept it all in Queens, N.Y. -- and it's good she did. Had Abdul-Jabbar shipped things to his Los Angeles home, we'd have less history to see today as his house burned down in 1983.
His mom moved out to L.A. in 1985, and brought the collection with her. And for years now, it has grown and accumulated inside a local storage unit -- more than 300 items that tell the story of a champion, from Abdul-Jabbar's 1959 Little League trophy to a 1989 "Farewell Tour" ice bucket.
Abdul-Jabbar has a word for these career mementos: "stuff." As in: "My mom had all my stuff." And "the fire didn't destroy all this stuff."
Historical items they may be, but stuff it is -- and he's the one who has been paying to store it. "And the warehouse wasn't supervised very well. I didn't go check on it," he says.
Where a collector might see a keepsake worth framing, an NBA legend just sees his old, sweaty jersey.
[+] Enlarge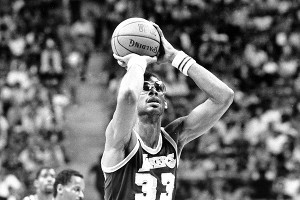 AP Photo/Lennox McLendonOn the tour: the ball Kareem used to break Wilt's record.
So recently, Abdul-Jabbar started thinking that it's time to set these things free and release himself from the burden of minding his own legacy.
His business manager, Deborah Morales, proposed a different idea: He should dig his 300 items out of storage and put them on tour, raising money for his Skyhook Foundation, which promotes childhood education.
"So, all of a sudden now, having these items gives me the ability to have an event that people can relate to, and create some excitement and interest in what I'm doing," says Abdul-Jabbar.
The collection will debut at the unveiling of his Staples Center statue on Nov. 16, and then will be exhibited at 10 other cities during major sports events, including Houston for NBA All-Star Weekend, Atlanta for the Final Four in April, and somewhere (perhaps Miami?) for the NBA Finals.
The tour will also stop at the Masters in April and the Belmont Stakes in June. The final stop will be next November at the Bradley Center in Milwaukee, the home of the team that drafted him.
Tour preparation has been emotional for Abdul-Jabbar.
"It provoked a lot of memories. Most other people, they go through this experience when they move, you know?" he says. But he's not too nostalgic -- he still doesn't want to pay for that storage. So when the collection comes back to him at the end of next year, he just isn't sure what he'll do with all the stuff.
"I don't know. I really don't know," he says. "We've got a number of different ideas and options. We have to take a long, hard look at them, and see how they fit into my plans."
Below are just 10 of the 300 items that will be featured on the tour:
[+] Enlarge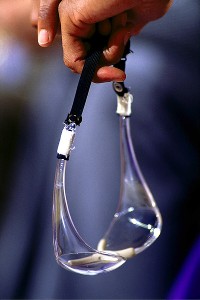 Andrew D. Bernstein/Getty ImagesKareem's goggles, in a city near you.
• 1959 John J. Woefel Memorial Little League trophy
• 1971 NBA world championship ring
• 1983 L.A. Lakers contract
• 1984 The ball from KAJ's record-setting night as NBA's top scorer
• 1988 A chipped "Lakers Farewell Tour" ice bucket
• 1989 A "Lakers Farewell Tour" commemorative plate from the Republic of China
• Various KAJ game-worn goggles
• Engraved KAJ silverware tea set
• A Waterford crystal basketball, signed "Happy 50th, from Pat" by Pat Riley
• A pair of commemorative Milwaukee Bucks KAJ jerseys