The worst athlete TV cameos of all time
February, 20, 2013
2/20/13
12:40
PM ET
By
D'Arcy Maine
| ESPN.com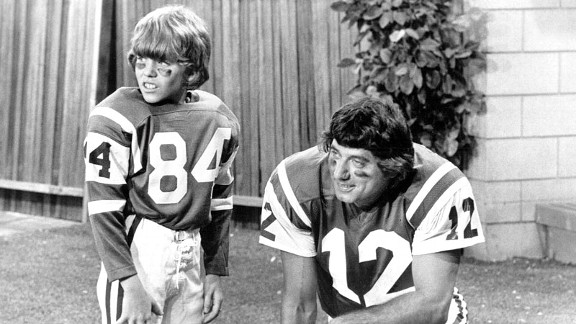 Getty ImagesJoe Namath on "The Brady Bunch." Wait ... what?
Athletes appearing on sitcoms (or other semi-humorous shows) is a tradition as old as time. Or at least as old as television. While some athletes have provided memorable and entertaining moments (such as Keith Hernandez on "Seinfeld" or Bill Buckner on "Curb Your Enthusiasm"), others have provided laughs for all the wrong reasons.
So which athlete cameos have we deemed worst of the worst? The list is below.
5. Bob Golic
"Saved By The Bell: The College Years"
(1993-1994)
With all due respect to the brother of our colleague Mike Golic, Bob Golic is not good at reading lines in front of a camera. On "Saved By The Bell: The College Years" (or "SBTBTCY" for all three of you die-hards out there), Golic played the role of Mike Rogers, the former Bayside gang's resident assistant.
While all of the other names on this list are for cameo roles, Golic was inexplicably a SERIES REGULAR. Meaning they paid him WEEKLY for his acting. We think by definition that makes him an "actor," but that title would even be insulting to Keanu Reeves.
But while Golic's acting was less than stellar, this show's biggest disappointment was the unreal expectations it set for the young viewers about what to expect in college. A co-ed apartment with a living room and kitchen as a freshman? Talk about a depressing realization when you walk into a closet-sized dorm room with a same-sex roommate. Damn you, Zack Morris!
4. Michael Phelps
"Entourage"
(2008)
Sure, Michael Phelps' appearance on "Entourage" is all of six seconds, but what a six seconds they are. In the scene, the gazillion-time gold medalist has to walk across a road, bump into Kevin Connolly, shrug his shoulders and say a whole line! We've got ourselves a regular Bobby De Niro here!
Truthfully, though, we blinked initially and missed seeing his appearance the first time we watched the clip (NSFW!!!). If you sat through his painful hosting gig on "Saturday Night Live," that should come as a relief.
3. Kareem Abdul-Jabbar
"Full House"
(1995)
It was hard to pick just one Abdul-Jabbar appearance to put on this list, because he's appeared on every television show known to man. However, in his "Full House" episode, Abdul-Jabbar (whom Uncle Jesse assumes is three people when he first hears his name) is doing what every legendary athlete does -- just play ball in the local park, happy to show a total stranger (Uncle Jesse, the guy from the yogurt commercials) how to shoot a basketball. We're sure that's how most NBA Hall of Famers spend their days.
What ever happened to predictability? It's right here on your computer screen in this clip, with every sitcom cliché on display. Everywhere you look!
2. Joe Namath
"The Brady Bunch"
(1973)
Those zany Brady kids contrive a scheme to get Joe Namath to come over by convincing him that Bobby is dying of an unnamed illness. Were all athletes this gullible in the 1970s? Like in every sitcom ever, good ol' Carol Brady discovers the, um, Bunch's lie and tells Namath the truth. Valuable lessons and speeches of course ensue. But not without a game of tossing the pigskin in the backyard! To recap: Bobby Brady lied about being terminally ill to get his hero to come over. The plan somehow works. He gets caught in his lie. Listens to a 32-second lecture. Gets to toss a football outside with Joe Namath. Lesson learned?
We would say the 1970s seem like a better time. But we just can't after looking at Broadway Joe's bell-bottoms.
1. Barry Bonds
"Beverly Hills, 90210"
(1994)
Barry Bonds plays the role of Barry Larson, a baseball star whose dad just so happens to be Steve Sanders' dad's archrival. Barry and his father get paired up with Steve and his father for a father/son tournament ... because that's what people in Beverly Hills do. They play in golf tournaments with celebrities. But we digress.
In a slightly ironic turn of events, Steve catches his pops using -- wait for it -- performance-enhancing golf balls! See what we did there? Despite his age, Papa Sanders is determined to win at all costs and throws his ethics and morals out the window to do so. This sounds slightly familiar. We can't quite put our finger on it. Did we mention Barry Bonds is in this episode?
Steve forces his dad to use regulation balls for the rest of the round, and the duo ends up losing to Barry and his father in a dramatic (for "90210") finish. Because cheaters never win! Too bad Barry didn't pay a little more attention to his episode.