Playbook Stadium 50: Honorable mentions
February, 28, 2013
2/28/13
12:30
AM ET
By
Jim Caple & Patrick Dorsey
| ESPN.com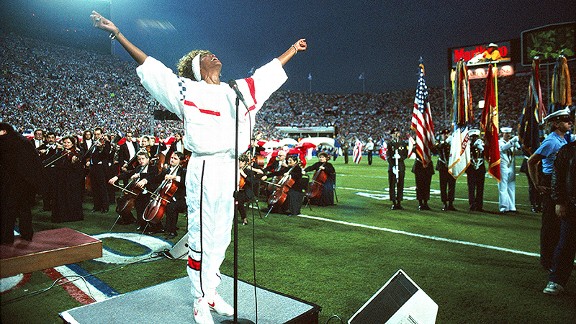 Michael Zagaris/Getty ImagesSung live or not, Whitney Houston's National Anthem resonated then -- and still does.
Here's what stinks about lists with endpoints: They end.
Thus was our problem
with Playbook's Stadium 50
, which highlighted a huge selection -- 50, to be exact -- of North America's greatest non-competition stadium moments ... but still had to leave some on the cutting-room floor.
That's where honorable mentions help. We've got 10. What are yours?
Candlestick Park, San Francisco: The Beatles play their final ticketed concert, 1966.
The Fab Four drew just 25,000 fans for their final scheduled concert on a typically cold, foggy night at Candlestick Park. The day before, the Giants' Fab Nine drew 41,000. Evidently, While Lennon and McCartney were big, Mays and McCovey were bigger.
Caesars Palace, Las Vegas: Evel Knievel jumps the fountains, 1967.
Evel's
much-hyped leap over the Caesars Palace fountains
ended in a crash-landing that shattered bones and sent him to the hospital. But the made-for-fans spectacle also vaulted him to such national fame, he eventually had his own action figure. And if you're thinking it didn't take much to entertain us in those days, defend the "Twilight" movies or the Kardashians.
Atlanta-Fulton County Stadium, Atlanta: Fans round the bases with Hank Aaron, 1974.
Hank's 715th was the major moment here, but who can forget when a pair of 17-year-olds, Britt Gaston and Cliff Courtenay, stormed the field and jogged (briefly) with baseball's new home run king? Of course, unlike many other surprise field-storming moments, no malice was intended. In fact, the two fans and Aaron
re-united multiple times
before Gaston's death in 2011.
Daytona International Speedway: Cale Yarborough dukes it out with the Allisons, 1979.
What happened on the track was crazy: Cale Yarborough, blocked by Donnie Allison on the last lap of the Daytona 500, bumped into his rival and caused the race's top two drivers to crash out (while a previously third-place Richard Petty cruised to the win). What happened after, though, adds to the legend:
A full-on brawl
between Yarborough, Allison and his brother, Bobby. Did we mentioned this was the first race televised live, start to finish?
Indiana University, Bloomington, Ind.: Dave & friends win the Little 500 in "Breaking Away," 1979.
One of the best sports movies ever made, "Breaking Away" climaxes at the running of Indiana University's real-life Little 500 bicycle race. And although this film is largely overlooked in today's sports movie discussion, the tradition of that moment -- when the winsome (and, spoiler alert, winning) characters played by Dennis Christopher, Dennis Quaid, Daniel Stern and Jackie Earle Haley take the track with the team name "Cutters" --
lives on
.
Baltimore Colts Training Facility, Owings Mills, Md.: The Colts pack up and move to Indianapolis under the cover of darkness, 1984.
Franchise relocation tends to be a long, drawn-out process (see: Kings, Sacramento) and these days is announced well in advance --
no matter how controversially
. Not so much 29 years ago, when -- after owner Robert Irsay's unsuccessful drive to get a new stadium -- 15 moving trucks rolled up to the Baltimore Colts' headquarters in the early hours of March 29 and whisked the team away to Indianapolis.
Orange Bowl, Miami: Sooner Schooner flagged 15 yards in Orange Bowl victory, 1985.
In a game with national championship implications, Oklahoma took the lead with a short field goal -- only to have the Sooner Schooner rush onto the field and get flagged for unsportsmanlike conduct, negating the points and moving the Sooners back for a longer try. The resulting missed field goal helped the Washington Huskies to victory. A great night for Washington, but Oklahoma exacted revenge decades later when Clay Bennett pulled a Robert Irsay, minus the late-night move, and moved the Seattle Sonics to Oklahoma City.
[+] Enlarge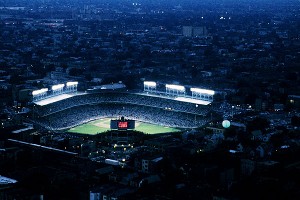 Ronald C. Modra/Sports Imagery/Getty Images... and yet, these lights are still waiting to shine on a World Series.
Wrigley Field, Chicago: The Cubs become the last team to use lights, 1988.
Night baseball? Unthinkable -- if only, by the 1980s, on Chicago's North Side. Then came GM Dallas Green's 1982 suggestion of bringing lights to Wrigley ... something that took six years of wriggling -- with the state and local governments, no less, including threats of moving to the 'burbs -- to complete on one August night. (The Chicago Tribune
has much more
.)
Tampa Stadium, Tampa: Whitney Houston sings the National Anthem before the Super Bowl, 1991.
Near the height of her fame,
the late Houston belted out
one of the most memorable renditions of the song, period. Well, in truth
she sang it days earlier
, stirring quite the controversy about lip-syncing at live performances (
sound familiar?
). No matter -- as a single, the recording went on to become the first rendition of the "Star Spangled Banner" to reach the Billboard top 20.
Kingdome, Seattle: Ceiling tiles fall, 1994.
Prior to a game, several of the Kingdome's heavy ceiling tiles crashed to the seats. The repairs took months and cost $51 million, and the Mariners would have been forced on a two-month road trip had it not been for the subsequent player strike. Fortunately, there were no injuries because no one was in the seats -- a common thing in those days even when the Mariners were actually playing a game.