Fan lives dream by meeting Kobe Bryant
May, 16, 2012
5/16/12
1:46
PM ET
By
Jon Gold
| Special to ESPN.com
How do you put a price tag on the trip of a lifetime?
How can you determine the value of finally meeting your grandfather and allowing your mother to visit her sister for the first time in more than 40 years?
[+] Enlarge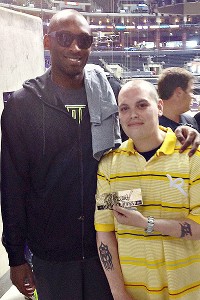 Panini America Nick Gauder flashes the golden ticket that allowed him to meet Lakers superstar Kobe Bryant.
How much is a hug from your favorite athlete worth?
Like many of us, Nick Gauder couldn't answer any of those questions.
The Columbus, Ohio, resident was the lucky man who pulled a golden ticket from a pack of Panini America basketball cards. The sparkling, gold, fold-out card didn't include a piece of game-worn memorabilia or an autograph. But to sports fans, it was far more valuable than Willy Wonka's golden ticket.
It entitled the bearer to an all-expenses paid trip to Los Angeles to attend a Lakers game and meet Kobe Bryant.
Gauder said he received a $20,000 offer for the card. He turned it down, however, deciding that the trip was far more valuable to his family. Gauder brought his mother, Lani, on the trip so she could visit family members in Southern California for the first time in decades. Living in Ohio, Gauder never had the opportunity to meet most of them, including his grandfather and cousins.
Finally, because of a pack of basketball cards, Gauder was able to make it all happen.
"This trip with just the Kobe thing, coming to L.A., is like a dream come true," Gauder said. "But you add the fact that I'm going to meet my grandpa for the first time? That I'm going to reunite my mom with the sister she hasn't since she was 12 years old when she left the Philippines? There's no words. This is a blessing, man."
Before the weekend, Gauder said he knew he was making the right decision.
Afterward, he had no doubt.
Gauder and his mother ate great food, enjoyed perfect weather and attended their first professional basketball game. The Lakers beat the Mavericks in overtime, as they got to cheer -- and boo -- for the first time.
After the game, Kobe walked up and introduced himself to Gauder, embraced Lani, chatted for a bit and signed autographs. The experience nearly left Gauder in tears.
"I don't care what anybody said, the guys back in Columbus who said he was rude or mean or wouldn't care -- that guy is a good guy," Gauder said. "He took time out of his big schedule to just say hi to me, to hug my mom -- even signed an autograph for her brother."
Said Bryant: "There's no question that it's cool to think that people want to meet me like that. But I try not to get too caught up in that stuff as I'm really just a regular guy."
Does a regular guy score 81 points in a game and win five championships? Does a regular guy inspire someone to turn down $20,000 for a chance to meet him? Does a regular guy generate
this
kind of reaction?
"Kobe hugged me twice!" Lani gleefully screamed after the meeting. "Did you hear that! No ... wait ... three times!"
Try to put a price on that feeling.