Are you troubled by strange noises in the middle of the night?
Do you experience feelings of dread in your basement or attic?
Have you or your family ever seen a spook, spectre or ghost?
If the answer is "yes," then don't wait another minute. Pick up the phone and call the professionals ... Ghostbusters!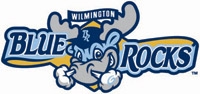 Ordinarily this transcribed commercial from the 1984 movie "Ghostbusters" would have nothing to do with sports.
But Saturday is no ordinary day in Delaware, as the Wilmington Blue Rocks, Class A affiliate of the Kansas City Royals, are holding "Ghostbusters Night" during the team's game against Myrtle Beach.
Ghostbusters groups from Philadelphia and New Jersey will appear, perform and sign autographs at the game. Naturally, they will be dressed in authentic uniforms from the movie, complete with proton packs. The Blue Rocks will have their staff dressed as movie characters and ghosts, too, and the team will feature video clips and music from the movie during the game.
The Blue Rocks will also be giving away gym bags to the first 1,000 fans through the turnstiles at Saturday's game.
Now, apropos of nothing, here's our favorite sequence of quotes from "Ghostbusters":
"Fire and brimstone coming down from the skies! Rivers and seas boiling!"
"Forty years of darkness! Earthquakes, volcanoes ..."
"The dead rising from the grave!"
"Human sacrifice, dogs and cats living together ... mass hysteria!"