The National Spelling Bee drinking game
May, 31, 2012
5/31/12
5:31
PM ET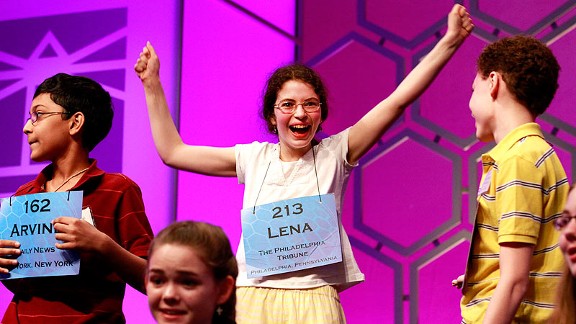 AP Photo/Jacquelyn MartinOne of these kids might be your boss in five years. Time for cold beverages and contemplation.
BOOYAHHH!!!
National Spelling Bee finals, THURSDAY NIGHT.
Get ready to unfog your glasses again and again as some of the game's hottest parlance peddlers drop nasty transposed vowels and ludicrous lexicography all over your vacant monkey skull. Don't miss a single second of the puberty-inciting action, featuring performances by
ACCOUNTANT-LOOKIN' DUDE
!
YOUNG ADULT FICTION HEADSHOT GIRL
!
THE STAR OF HBO'S "GIRLS"
!
AND THE JAMAICAN GUY WHO'S A TOTAL BOSS
!
This is WITHOUT A DOUBT one of the biggest drinking nights of the year, so if you're ready to throw down, Playbook's got you covered. Check out our official drinking game and be prepared to chug until you can't spell your name anymore. SPELL YEAH!
For every word that YOU spell wrong, chug for three seconds.
Chug five seconds every time there's an uncoordinated high five.
Chug from a stein every time there's a word of German etymology.
Take a swig of gin and juice every time the etymologizzle is D-O-double-Gizzle.
Drink a Red Stripe every time the Jamaican kid nails a word.
Take a swig for every alternate pronunciation that is offered.
Take a shot if the camera catches one of the dude spellers staring longingly at one of the homeschool honeys.
Take two shots if the camera catches one of the dude spellers staring longingly at Samantha Steele.
Chug three seconds every time the bell rings. Add an additional three seconds if the kid winces. Finish the drink if the kid cries.
Chug five seconds every time a public school kid nails a word.
Take a shot every time Jacques Bailly demonstrates a human emotion.
Chug five seconds every time a kid loses and the parents fail to conceal their shame.
Take a shot and yell "I KNEW THAT!" every time a kid botches a word using a C instead of K.
Eat some lasagna if one of the words is "lasagna."
If you successfully spell the winning word, take three consecutive shots to congratulate yourself. If you fail to spell the word, slowly nurse a sadness beer to cope with the fact that these 12-year-olds are way smarter than you could ever hope to be.
As always, dear readers, please drink -- and spell -- responsibly.