Best sports moment in each of the 50 states
June, 19, 2012
6/19/12
9:04
AM ET
By
ESPN The Magazine
| ESPN.com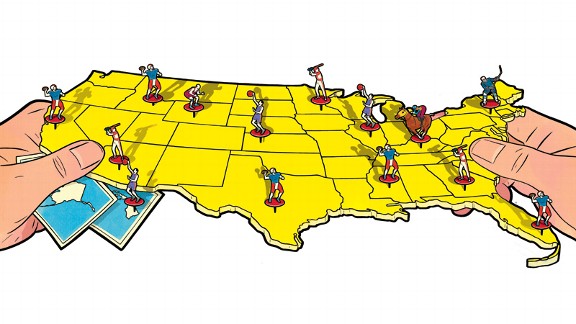 Jason Schneider
[Editor's note: The following story appears in the Debate Issue of ESPN The Magazine.]
The Best Sports Moment in the History of Your State Is …
We asked YOU which sports moment each state should be most proud of. And after 105,000 votes, we'll agree that you'll agree to disagree.
Alabama
The Crimson Tide deny Penn State's offense with an epic goal-line stand in the fourth quarter of the 1979 Sugar Bowl. (18.4%)
Runner-up
In 1961, Bama coach Paul "Bear" Bryant wins the first of his six national titles. (16.2%)
Alaska
The D2 Anchorage Seawolves pull off the biggest upset in school history by bumping off Glen Rice's No. 2-ranked Michigan 70-66 in a 1988 hoops nail-biter. Was Rice, uh, distracted? ... You betcha. (20.5%)
Runner-up
In a rare stretch-run showdown, Dick Mackey takes the 1978 Iditarod by one second over Rick Swenson. (10.2%)
Arizona
The bloop heard 'round the world: D-back Luis Gonzalez knocks in the Series-clinching run off Yankees reliever Mariano Rivera in Game 7 of the 2001 Fall Classic. (55.9%)
Runner-up
The Wildcats knock off three No. 1 seeds en route to the 1997 NCAA hoops title. (17.6%)
Arkansas
Corliss Williamson puts up 23 points to lead the Razorbacks to the 1994 NCAA championship over the Blue Devils. And when Duke loses, everybody wins! (54.2%)
Runner-up
The 2001 Razorbacks gridders outgun SEC rival Ole Miss 58-56 in an NCAA-record seven overtimes. (13% )
California
Joe Montana scrambles out of trouble and connects with a leaping Dwight Clark for a six-yard TD in the final minute of the 49ers' 28-27 win over Dallas in the 1981 NFC championship game. (21.4%)
Runner-up
A hobbled Kirk Gibson blasts a pinch-hit homer to give the Dodgers Game 1 of the 1988 World Series, sending Tommy Lasorda waddling into highlight history. (19.3%)
Colorado
John Elway launches his 37-year-old body into three Packers defenders to pick up a crucial first down and leads the Broncos to victory in Super Bowl XXXII. (51.8%)
Runner-up
Elway leads a 98-yard drive to send the 1986 AFC title game to OT. Broncos win. (22.5%)
Connecticut
UConn basketball runs the tourney tables in 2004, becoming the first (and still only) D1 school to win the men's and women's NCAA titles in the same season. (47.1%)
Runner-up
The 2010 UConn women set a D1 record of 90 straight wins. (15.9%)
Delaware
The Fightin' Blue Hens drub Youngstown State 38-21 to secure the 1979 D2 football title. (29%)
Runner-up
Former Hen Joe Flacco is drafted 18th overall by the Ravens in 2008. (16.8%)
Florida
The 1972 Dolphins complete the NFL's only perfect season in the Super Bowl era, topping the Redskins 14-7 in SB VII, giving Mercury Morris something to brag about for the next 40 years. (51%)
Runner-up
Florida routs Florida State 52-20 in the 1997 Sugar Bowl for its first national title. (12.1%)
[+] Enlarge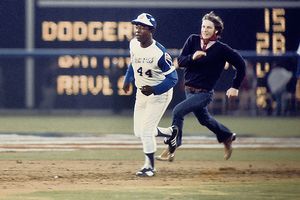 Manny Rubio/US PresswireHank Aaron rounds the bases after hitting career home run No. 715 off Al Downing of the Dodgers.
Georgia
Braves slugger Hank Aaron eclipses Babe Ruth, hammering his 715th career home run in 1974. (43.7%)
Runner-up
Herschel Walker leads Georgia past Notre Dame in the Sugar Bowl to capture the 1980 national title. (14.9%)
Hawaii
In 1982, the NAIA Chaminade men's basketball team upends Ralph Sampson's No. 1 Virginia. (29.2%)
Runner-up
Hawaii's Colt Brennan completes his 58th TD pass, a D1 season record, in 2006. (21.5%)
Idaho
Boise State busts out the old-school playbook, winning the 2007 Fiesta Bowl with an I-can't-believe-it-actually-worked Statue of Liberty play. (71.1%)
Runner-up
Voters felt that Evel Knievel's failed 1974 attempt to jump over Snake River Canyon in a rocket-powered Skycycle was worthy of being No. 2. (6.3%)
Illinois
Michael Jordan hits his last shot for the Bulls to win the 1998 NBA championship and his sixth title in eight years. (48.8%)
Runner-up
William "Refrigerator" Perry scores a TD in Bears' 46-10 Super Bowl XX win in 1986. (22.4%)
Indiana
Bobby Plump leads tiny Milan High to the 1954 state title, inspiring the film Hoosiers and making purists pine for the ol' picket fence. (29.3%)
Runner-up
Indiana beats Michigan in the 1976 NCAA title game, capping a 32–0 season. (26%)
Iowa
The Iowa State Cyclones derail Oklahoma State's 2011 BCS title chances, outgunning the Cowboys 37-31 in double overtime. (20.6%)
Runner-up
No. 9 seed Northern Iowa knocks off No. 1 seed Kansas in the 2010 NCAA tourney. (16.3%)
Kansas
Mario Chalmers drains a trey in the closing seconds of the 2008 NCAA title game, sparking an overtime rally against Memphis. (43.1%)
Runner-up
Danny (Manning) and the Miracles get past Oklahoma to win the 1988 NCAA tourney. (21%)
Kentucky
Secretariat secures the 1973 Kentucky Derby in record time (1:59.40) on the way to the ninth Triple Crown. (31.8%)
Runner-up
Favorite son Muhammad Ali wins the Thrilla in Manila to recapture the heavyweight title in 1975. (20.8%)
Louisiana
With New Orleans still recovering from Hurricane Katrina, Drew Brees leads the Saints to victory over the Colts in Super Bowl XLIV. (56.7%)
Runner-up
The Saints demolish the Falcons in 2006, the first tilt at the Superdome since Katrina hit 13 months earlier. (21.6%)
Maine
The University of Maine captures its first NCAA men's hockey title with a 5-4 victory against Lake Superior State in 1993. (30.5%)
Runner-up
In the only heavyweight title fight ever held in Maine, Muhammad Ali pounds Sonny Liston in 1965. (17.2%)
[+] Enlarge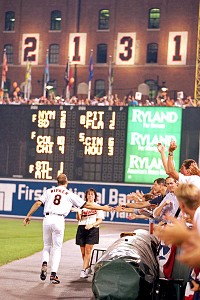 Doug Pensinger/Getty ImagesCal Ripken Jr. shared the moment
with Orioles fans when he played
in consecutive game No. 2,131.
Maryland
In 1995, Aberdeen homeboy Cal Ripken Jr. plays his 2,131st consecutive game for the Orioles, breaking the mark set by Yankees icon Lou Gehrig. (39.3%)
Runner-up
Juan Dixon leads Maryland over Indiana for the 2002 NCAA title. (17.8%)
Massachusetts
The 2004 Red Sox become the first MLB team to overcome a 3-0 series deficit to win the ALCS, against the Yankees. Winning the World Series for the first time since 1918 was only slightly less significant. (52.2%)
Runner-up
Adam Vinatieri gives the Patriots a 20-17 win over the Rams in Super Bowl XXXVI in 2002. (9.6%)
Michigan
Michigan State's Magic Johnson (24 points) tops Indiana State's Larry Bird for the 1979 NCAA title. (29.4%)
Runner-up
Bo Schembechler's 1969 Wolverines shock heavily favored Ohio State 24-12 at the Big House. (19%)
Minnesota
Twins' Kirby Puckett belts a walk-off home run in the 11th inning in Game 6 of the 1991 World Series. (43.1%)
Runner-up
Twins outlast Cards in seven games to win the franchise's first World Series, in 1987. (13.2%)
Mississippi
Ole Miss and local hero Jake Gibbs beat Rice 14-6 in the 1961 Sugar Bowl to end the year 10–0–1. (17.2%)
Runner-up
The Ole Miss D stops a pre-Tebowmania Tim Tebow on fourth and one to beat Florida at the Swamp in 2008. (16%)
Missouri
The Cardinals' David Freese raps the game-tying triple and the game-winning homer in Game 6 of the 2011 World Series. (35.8%)
Runner-up
The Royals rally past the Cards thanks in part to ump Don Denkinger's missed call in Game 6 of the 1985 World Series. (19.9%)
Montana
The U. of Montana ekes past Marshall 22-20 for the 1995 D1-AA football championship. (41.8%)
Runner-up
Montana native Phil Jackson wins his 10th NBA title as coach in 2009, breaking Red Auerbach's record. (32.4%)
Nebraska
With 17 of 22 All-Big Eight players between the teams, Nebraska holds off Oklahoma 35-31 in 1971 in one of college football's many Games of the Century. (35.5%)
Runner-up
The Cornhuskers take down Miami 24-17 in the 1995 Orange Bowl for Tom Osborne's first of three titles. (30%)
Nevada
The Runnin' Rebels blow out Duke 103-73 in the 1990 NCAA title game, the widest margin of victory in the 73-year history of the title game. Proving that, once again, a loss by Duke ... (56.9%)
Runner-up
Led by Colin Kaepernick, Nevada stuns the unbeaten Boise State Broncos 34-31 in 2010. (14.3%)
New Hampshire
Charlestown native Carlton Fisk urges a 12th-inning shot past the "fair" pole to clinch Game 6 of the '75 World Series for Boston. (27.1%)
Runner-up
The Granite State's other favorite son, Paul Levesque (Triple H), wins his record 13th WWE title, in 2009. (14.2%)
[+] Enlarge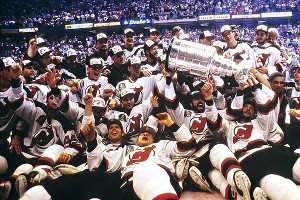 B Bennett/Getty ImagesThe NHL's Devils captured the Garden State's first major professional sports championship in 1995.
New Jersey
In 1995, the upstart Devils sweep the mighty Red Wings and hoist the franchise's first Stanley Cup in front of the home fans. (30.9%)
Runner-up
In 1869, Rutgers defeats Princeton in the first-ever college football game. (19.7%)
New Mexico
The Land of Enchantment hosts its first hoops national championship in 1983 as NC State stuns Houston. The state earns the tag of the Land of Slim Pickings for sports moments. (34.7%)
Runner-up
U. of New Mexico alum Brian Urlacher wins the NFL's 2000 Defensive Rookie of the Year. Like we said, slim pickings. (19.3%)
New York
The Empire State selects the 1980 U.S. men's hockey team's Miracle on Ice in Lake Placid as its most storied sports moment. So much for Linsanity. (38.9%)
Runner-up
Giants WR David Tyree pins an Eli Manning pass to his helmet, setting up a Super Bowl XLII–winning TD over the Patriots in 2008. (17.2%)
North Carolina
NC State beats heavily favored Houston on a buzzer beater in the 1983 NCAA hoops title game. Residents of New Mexico remain eternally grateful. (38.3%)
Runner-up
Frosh guard Michael Jordan drains a jumper with 17 seconds left, lifting UNC to the 1982 NCAA basketball title. (18.8%)
North Dakota
In 2012, North Dakota State wins its ninth national football title and first since 1990. (38.6%)
Runner-up
Fargo's Roger Maris sets the MLB single-season home run record with 61 in 1961. (37.9%)
Ohio
OSU alum Jesse Owens dominates the 1936 Olympics in Berlin by winning four gold medals, to the chagrin of Nazi Germany. (29.7%)
Runner-up
In 1975, Buckeyes RB Archie Griffin is first player to win back-to-back Heismans. (14.9%)
Oklahoma
Sooners circle the wagons against the rest of the nation, reeling off an NCAA-record 47 straight wins from 1953 to 1957. (33%)
Runner-up
The SuperSonics move to Oklahoma City in 2008 and are renamed the Thunder. (18.8%) ... Wait a minute ... this just in ...
Oregon
Bill Walton is at his defensive best, leading the Trail Blazers to a 4-2 series win over the 76ers in the 1977 NBA Finals. (37.9%)
Runner-up
Coos Bay native Steve Prefontaine sets an American record of 13:21.9 in the 5,000 meters in 1974. (20.6%)
Pennsylvania
Wilt Chamberlain racks up an NBA-record 100 points in Philadelphia's 169-147 win over the Knicks in 1962. He scored even more later that night. (24%)
Runner-up
Pirates' Bill Mazeroski blasts a ninth-inning home run against the Yankees in Game 7 to win the 1960 World Series. (17%)
Rhode Island
Rick Pitino and star point guard Billy Donovan lead Providence to its first Final Four, in 1987. (28.8%)
Runner-up
Rhode Island upsets No. 1 seed Kansas in the second round of 1988 Big Dance. (18.1%)
[+] Enlarge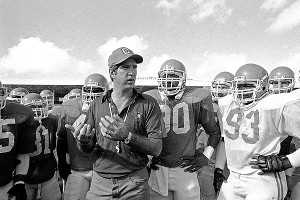 AP Photo/Kathy WillensClemson went 12-0 and captured the 1981 college football national championship under Danny Ford.
South Carolina
Clemson allows Nebraska to cross the 50-yard line only four times in its 22-15 Orange Bowl win en route to the 1981 national title. (32.4%)
Runner-up
Beaufort's Smokin' Joe Frazier beats Muhammad Ali in 1971's Fight of the Century. (26.8%)
South Dakota
Adam Vinatieri, pride of Yankton, boots the game-winning 48-yard field goal for the Pats on the final play of Super Bowl XXXVI. (33.3%)
Runner-up
Pine Ridge's Billy Mills sets an Olympic record in the 10,000-meter run at the 1964 Tokyo Games. (19.7%)
Tennessee
On the back of Peerless Price's four catches for 199 yards, Tennessee defeats Florida State in the 1999 Fiesta Bowl to win the inaugural BCS championship. (28.4%)
Runner-up
In 2009, Tennessee's Pat Summitt becomes the only NCAA D1 hoops coach, male or female, to win 1,000 career games. (25.2%)
Texas
With 26 ticks left and facing a fourth-and-five on the USC 9, Texas QB Vince Young dashes in for the game-winning score in the 2006 Rose Bowl. (28.7%)
Runner-up
Texas Western starts five black players, an NCAA first in a title game, and defeats No. 1 Kentucky in 1966. (22%)
Utah
BYU scores two fourth-quarter TDs against Michigan in the 1984 Holiday Bowl, giving the Cougars an undefeated season and a unanimous selection as the nation's No. 1 team. (50.9%)
Runner-up
In 1995, Salt Lake City is named the host city for the 2002 Winter Olympics. (22.9%)
Vermont
The 13th-seeded Catamounts knock off Big East champ Syracuse 60-57 in the opening round of the 2005 NCAA tournament. (55.4%)
Runner-up
Vermont alum Tim Thomas leads the Bruins to the 2011 Stanley Cup. (16.3%)
Virginia
No. 11 seed George Mason outmuscles top-seeded Connecticut in an 86-84 overtime win in the 2006 Elite Eight. (30.4%)
Runner-up
In Remember the Titans style, T.C. Williams High School wins 1971 state football title. (21.9%)
Washington
In the first year of expanded playoff format, Ken Griffey Jr. scores from first on an Edgar Martinez double to send the Refuse to Lose Mariners to the 1995 ALCS—which they lost, but still. (41.2%)
Runner-up
The SuperSonics win the 1979 NBA title in five games over the Washington Bullets. (16.9%)
West Virginia
Rich Rodriguez who? Two weeks after the head coach suddenly departs, the Mountaineers soldier on to spank the Sooners 48-28 in the 2008 Fiesta Bowl. (35.4%)
Runner-up
Marshall's 1971 football team gets its first win of the season, 10 months after the plane crash that took the lives of 37 players on the 1970 team. (19.2%)
Wisconsin
The minus-13-degree temps only add to the atmosphere as the Packers defeat the Cowboys 21-17 in the 1967 NFL championship game, aka the Ice Bowl. (43.9%)
Runner-up
The Packers and Brett Favre beat the Patriots to win Super Bowl XXXI in 1997. (23.5%)
Wyoming
Afton native Rulon Gardner stuns Aleksandr Karelin, who hadn't lost a wrestling match in 13 years, to win Greco-Roman gold at the 2000 Sydney Games. (41.3%)
Runner-up
Wyoming defeats Georgetown to win the 1943 NCAA basketball title. (30.8%)