Chuck E. Cheese needs sports makeover
July, 5, 2012
7/05/12
11:28
AM ET
Chuck E. Cheese, the place where children's socks go to find eternal rest,
recently announced
that they're making over their eponymous mouse mascot to feel more relevant to these terrible times.
The revamped rodent will reportedly be a "hip, electric-guitar-playing rock star," unlike the smiley, purple-shirted
vermin of yore
.
[+] Enlarge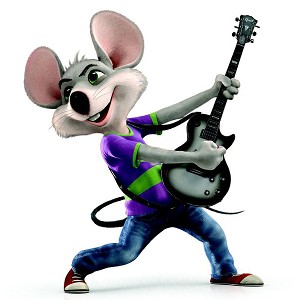 AP Photo/CEC Entertainment IncChuck E. Cheese is being made over into a rock star.
If their primary objective, though, is to appeal to today's youth with a rock 'n' roll musician, then they will almost certainly fail. Kids have no idea what rock 'n' roll is anymore. All kids want to listen to is computer sounds and the Kidz Bop version of "My Humps." Unless they can get deadmau5 on board, the whole musician mascot thing is going to fall flat on its tail.
What they need is a superstar athlete.
No matter how sedentary and spherical our kids get, they still worship professional athletes. They still squish up against the fence before baseball games, desperate for any sort of autograph on anything -- even if it's just from the bullpen catcher -- because while pretty much anyone can become a musician these days, the professional athlete still has this transcendent, unobtainable quality. They're idols.
Chuck E., I think, needs to get in on that.
So let's rethink this makeover. For starters, Chuck needs a new middle initial. E is for spinsters. I give my vote to Chuck X. Cheese. It's edgier, ripe with branding potential, and it lets kids know that he's straight edge …
TO THE EXTREME!!!
Chuck X. also desperately needs a new look. Here's what I'm thinking:
• A more aerodynamic snout, one better equipped to get big air.
• All his fur should be Under Armour fur, so that he can stay sleek and dry while playing in garbage puddles.
• Well-muscled ears.
• His forearms should be grotesquely disfigured to resemble blocker pads.
• His jolly belly should be swapped out with the lean, diamond-chiseled torso of a world-class athlete like Pablo Sandoval.
• One of his feet should be a skateboard, the other a halfpipe.
This new character will pave the way for lots of catchy new slogans, like:
• Chuck X. Cheese's is a home run of fun!
• Chuck X. Cheese's is a slam dunk of fun!
• Chuck X. Cheese's is a good tennis thing of fun!
• Chuck X. Cheese's is a bounty system of fun!
And there's plenty more where that came from. If anyone over at Corporate Cheese wants to get in touch about paying me thousands of dollars for these ideas, you can find me hiding in the ball pit. I'll be the one with the neck beard. Hit me up.