The Phillie Phanatic long has owned a foothold in its home city.
Now it's got a head hold. Which is to say, as the above photo shows, fans can wear (and are wearing) the Philadelphia Phillies' beloved mascot -- and pretty much all other mascots -- as hats, thanks to a line of unusual headwear from Forever Collectibles.
Unusual, and popular, among all ages. The company -- which supplies Major League Baseball and all other major North American leagues with officially licensed items from bobbleheads to footwear -- says these mascot dangle hats were their top products for the fourth quarter (exact current sales numbers were not available). And the top among them was, of course, the Phanatic.
"I've never seen anything like the response we've gotten for the Phanatic hat," Forever Collectibles creative director Jason Priolo said.
That was the first mascot hat Priolo designed -- he's a Phillies fan, after all -- but certainly not the last. Inspired by a Pablo Sandoval-themed Panda hat sold in San Francisco, the mascot line now spans all four major sports leagues, plus colleges. But it also provided quite the challenge to Priolo and his fellow designers.
"The main challenge was trying to make sure you're selecting the most prominent feature of each mascot -- that'll still make it look like a mascot," Priolo said. That meant keeping mascots with bulbous features from being too unwieldy. Making long snouts (like the Phanatic's) true-to-life, but also not overwhelming to the hat wearer. And so on.
RT @lisajohnson: My sons goofy Wally the Green Monster hat! #RedSox twitter.com/LisaJohnson/st…

— Forever Collectibles (@weareFoCo) June 11, 2012
The hardest type of all?
"Any mascot that is an actual person," Priolo said, listing examples such as New England's Pat Patriot, Michigan State's Sparty, Pittsburgh's Steely McBeam and, most notably, the Dallas Cowboys' Rowdy. "Essentially [with Rowdy] I was trying to design a hat to put on someone's head, of another person's head wearing a hat."
Another challenge: Making hats for teams with no mascot; in those cases, Priolo & Co. highlighted an iconic part of the team's imagery (e.g. the New York Yankees' top hat).
Meanwhile, others came easy. And ended up "spot-on," in Priolo's words -- such as Bailey, the Los Angeles Kings' Lion.
Met up w/ @baileylakings at the 2012 NHL Exchange. His awesomeness is unfathomable...and his dangle hat is no different twitter.com/weareFoCo/stat…

— Forever Collectibles (@weareFoCo) August 1, 2012
So what's next for these hats? For one, Priolo expects growth -- especially with NFL season kicking off soon and a full shelf of hats available (many of the MLB items were still being shipped when the season started).
Priolo also said he and his team are "already trying to figure out ways to reinvent the mascot hat for next year" (although details were not available as yet).
No matter what, though, he expects the Phanatic -- and all its mascot friends -- to hang on to that head hold around pro stadiums.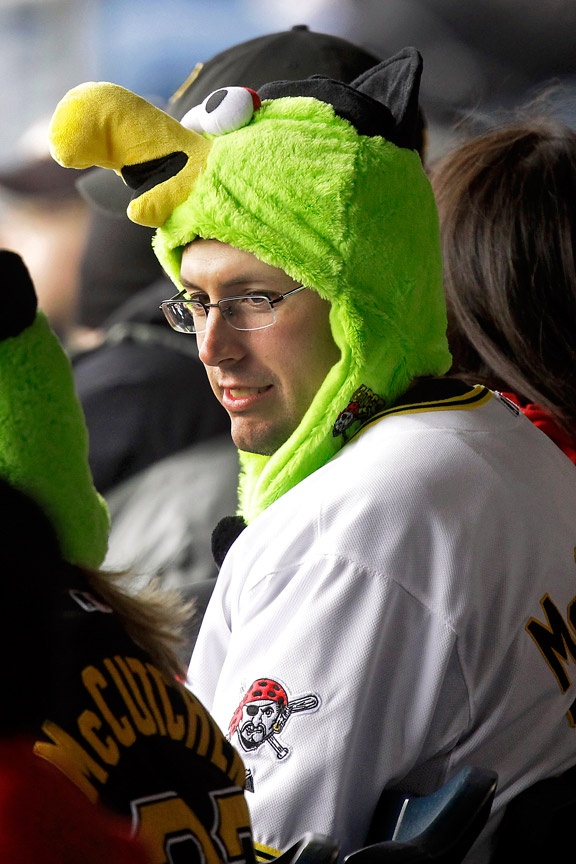 A Pittsburgh Pirates fan in April.
AP Photo/Gene J. Puskar