Fandom - ESPN Playbook:

Gabe Kapler
August, 1, 2012
8/01/12
11:39
AM ET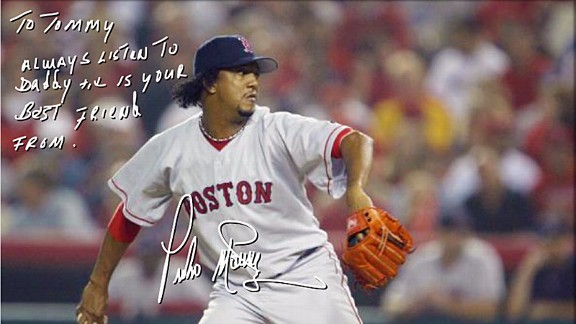 EgraphsAthletes such as Pedro Martinez are using iPads to write personalized messages for fans.
It wasn't all that long ago that Pedro Martinez was creating magic on the mound and painting the corners of major league strike zones.
Now the retired three-time Cy Young Award winner is tapping into a different reservoir of creativity and producing signature moments in a way that would have been impossible just three years ago.
This time, Pedro's palette is an iPad, and he and other athletes have begun using the tablet to create a whole new type of autograph -- called an egraph -- to connect with fans across the digital highway.
The new-wave collectible consists of a signed, personalized digital photo with an audio message.
Since
Seattle-based Egraphs
debuted its product July 12, the company says it has been amazed by the positive public reaction and credits celebrities such as Martinez for its quick takeoff.
Just as he did in his prime, Martinez is showing plenty of flair.
"Pedro spent a crazy amount of time doing each one because he wanted to deliver perfect," said David Auld, Egraphs' chief executive officer. "He kept rewriting messages to make sure they were easy to read and wanted to make sure the voice message was really great. The fact he's willing to spend time to produce something for his fans is just indicative of where their priorities are as players and how great a fan experience this can really generate."
April, 24, 2012
4/24/12
10:54
AM ET
Everyone knew the Red Sox and Yankees would be marking the 100th anniversary of Fenway Park on Friday by wearing 1912 throwbacks. What nobody knew, however -- maybe because it was a secret, or maybe just because nobody thought to ask -- was that the throwbacks would not have uniform numbers, which made this one of the strangest-looking MLB games in recent memory.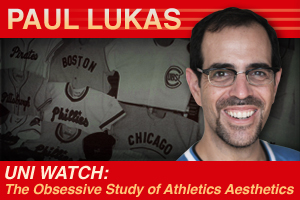 The thinking behind the numberless throwbacks was simple enough: Uniform numbers hadn't yet been invented in 1912. But teams have worn throwbacks from the numberless era before, and they've always added uni numbers to the throwbacks. (In fact, the Red Sox themselves have done it twice, as you can see
here
and
here
.) It's one of those modern compromises that is routinely made for throwback games, like wearing batting helmets even if the throwback design comes from the pre-helmet era.
But now that the Sox and Yanks have shown that it can be done, maybe we'll see more numberless throwback games in the future.
The Yankees are often credited with being the first team to have worn uniform numbers, but that's incorrect. The first uni-numbered team was actually the Indians, who took the field wearing numbered jerseys on April 16, 1929. (The Yankees, whose first game had been rained out, debuted their numbers the following day.) By 1937, all MLB teams had added numbers to their home and road jerseys. Friday's BoSox-Yanks game was the first time since then that a team had gone numberless -- or, in this case, two teams.