Fandom - ESPN Playbook:

Michael Kidd-Gilchrist
June, 29, 2012
6/29/12
5:56
PM ET
By
Playbook Fandom
| ESPN.com
AP Photo/Bill Kostroun
Earlier today, we posted a photo of top draft picks and former college teammates Anthony Davis and Michael Kidd-Gilchrist, and readers offered their captions. Our favorite was a combination of those submitted by MikeWilliams7021 and dragonlord741:
Kidd-Gilchrist: What's on your face?
Davis: That's a brow question, bro.
Thanks for participating!
June, 29, 2012
6/29/12
7:19
AM ET
By
Playbook Fandom
| ESPN.com
Cartoonist Kurt Snibbe is on vacation this week, but the caption contest continues -- this time with a photo of No. 1 overall pick/future New Orleans Hornets big man Anthony Davis and former Kentucky teammate/No. 2 overall pick Michael Kidd-Gilchrist (to the Bobcats).
So take a shot at writing your best line in the comments section and we'll post the winner at the end of the day. Happy captioning.
AP Photo/Bill Kostroun
June, 28, 2012
6/28/12
1:20
PM ET
By
Nick Creegan
| ESPN.com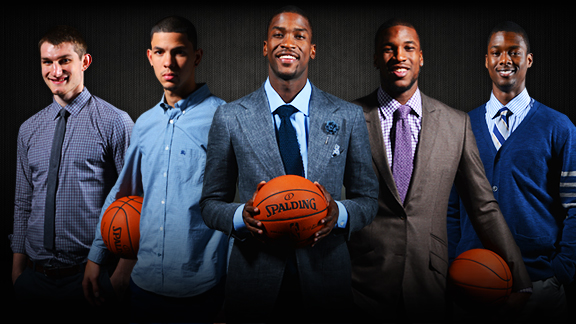 ESPN.com IllustrationFrom left, Tyler Zeller, Austin Rivers, Michael Kidd-Gilchrist, Thomas Robinson and Harrison Barnes.
The top prospects in Thursday's NBA draft carry a lot of pressure.
They've waited and wondered: Where they will be drafted? How will they prove themselves? Do they have what it takes to be the next star?
Aside from the athleticism they share, they all have different interests, memories and senses of humor.
Five of the projected top 11 draft picks were in New York on Wednesday to talk about what it's like being in their situation, which is deeper than their college stats could show.
Playbook eased that pressure, talking to Thomas Robinson, Harrison Barnes, Austin Rivers, Tyler Zeller and Michael Kidd-Gilchrist about important issues such as their video game ratings, their pregame music and what they'll buy with that contract money:
What are you going to miss most about playing in college?
Thomas Robinson:
The games for sure. The intensity of the games were always high, especially the big Monday night games.
Harrison Barnes:
The free meals. Getting those five-star meals four times a day on the road. I don't know if I'll be getting that at the NBA level.
Austin Rivers:
I guess that whole spirit thing, with the crowds into it, the tailgating, people just into it each day. Those are the little things you take advantage of in college because you're used to it, but that's stuff that really doesn't happen at the next level.
Tyler Zeller:
Probably just the college atmosphere. You get to be in class with the people who just watched you play last night, which was cool. So I'll miss that.
Michael Kidd-Gilchrist:
The atmosphere of it. The fan base and my teammates. Stuff like that.