Fandom - ESPN Playbook:

The Roosevelt Barbershop
June, 18, 2012
6/18/12
11:17
AM ET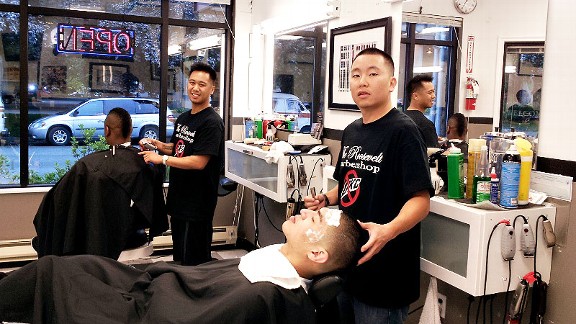 Jim Caple/ESPN.comRex Alcantara, left, and John Song don't want any Thunder fans in the Roosevelt Barbershop.
SEATTLE -- Clay Bennett hijacked the Sonics four years ago, but emotions over the team's transfer to Oklahoma City still cut painfully deep in this city. Word of warning: Avoid mentioning Bennett and the Thunder's success if someone is holding scissors and a razor near you.

Barbers John Song and Rex Alcantara were cutting hair at The Roosevelt Barbershop one recent morning when they started talking about an ESPN poll that showed a majority of Seattle fans were rooting for Kevin Durant and the Thunder. A man waiting for a haircut jumped into the conversation, saying that he was a Thunder fan and wanted to know how Bennett's action made it wrong to root for Durant to win the championship.
That was enough for Song, who pointed to the door and ordered the customer to leave. The man initially thought Song was kidding. He was not.
There's the door. Get out. Now.
"I was just looking at this guy and listening to what was coming out of his mouth -- and he was wearing a Seahawks hat of all things," Song recalled Saturday. "And the only thing on my mind was, 'Get out. You're not even allowed to be in our shop and have an opinion because of what you just said.'"