June, 7, 2013
Jun 7
3:53
PM ET
Rising country star Granger Smith certainly knows to use his Texas A&M connections.
Smith, a 2002 A&M grad, was already a star in Aggieland for an ode to his alma mater called "
We Bleed Maroon
," which has played on the video board before football games at Kyle Field. Last year, in College Station, Smith
was joined onstage
by A&M players including Johnny Manziel during a performance of the song.
Now, Smith has enlisted the help of Manziel for his new video, "Silverado Bench Seat" about the most Texan of themes: a boy hanging out with a girl in his Chevy pickup. The Heisman winner appears with his longtime girlfriend, model Sarah Savage, as well as Ryan Swope, Manziel's former A&M teammate who was recently drafted by the Arizona Cardinals.
Smith's new album, "Dirt Road Driveway," was released in April and debuted at No. 11 on the Billboard Country Album chart.
March, 27, 2013
Mar 27
7:00
AM ET
By
ESPN The Magazine
| ESPN.com
This month, ESPN The Magazine celebrates its 15th anniversary. To commemorate the milestone, The Mag will look back and generate exclusive playlists curated by Bomani Jones. The "Around the Horn" panelist will pick and discuss the biggest hits of the past 15 years. Listen to the entire playlist below.
"Yeah!" by Usher featuring Lil Jon and Ludacris
"No need to explain, when this one was
everywhere
."
"Hey Ya!" by OutKast
"Since it was hip-hop, but not really, the all-purpose choice for many arenas until they ran this one into the ground."
"Overnight Celebrity" by Twista featuring Kanye West
"Ladies and gentlemen, let us introduce LeBron James."
"Numb" by Linkin Park
"And by the time Barry Bonds hit his 700th home run, that's how just about everyone felt."
"Are You Gonna Be My Girl" by Jet
"Ever played Madden '04? Yeah, you know this one too well."
"Change Clothes" by Jay-Z
"Shaq went to the Heat, A-Rod went to the Yankees, eventually giving each team a ring that might not have been worth the trouble."
"No Problem" by Lil Scrappy
"Nov. 19, at the Palace of Auburn Hills, there were
lots
of problems no one wanted, Stephen Jackson chief among them."
"Lean Back" by Terror Squad
"Roy Jones didn't like when Fat Joe mentioned him on the remix ... but he really should have leaned back before Antonio Tarver hit him with a second-round knockout."
"Burn" by Usher
"That's right, Yankees fans! That ALCS meltdown still burns, doesn't it?"
"Sorry 2004" by Ruben Studdard
"The sort of song the AP Male Athlete of the Year should have sung then -- and refused to sing even after he confessed."
January, 31, 2013
Jan 31
6:45
AM ET
By
Rob Clark
| Special to ESPN.com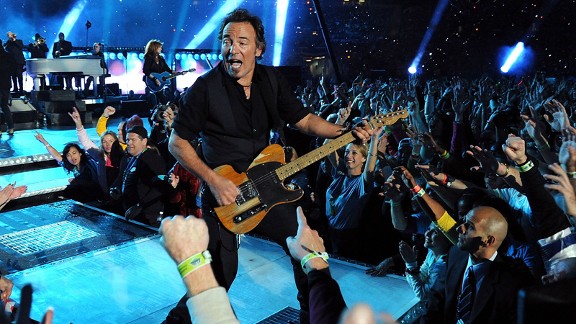 Kevin Mazur/Getty ImagesBruce Springsteen's 2009 Super Bowl halftime performance was remarkably corny.
Halftime at the Super Bowl requires a spectacle, and music's heavy hitters have joined in over the years. Some shows are breathtaking (U2's post 9/11 performance) and some we'd like to forget (that which created the phrase "wardrobe malfunction").
No matter how talented the artist, these shows are often littered with awkward moments. Even the weather can contribute. Prince's 2007 show -- which ranks with
U2's
as the gold standard -- endured a steady Miami rain. But he played right through it, making
his rendition of "Purple Rain"
even more powerful.
Other exceptions to the cringeworthy element:
Tom Petty
(2008),
The Rolling Stones
(2006) and
Paul McCartney
(2005). Quibble with their music all you want, but those were strong performances.
Before Beyonce takes the Super Bowl stage in New Orleans, here's a look at five shows loaded with awkward moments in the past 30 years.
October, 20, 2012
10/20/12
12:00
PM ET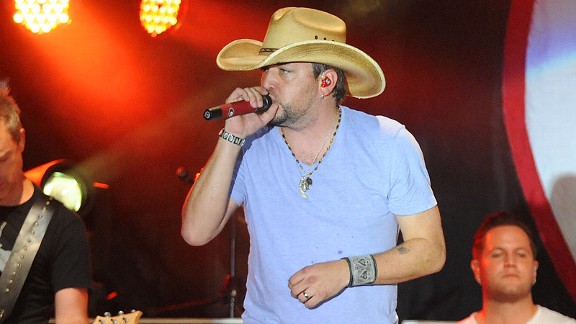 Chris McKay/Getty ImagesLifelong Bulldogs fan Aldean surprised UGA students with a performance in Athens earlier this week.
It is late summer in Georgia, a decade ago, and Jason Aldean is holding a ticket. It's not the scratch-off type and offers no financial fantasy. But for a poor country boy from Macon, Ga., it is an avenue to dreams far richer.
Aldean's father acquired the ticket from a friend and knew well its fleeting value. But he couldn't cash in just then, so he threw his boy a bone only a Bulldog could love.
The ticket granted entrance to a college football game between the Georgia Bulldogs and the Clemson Tigers. It included field access, which meant Aldean would walk the famous Sanford Stadium hedge line and achieve a lifelong dream.
He would share that dream with his cousin, Dale. They're the same age and as close as brothers. Neither had ever attended a Georgia football game, though both were die-hards.
Come game day, there they stood, on the Bulldogs' sideline, overwhelmed by the spectacle of 92,746 brethren.
"It was like going to church," Aldean says. "I didn't think it was possible, but I became an even bigger fan after that. Experiencing the players running by you and petting Uga ... it was surreal. It was spiritual."
August, 30, 2012
8/30/12
12:00
PM ET
By
Andrew Pentis
| ESPN The Magazine
Tommie Wright won't tell you his age, but the 90-something behind Florida State's fight song certainly doesn't mind reliving the first victory over Florida (16-7, in 1964) or the party that followed (Tallahassee's biggest party since the end of World War II). In honor of die-hards like him, we looked into the history behind some of college football's most storied fight songs.

Florida State University: "The Marching Chiefs"
Preseason rank:
7
Football program established:
1947
Marching band established:
1939
Band size:
470
History:
On Oct. 6, 1950, grad student Doug Alley's fight song lyrics appeared in the school paper, the Florida Flambeau. "'Gee, that is a good poem. I am going to write some music to that,'" Wright recalls thinking. He wrote the song that afternoon -- in less than an hour.
Factoid:
Wright still has the original score in his office drawer. The copyright becomes public domain in 2025.

Louisiana State University: "Fight for LSU"
Preseason rank:
1
Football established:
1893
Marching band established:
1893
Band size:
325
History:
Louisiana's 40th governor, populist Huey P. Long, named Castro Corazo the university's bandmaster in 1934. Long (lyrics) and Corazo (composition) collaborated on "Touchdown for LSU." But after Long's assassination in 1935, Corazo and swim coach W.G. Higginbotham co-wrote its replacement, "Fight for LSU."
Factoid:
The first time assistant band director Eric Melley was on the field for an SEC opener, the crowd was so loud that he couldn't hear the 325-piece band right in front of him.
July, 24, 2012
7/24/12
12:31
PM ET
By
Playbook Sounds
| ESPN.com
Peyton Manning has yet to strap on a pair of pads, but he's already
felt the love
from thousands of screaming Denver Broncos fans at Sports Authority Stadium at Mile High.
Manning was at the Kenny Chesney and Tim McGraw concert on Saturday night in Denver when Chesney called up Manning and Broncos coach John Fox to the stage. The crowd went nuts, as you can see in the video above.
Another video taken by a fan is after the jump.
July, 18, 2012
7/18/12
3:30
PM ET
By
Zach McCann
| ESPN.com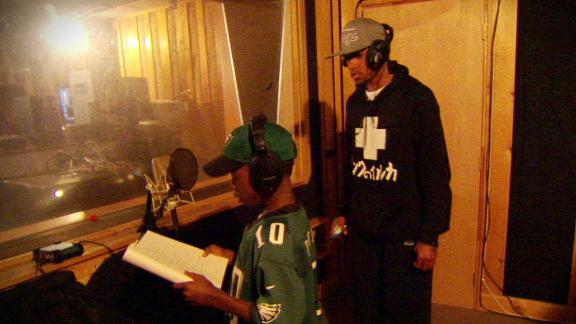 Donovan Troy's day with the Philadelphia Eagles just got better and better.
Troy, a 10-year-old from Atlanta with a life-threatening form of sickle-cell anemia, got to meet his favorite player, DeSean Jackson, through ESPN's "My Wish" series. And then, because it rained that day, all of the players went inside the practice bubble, and Troy met all of the Eagles' stars and caught passes from Mike Vick.
That wasn't all, though. After the Eagles' practice, in a complete surprise, Jackson took Troy to his recording studio and they recorded a rap song together (video above).
"[Donovan] really was excited about that," Donovan's mother, Tara, told ESPN.com's Adam S. Reisinger. "We didn't even know DeSean was into music like that. He and DeSean went into the studio and recorded a song and they gave us the CD before we left. He'll always have that to remember."
Jackson owns his own record label, Jaccpot Records. He put that label to a good cause that day.
Troy's mother says he plays the song every day.
To read the entire story about Troy's day,
visit the ESPN "My Wish" page
.
July, 12, 2012
7/12/12
12:46
PM ET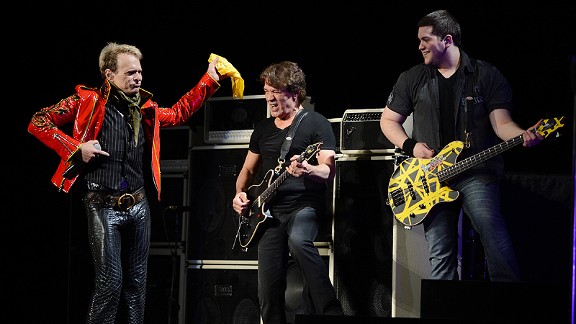 Larry Marano/Getty ImagesDavid Lee Roth says Van Halen wants to play the Super Bowl, but will they still be a band by then?
Remember that
massive campaign
to get Weird Al to perform in next year's Super Bowl halftime show? Well it looks like he's got some competition.
The walking hairspray cans of Van Halen have thrown their name into the hat,
responding to "rampant" rumors
that they'd already been chosen for the gig.
"That honor has not been bestowed upon us at this time though it is one we would accept in a NY minute," said David Lee Roth, who once wrote a screenplay about evil scientists trying to steal his rhythm to sell it to white people.
I like Van Halen, don't get me wrong -- they're the first band I go to for
pedagogical prurience
-- but aren't they … a little less than reliable these days? Forgetting about the constant musical chairs between Diamond Dave and Hagar, didn't they just cancel their tour because
"they hate each other?"
June, 28, 2012
6/28/12
9:13
AM ET
By
Playbook Sounds
| ESPN.com


What's it like to be truly Cleveland? Locally grown rapper Machine Gun Kelly (MGK) hangs out with the Cleveland Browns' talented Joe Haden and Josh Cribbs (on his birthday) to talk about their dedication to the city -- including, in MGK's case, turning down a special opportunity with Manny Pacquiao to spend time in his hometown.

(And yeah, there might be a little anti-LeBron James sentiment thrown in.)
April, 30, 2012
4/30/12
10:00
AM ET
By
Playbook Visuals
| ESPN.com
At midnight Thursday (well, technically Friday), Nike unveiled its NFL "Game" and "Elite" jerseys at Niketown New York, with players Ndamukong Suh, Victor Cruz, Dwayne Bowe and LeSean McCoy on hand, with artists Wale and Ace Hood providing entertainment.
Here's a picture of Wale performing while wearing a Brian Orakpo jersey. You can check out more pictures and get other information
here
.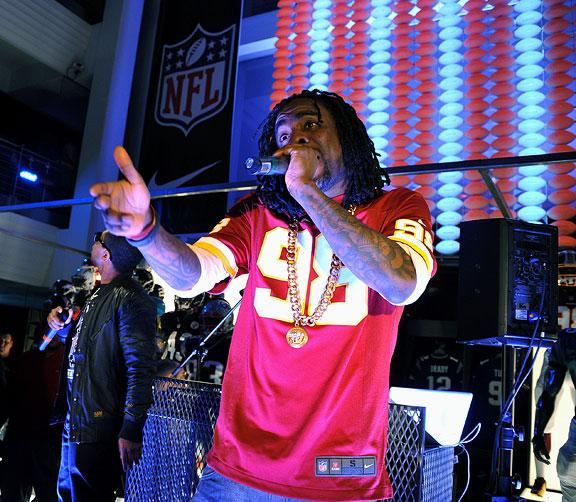 Nike
April, 27, 2012
4/27/12
5:19
PM ET
By
Playbook Visuals
| ESPN.com
New Washington quarterback/No. 2 overall pick Robert Griffin III has a hidden talent -- singing -- but he won't display it for the cameras. Not even after President Barack Obama did it!


April, 26, 2012
4/26/12
1:20
PM ET
Remember "Friday"? Of course you remember "Friday." Well, we have an answer to
Rebecca Black's so-bad-it's-good viral anthem
: "Draft Day," by John Evans and Liz Loza aka The Fantasy Football Girl.
Seen a cool sports-related video you think we should post? Email links to bypatrickdorsey(at)gmail(dot)com or let us know on Twitter at @dorseypatrick. Videos should be family friendly and shorter than two minutes.
April, 25, 2012
4/25/12
8:11
AM ET
The strong NOC song parodies keep coming, this one from New York sketch comedians Adam Lustick and Billy Scafuri (Harvard Sailing Team).
The title: "Getting Drafted and I Know It." The original: Guess. (OK, if you must know, it's LMFAO's "Sexy and I Know It.")
Seen a cool sports-related video you think we should post? Email links to bypatrickdorsey(at)gmail(dot)com or let us know on Twitter at @dorseypatrick. Videos should be family friendly and shorter than 2 minutes.