June, 20, 2013
6/20/13
3:50
PM ET
LeBron James and Imagine Dragons' Dan Reynolds have a mutual appreciation of each other's work, as seen in this behind-the-scenes clip set to "
Radioactive.
"
For James, who says he acts as the Heat's team DJ -- when they call you "King James," you get to pick the tunes -- says music in general and "Radioactive" in particular help get him in the mood to take the court. Reynolds, who says he's been following James' career from the start, says he takes inspiration from anyone who pushes the limits.
Says Reynolds: "I've always found inspiration of people who were pushing the boundaries ... of human capabilities." He says it's "pretty incredible" that James and the Heat have taken an interest in the song.
May, 24, 2013
5/24/13
8:00
AM ET
By
Stefan Marolachakis
| ESPN The Magazine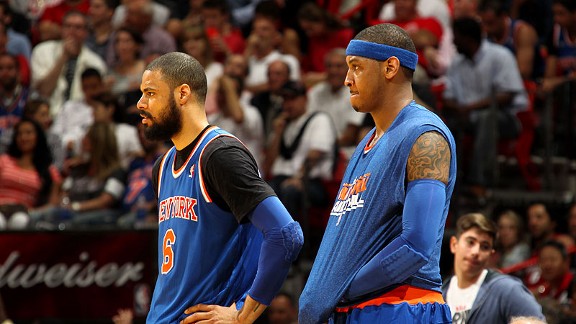 Issac Baldizon/NBAE/Getty ImagesStill mourning the end of the Knicks' playoff run? Read on for some help coping.
Editor's note: Drummer Stefan Marolachakis is traveling the country in a black van with tinted windows, touring for his band Caveman's eponymous second album. Every week, Marolachakis will hunt the nation to gather musicians and athletes to discuss the link between the two clans. This week, our caveman reflects on his grief for his beloved Knicks and offers some tracks for respite.
Sometimes it feels like being a
Knicks
fan is simply the most painful thing a sports fan could be asked to endure, unless you live on the wrong side of Chicago or anywhere in Cleveland.
This Knicks season was, at many points, glorious to behold: they beat the Heat three out of four times; the defense was mugging;
Carmelo
was an offensive genius, and
J.R. Smith
was his wild-eyed wing man in the clutch. But the run is over, and I'm left to sit in shock, parsing out what exactly happened.
Sadly appropriate, when the Knicks ultimately fell to the
Pacers
in the second round, I was in a hotel room in Mississippi, mere miles away from the Delta, the cradle of the blues. And since all know that when the going gets tough, the tough turn to their record collection, I have been using music to cure my NBA-PTSD and creating a soundtrack of new music (and one very old song) as I climb through the classic Five Stages of Grief.
1. Denial
During this stage I blamed the refs, almost exclusively. My dad pointed out to me after the Game 6 that in the final six minutes of play, there were a total of nine fouls called, eight of which were called on the Knicks. Eight! Yes, I realize that the Pacers were too big, they killed the Knicks under the boards, etc. But eight fouls to one? And 46 free throw attempts versus 18 for the Knicks on the game? For shame! It felt like the Knicks had no chance of moving forward in the playoffs with a crew of whistle-happy refs.
Soundtrack: Tame Impala, "
Feels Like We Only Go Backwards
."
April, 21, 2013
4/21/13
9:53
AM ET
By
Theresa Manahan
| ESPN The Magazine
To say Joakim Noah is multi-cultural is a bit of an understatement. The Bulls center's diverse background has been well documented: his French-African father earned his fame as a tennis star, his mother once reigned as Miss Sweden and his father's father was a soccer player in Cameroon. Arts and sports have long held equal sway in the Noah family.
But it's reggae, and the roots of the Rastafari movement, that have inspired Noah to broaden his horizons. He was first exposed to the music of Bob Marley as a child. In fact, his parents,
Yannick
and
Cecilia,
shared a love of the Jamaican artist. "My house always had Bob Marley music playing in the background," Noah says.
As he grew older, Noah began to appreciate the lyrics of Marley's songs as much as the melodies, and was motivated to research their meaning. In doing so, he stumbled across the origins of the reggae movement and Rastafarian culture. "A lot of people think of reggae as laid-back and chill, but the words in reggae are very powerful," he says.
Despite his fascination with the Rastafari movement, the soft-spoken, 6'11' Noah – who holds American, Swedish and French citizenship -- doesn't consider himself a follower of any one religion. "I'm not a religious person, but I'm a spiritual person," say Noah, whose family members practiced both Islam and Christianity. "I believe in God, but I don't believe in one specific god. I like to take pieces from everywhere and incorporate them into my life."
"I'm not a Rastafari, but a lot of their philosophy and beliefs make sense to me: being in tune with nature, knowing about your roots, knowing about your heritage, not getting caught up in materialism." He adds, "I think Rasta teaches you humility."
It also helps him connect with his roots. Noah's favorite Marley song is "Africa Unite" and, even though he's never been to Ethiopia or Marley's homeland of Jamaica, he wears an Ethiopian cross adorned with Tibetan beads around his neck to represent Rasta.
"I feel like your jewelry is a big part of you," Noah says. "I don't wear diamonds or anything like that, but I wear this every day. This is my peace. When I die, I want to have it on."
Noah, who is averaging a double-double that includes career highs in points (12.0) and rebounds (11.5) per game this season, also finds peace before games by listening to reggae. "It gives me strength when I play," says Noah, who also jams to Barrington Levy, Capleton and Sizzla -- and his dad. Now a pop singer in France, Yannick Noah released a Marley tribute album, "Hommage," last year.
For now, his son is sticking with his day job. Noah says there's no chance of him following in the footsteps of his athlete-turned-singer father. "I can't sing like that," he says. "Only in the shower."
April, 18, 2013
4/18/13
8:30
AM ET
By
Kelley L. Carter
| Special to ESPN.com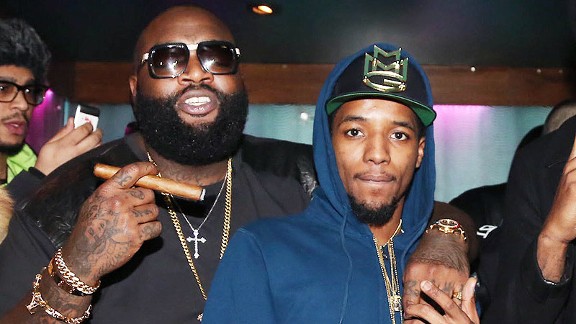 Johnny Nunez/WireImage/Getty ImagesRockie Fresh, right, with Rick Ross, said Chicago feels protective of hometown star Derrick Rose.
It's not that Rockie Fresh is scared or anything. He's just not stupid.
The 21-year-old rapper laughs when he says it, but you will never catch him playing a game of pickup football with his Maybach Music Group boss, rapper Rick Ross.
Emphasis on never. Have you seen the size of the two of them side by side? It would never work.
Musically, Rockie Fresh is bringing a different funk to hip-hop. He's signed to MMG, one of hip-hop's trendsetting labels, but his interpretation of the music has hints of alternative rock music a la Fall Out Boy and Good Charlotte. After uber-success on the mixtape circuit, he'll finally release his first studio album, aptly titled, "Debut Studio Album," later this year.
Aside from rocking the mic, of course, Rockie is rooting for most Chicago teams (as a South Sider, it's treason to root for the Chicago Cubs, but he'll have a beer in the stadium) and hoping/wishing/praying for a Bulls comeback.
Everyone is waiting for Derrick Rose to get back in the game. What's the vibe like in Chicago now?
It's a good time for us. But at the same time, we all just want to make sure he's actually ready to come back. Nobody wants him to come back too soon. Because he's actually from Chicago, people have a different kind of respect for him than we've had for any other player that's played for us. So everybody just wants to make sure that he's healthy more than anything. ... We don't want him to get injured again and things be worse. It's a crazy time for the city.
I know you want another championship from your home team. How far off from reality do you think that is?
I don't think it's too far. We could get blessed with a good draft pick or something next year and maybe the year after that. But I do feel like Derrick Rose needs a little bit of help -- that's a lot of responsibility on him. He needs a little bit more release in the backcourt. Hopefully we come up and get us a nice little guard.
February, 19, 2013
2/19/13
11:15
AM ET
By
Jared Zwerling
| ESPN.com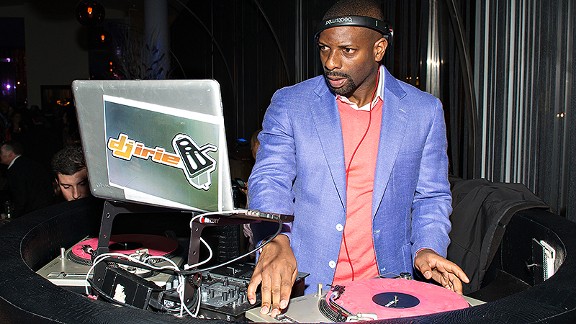 Michael Stewart/Getty ImagesThe Miami Heat's official DJ since 1999, DJ Irie was the first in-house DJ hired by an NBA team.
Catch him if you can. Miami-based DJ Irie doesn't miss a beat during All-Star Weekend -- literally.
The NBA's first DJ, who was hired by the Miami Heat for the 1999-2000 season, may have been the busiest man you've never heard of during All-Star Weekend. He just wrapped up his 10th straight All-Star appearance as the league's headline turntablist in Houston.
Not only did Irie spin at Jam Session every day for a couple of hours, he also worked the celebrity game and then the Club NBA party with reggaeton artist Daddy Yankee on Friday; the East-West All-Star teams' practice; TNT's official All-Star party at the House of Blues on Saturday; and then the Sprint Pregame Concert on Sunday. In addition, he made an appearance, along with rapper Flo Rida, at the Hennessy V.S All-Star Takeover event on Thursday night.
The All-Star schedule for Irie, who became Miami's No. 1 radio DJ in the late 1990s before the Heat wanted him to revolutionize their in-game entertainment, actually started off much crazier. During his first experience in Atlanta in 2003, he was the only NBA DJ on-site and worked Jam Session for about 12 hours a day -- after which, he still went on to spin night parties every evening. Even though he enjoyed being at All-Star Weekend and making some new connections, he called the experience "horrible."
But since then, more NBA team DJs have gotten involved with All-Star Weekend, which has allowed Irie to commit to parties he's in demand for, hosted by A-list entertainers and the ballers themselves. He's become the go-to DJ for current Heat players such as
LeBron James
,
Dwyane Wade
and
Chris Bosh
, and former ones, such as Shaquille O'Neal and Alonzo Mourning. Irie calls the Heat "a family," and he even has both of the Heat's championships rings from 2006 and 2012.
Speaking with ESPN Playbook on Saturday in his hotel room at the Embassy Suites in downtown Houston, Irie reflected on his All-Star commitments, his game-changing start with the Heat 14 years ago, consulting with LeBron on tunes, what's next in the world of in-game music and much more.
February, 19, 2013
2/19/13
7:00
AM ET
By
Jared Zwerling
| ESPN.com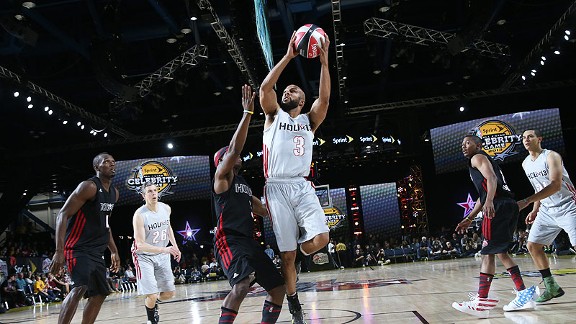 Layne Murdoch/NBAE/Getty ImagesCommon posted 10 points and eight rebounds in last Friday's celebrity game in Houston.
It's Sunday afternoon in downtown Houston, the host city of the 62nd NBA All-Star Game, and rapper and actor Common, along with his manager and some friends, walks into the makeshift green room on the top floor of the swanky Alden Hotel. He's there to meet with some VIPs associated with Under Armour and Hennessy for their "Kicks and Grits" event, before he takes the stage as MC in the rooftop lounge.
As Common makes his way around the room saying hello and posing for photos with people he doesn't know, there's a person he immediately recognizes: Indiana Pacers starting shooting guard Lance Stephenson, who endorses UA. Common approaches him with his trademark smile, and they have a short conversation about how they've been enjoying Houston.
While Common has never met Stephenson previously, he is crazy about the NBA.
"All-Star, in general, is one of the events I love to come to," the Chicago native said. "I'm just a big basketball fan."
February, 13, 2013
2/13/13
7:00
AM ET
By
ESPN The Magazine
| ESPN.com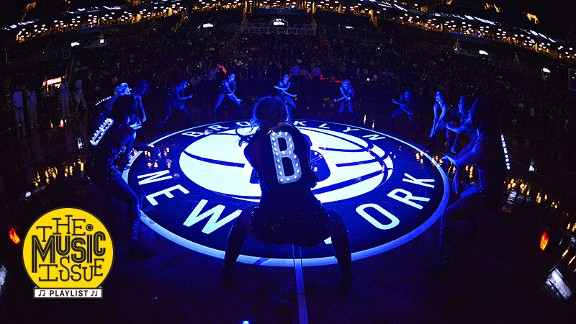 Jesse D. Garrabrant/NBAE/Getty ImagesBarclays Center in Brooklyn is taking NBA in-game music to the next level.
For ESPN The Magazine's Feb. 18 Music Issue, we gathered music playlists from the subjects of each of the feature stories. As part of our supplemental coverage on Playbook Sounds, we will be posting all the Music Issue playlists here.
The Barclays Center takes music seriously. That's why the arena's event team scores each Nets game like a movie, matching every key moment with a customized track. Here, we've compiled a selection of tracks from the Jan. 18 Hawks-Nets game at Barclays, as well as a "mixtape" featuring some of the most popular songs currently played in arenas across the NBA.
February, 5, 2013
2/05/13
11:36
AM ET
By
ESPN The Magazine
| ESPN.com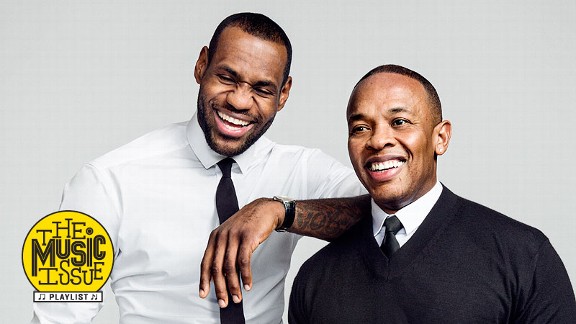 Peter Yang for ESPN The MagazineLeBron James and Dr. Dre of the Beats empire offer their personal music playlists for ESPN The Magazine.
For ESPN The Magazine's Feb. 18 Music Issue, we gathered music playlists from the subjects of each of the feature stories. As part of our supplemental coverage on Playbook Sounds, we will be posting all of the Music Issue playlists over the next two weeks.
In ESPN The Magazine's Music Issue, J. Freedom Du Lac writes how Beats by Dre headphones have changed the way athletes listen to music. Read the
story
, then check out the
behind-the-scenes video
and the
photo gallery
.
January, 22, 2013
1/22/13
3:49
PM ET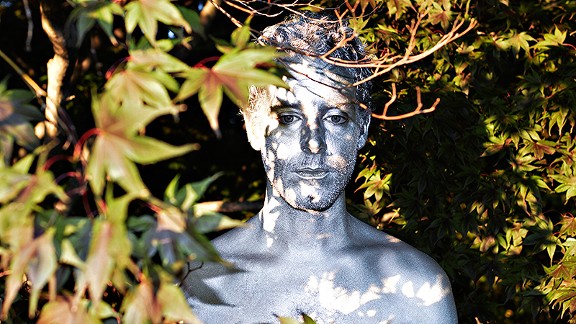 Catharine Maloney Dave Hartley of Nightlands also shares an affinity for silver with Matt Bonner.
Dave Hartley, front man for Nightlands, has a couple of big projects going on right now.
First, Nightlands'
new album, "Oak Island,"
was released Tuesday on Secretly Canadian. The album is a labor of love for Hartley, also the bass player in Philadelphia band The War on Drugs.
Hartley
cites influences
such as the Beach Boys, E.L.O. and Cormac McCarthy in his musical upbringing. But he has another passion: basketball.
Which leads to his other pet project: Lobbying for San Antonio Spurs sharpshooter Matt Bonner to get a spot in the 3-point contest on Feb. 16 during NBA All-Star Weekend in Houston.
Bonner is a huge indie rock fan, even
interviewing Win Butler
from Arcade Fire for the Spurs' website, and
playing against Butler
in a charity game in Toronto. To complete the circle,
Hartley interviewed Bonner
for Paste Magazine.
Hartley's campaign, using the #LetBonnerShoot hashtag, has drawn support from some of Bonner's favorite bands, such as the aforementioned
Arcade Fire
and
Okkervil River
, along with
Eva Longoria
and former Florida teammate
Joakim Noah
.
The #LetBonnerShoot campaign has its own
Facebook page
and Hartley encourages everyone to sign the
online petition
.
Playbook asked Hartley (who has
grown a protest beard
to support the cause) why Bonner deserves the honor. Hartley lays it out in his own words below:
December, 27, 2012
12/27/12
6:00
AM ET
By
D'Arcy Maine
| ESPN The Magazine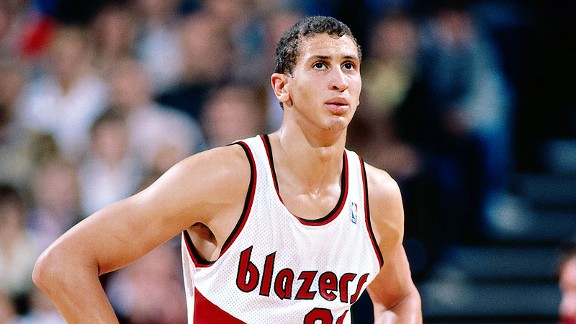 Brian Drake/NBAE/Getty Images"I probably get more jokes from my kids than from the outside," says Bowie about his rap disses.
As you may have noticed earlier this month, former NBA center Sam Bowie made the media rounds to promote his new ESPNU documentary, "
Going Big
."
Bowie, famously picked ahead of Michael Jordan in the 1984 NBA draft, has not only been a frequent target of sports fans following his underwhelming 10-year career, but he's also a punch line for rappers.
Multiple leg injuries limited the 7-footer to just 511 games in the league and prevented him from living up to immense pre-draft hype. He stopped by ESPN Playbook to talk about his reputation and its place in hip-hop lore.
In the rap world, the name "Sam Bowie" has become synonymous with failure. Jadakiss, Joe Budden and, most notably, Jay-Z have all referred to the Kentucky alum in disparaging ways over the years.
Having grown used to the criticism, Bowie has learned to tune out most of the naysayers. However, it is difficult to ignore when rap's biggest stars are calling you out.
July, 25, 2012
7/25/12
2:59
PM ET
By
Playbook Sounds
| ESPN.com
July, 20, 2012
7/20/12
6:18
PM ET
Golden State Warriors center Jeremy Tyler, a big music fan, took in a classic Vegas attraction during an off day in NBA Summer League action. Warriors.com took Tyler to Harrah's to the piano lounge to see Pete Vallee, who is known as
Big Elvis
and does a free (and remarkably good) Elvis tribute show four days a week.
Tyler performed "Viva Las Vegas" and, oddly enough, some George Strait songs alongside the big man.
May, 1, 2012
5/01/12
9:58
AM ET
Danny Granger's late travel helped the Orlando Magic beat the Indiana Pacers on Saturday -- and caused backup point guard Chris Duhon to celebrate with a "Crank That (Soulja Boy)" dance. Or was Duhon making the "traveling" motion? Both? You decide.