ESPN Music:

2012 London Olympics
June, 12, 2012
6/12/12
11:24
AM ET
By
Theresa Manahan
| ESPN.com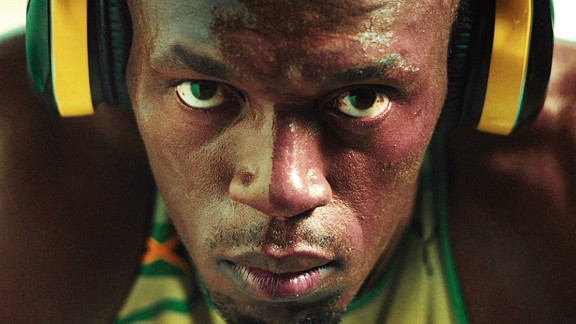 SOUL ElectronicsUsain Bolt, in his SOUL Electronics SL300 Usain Bolt edition headphones, in a Jamaican color scheme.
Usain Bolt will be jammin' even more than usual this summer, now that he has teamed up with SOUL Electronics to design two new headphones.
The collaboration with SOUL came from Bolt's passion for music.
"Nine out of 10 times, when you see him, he has his headphones on," Gina Ford, Bolt's marketing and brand manager, says.
An islander raised on rhythm, Bolt grooves to reggae, dancehall and R&B to relax and prepare.
"My coach doesn't recommend music pre-meet," he says, "But on my way in the car, I jam to something slow and groovy."
Bolt's input in the design process focused mostly on functionality, color scheme and style, but he was also very concerned with the way the products felt and fit.
"The most challenging area for a headphone is to sound really good yet stay in your ear," SOUL executive director Len Davi says. "Given the way an earbud seals in your ear, if you lose the air seal, you lose sound quality."
May, 22, 2012
5/22/12
11:05
AM ET
Football. Not soccer. That's what they call it over in England, where the alternative/indie rock band Morning Parade formed (near London) and where frontman Steve Sparrow gained his love for the beautiful game. One team in particular, actually. But we'll get to that later.
Because we couldn't help but ask Sparrow about
the final match day
of the Barclays Premier League season, when Manchester City snatched the title from Manchester United in the final minutes.
And the band ... missed it?! That's what happens when you have to work ...
"We were flying when the games were on," said Sparrow, who did get the scores via text from his manager upon arrival in the States (they're currently traveling around the Northeast, before
their big tour in June
to support their new self-titled album, out June 19).
"So when we got back [to our hotel], we watched the games on our laptops at night. What an amazing way for the Premiership to end, eh?"
Indeed. Especially because Sparrow's club, Arsenal, crucially clinched a spot in the Champions League that same Sunday.
Sparrow also talked a bit more about The Gunners, the Olympics, American sport and more:
May, 18, 2012
5/18/12
9:00
AM ET


O.A.R. is always working. Even the band's unfinished songs take on a life of their own.

The band recently debuted "Champions," a collaboration with rapper B.o.B., as part of a Duracell promotion for the 2012 London Olympics.

"It's a tune that was floating around in the O.A.R. camp," said Jerry DePizzo, saxophonist and guitarist for the band. "It was written and created by Marc [Roberge], our singer, with some guys he works with sometimes called Diji Parq. I think maybe its intentions really weren't known. The beat and the electronic element is a departure from O.A.R.'s sound and style."

But when the opportunity arose to come up with a song for the campaign, it found its life. The band just wanted to find someone else to work on the song with it.

"We had a short list of guys to do it with and B.o.B. was one of them. To get one of the top guys on our wish list to do it was great."

DePizzo minces no words when he says he hopes the song leads to an opportunity to head to London for the Olympics.

"We're politicking for it. I'd love to go to London. I've heard talk about it," he said. "What better way to do it than to go play for our athletes? I hope we have the opportunity to do it."


April, 26, 2012
4/26/12
9:45
AM ET
Projecting sounds into visual components works differently for everyone. Some can hear a snare drum and think of the rhythmic beat in terms of colors.
When Mark Ronson heard the resonances produced by five Olympic athletes, he started viewing them collectively as an orchestra. A drawn-back archery bow, for instance, makes a bass sound. The sound of the arrow smacking the target is almost percussive. A runner's heart rate can be recorded through a stethoscope to create a song's pulse.
It's an orchestra of sport.
An amalgamation of musical talents himself, Ronson was approached by Coca-Cola to produce a track for the 2012 Olympics in London, Ronson's home. He teamed up with British singer Katy B to create "Anywhere in the World," a unique anthem featuring samples of sounds made by athletes in training.
The creative process itself was a global endeavor. Ronson ventured across the world, working with athletes in Mexico, Singapore and Russia, among others. Footage from his journey will be made into a feature-length documentary.
"If someone had given me a disc with 1,000 sounds in a folder, I wouldn't know where to begin," Ronson said. "But when you see them in their environment, the way Darius Knight [a table tennis player from the UK] squeaks his shoes or grunts to throw off his opponents, there's something emphatic and rhythmic about it that I wouldn't have instantly picked up on."
For Ronson, who produced the late Amy Winehouse and won a Grammy in 2008, "Anywhere in the World" provided a unique challenge. The goal was to piggyback off the worldwide success of
K'naan's "Wavin' Flag,"
which vaulted to international prominence during the 2010 World Cup. Unlike writing an album, in which Ronson would get 11 or 12 songs and then pick the best for singles, this was a one-shot deal.
"Sometimes Olympic songs can be throwaway, then all of a sudden 'Wavin' Flag' set the bar high," said Ronson, who's been getting in shape for his opportunity to run with the torch. " I was honored to be asked; obviously to represent your hometown, London, is a big deal, but there was this insane amount of pressure."
By all accounts, Ronson delivers. The video is a dizzying display of Olympic proportions, complete with appearances from all five athletes: Knight, Russian runner Kseniya Vdovina , American hurdler David Oliver and Mexican taekwondo athlete Maria Espinoza, who appears via video screens.
The fifth, Singaporean archer Dayyan Jaffar, receives what Ronson called a "hero moment" reminiscent of "Braveheart." When Ronson visited Jaffar for a day and a half in Singapore, the producer watched the concentration and steeliness in Jaffar's eyes, so he added an exaggerated breakdown of steel on steel, captured after Ronson miked up the target.
"The steel mike that you attach to the surface absorbs the vibration, so you get this massive-cash-money sound that you can't get out of a keyboard," Ronson said. "It's pretty special."
April, 16, 2012
4/16/12
11:00
AM ET
[+] Enlarge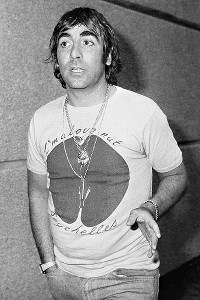 AP PhotoDrummer Keith Moon can't play at the Olympics because he's been dead for more than 33 years.
On this week's episode of "Please Don't Give the Intern Any Real Responsibilities," someone from the 2012 London Olympics
reached out to The Who's manager
to see if Keith Moon would play at an event during the Games. The same Keith Moon, that is, who hasn't played a show or breathed air in over three decades. Because he's dead.
Judging from how the Revolutionary War shaped up, I'm doubtful the Brits have a plan B. So an obvious option would be to recruit Animal from the Muppets, the closest living embodiment of Moon's erratic character. Or maybe the chilled-out Little Drummer Bro from the Fray's
weird lullaby national anthem
. Or if they're looking for a drummer with prior Olympic experience, China's got an
army of 2,000 of them
who've just been collecting dust in storage.
But we'd probably steer clear of the notoriously anti-establishment Sex Pistols. Oh wait,
they asked them too
.
But to whomever they reach out to as Moon's replacement, they should ask for a lot of money.
Dwyane Wade thinks you deserve it
.