ESPN Music:

Brantley Gilbert
August, 27, 2014
8/27/14
10:20
PM ET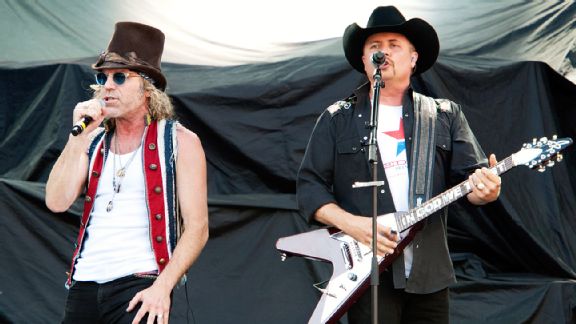 Erika Goldring/Getty ImagesIt's fall, and that means Big and Rich are "Coming To Your City" for college football on ESPN.
Here's a list of songs from performers featured on ESPN's "College Gameday" along with links to the artists' websites and links for you to download and buy the songs and/or albums:
Big and Rich:
"Comin' to Your City"
from the "Comin' To Your City (Revised)" album. (
iTunes
|
Amazon
)
Tesla:
"Signs"
from the "Time's Makin' Changes -- The Best of Tesla" album. (
iTunes
|
Amazon
)
Kid Rock:
"God Bless Saturday"
from the "Born Free" album. (
iTunes
|
Amazon
)
Katy Perry
"This Is How We Do"
from the "PRISM" album. (
iTunes
|
Amazon
)
The Kongos:
"Come With Me Now"
from the "Lunatic" album. (
iTunes
|
Amazon
)
The Go! Team:
"Bust-out Brigade"
from the "Rolling Blackouts" album. (
iTunes
|
Amazon
)
Brantley Gilbert:
"Small Town Throwdown"
from the "Just As I Am" album. (
iTunes
|
Amazon
)
July, 23, 2014
7/23/14
3:48
PM ET
The boundary between country and rock ceased to exist long ago -- that is, if it ever really existed at all.
Sure, it was a big deal when Ray Charles' album of country and western standards went to No. 1 for 14 weeks in 1962. But these days, artists and their songs cross over between music genres with regular frequency.
So here's a tougher test: Does 1980's and 90's metal go together with country? Can the glam, grit and guitars of the Reagan-era Hollywood Sunset Strip co-exist with the current sound of Nashville's Lower Broadway? We're going to find out, because here comes
"Nashville Outlaws: A Tribute To Motley Crue,"
which will be featured in ESPN's NASCAR coverage right up through the Chase for the Sprint Cup.
Artists including
Gretchen Wilson
("Wild Side"),
Rascal Flatts
("Kickstart My Heart"),
The Mavericks
("Dr. Feelgood") and
LeAnn Rimes
("Smokin' In The Boys Room") take their turns covering 15 of the Crue's hits.
You can sample and/or buy the songs here: (
iTunes
|
Amazon
)
Here's Nikki Sixx and Vince Neil of Motley Crue on the
Eli Young Band
's blusey take on "Don't Go Away Mad (Just Go Away)."
June, 17, 2014
6/17/14
11:14
AM ET
September, 26, 2012
9/26/12
2:00
PM ET
By
Lynn Hoppes
| ESPN.com
Country singer Brantley Gilbert is in a much better place than just a few years ago.
These days, he's nominated for CMA's New Artist of the Year. He recently started dating actress/singer Jana Kramer. And, on Thursday, he kicks off his first headlining tour, "The Hell on Wheels," in Lafayette, Ind.
Seems appropriate.
[+] Enlarge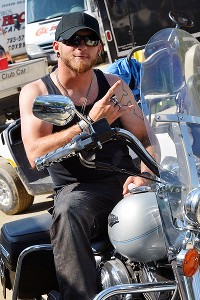 Rick Diamond/Getty ImagesBrantley Gilbert begins his headline tour on Thursday in Indiana.
Brantley, 27, was in a near-fatal wreck when he was 19, flipping his truck six times and crashing into a tree near his hometown of Jefferson, Ga. Then, a few years ago, while on a motorcycle, he avoided an elderly lady wrongly pulling out from a grocery store and spun his bike and survived that accident also.
"I'm definitely a man of faith. He was giving me back my life and I decided to focus my attention on music," said Gilbert, who had back-to-back No. 1 hits, "Country Must Be Country Wide," and "You Don't Know Her Like I Do." "I've been very blessed, and I take whatever I can get out of life."
That's how Gilbert has always been: playing the cards dealt him.
No wonder his first two albums were named "Modern Day Prodigal Son" and "Halfway to Heaven."
Brantley, who has written for Colt Ford and Jason Aldean, grew up in a small Georgia town. Really small.
He graduated with a class of 66. He always loved motorcycles, riding since he was 15. Harley-Davidsons, naturally.
He loved sports, playing mostly recreationally. And he said the whole town of Jefferson would go to the football games on Friday nights.
"Everywhere was a ghost town except for the stadium," Gilbert said. "We were all there for all the games. That was what you did in a small town."
Gilbert dabbled in music, performing at bars, but it was right after that car accident at 19, that everything changed. He got focused on music and began telling stories through his songs. And now he's ready to headline.
"I'm working as hard as I can these days," Gilbert said. "If I wasn't into music these days, I'm not sure what I'd be doing. That's all I know."
April, 19, 2012
4/19/12
4:18
PM ET
By
Deanna Kay
| Special to ESPN.com
Deanna Kay hung out on the red carpet at the ACM Awards in Las Vegas to talk to country music stars about their sports inspirations, and who they'd like to trade places with for a day. Answers included everyone from Tiger Woods to Jared Allen, from Tim Tebow to supercross star Kevin Windham.

Take a look: