June, 14, 2012
6/14/12
6:40
PM ET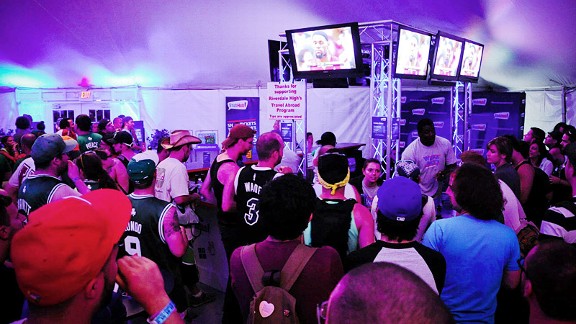 Jeff Tanhueco/StubHubFor some at Bonnaroo, Heat-Celtics Game 7 took precedence over a formidable music lineup outside.
Have you ever been to Bonnaroo? If you're a 20-something who enjoys outdoor recreation, mild bacchanalia and stacked lineups of very accessible rock bands, then of course you have. Around this time each year, 80,000 people trudge cattle-like into a radar blip called Manchester, Tenn., forming a pop-up refugee camp for underemployed bachelors of arts and myriad subspecies of hippies and bros. There is music and camping and food and body paint -- upsetting, ill-advised, NSFanywhere body paint, used liberally by many, on all sorts of horrible folds. Let's not talk about it.
This year's fest featured acts like Radiohead, Bon Iver, Phish,
Muppet collaborator Kenny Rogers
and something called a Skrillex. Also:
this
. It was hot and sunny for most of the weekend, and while not as hot as previous years, it was still hot enough that a Popsicle left unattended in an armpit would be reduced to its stick within 20 seconds.
I suppose this should come as little surprise, but the sporting scene at 'Roo was pretty meager. No Randy Johnson
working the flashbulb
. No Bronson Arroyo channeling his
inner Goo Goo
. Just the constant nuisance of hacky sacks and Frisbees narrowly missing your face, the occasional
Straight Cash Homey
candidate and all the balletic footwork required to maneuver a heavily used portable potty at the end of a day.