July, 23, 2014
Jul 23
5:03
PM ET
August, 13, 2012
8/13/12
9:00
AM ET
By
Andrew Pentis
| ESPN The Magazine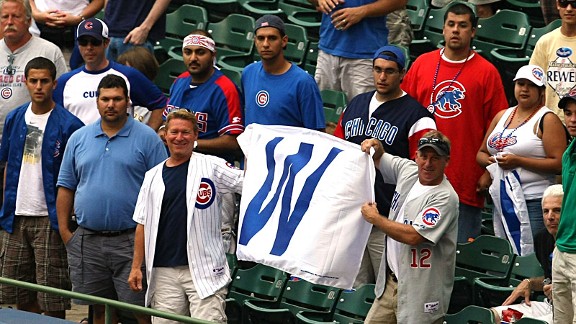 Jonathan Daniel/Getty ImagesAs the Chicago Cubs' victory song plays on the speakers, fans hold up flags with the letter "W."
In seventh innings around the country every day of the season, fans stand and sing lyrics that were written way back in 1908. The shelf life of "Take Me Out to the Ball Game" proves that America's pastime has long been intertwined with its tunes. But for a more unique connection between city and club, teams rely on their own traditions -- some newer, some older.
We decided to find out the one song that each team relies on to get fans on their feet.
We're featuring the music from one team per day here on ESPN Playbook. To see past entries,
click here
.

Chicago Cubs
Song
: "
Go Cubs Go
" by Steve Goodman
Tradition
: Played after every home win at Wrigley Field
Fun facts
:
• The Cubbies played the song during a 2006 "'80s night" game. Soon after, with the team seeking a post-victory song, an employee suggested the tune to fill the void.
• The die-hards bring a white "W" flag to games and hoist it while singing along.
• While most stadiums exclusively pipe in music through the speakers, the Cubs
still employ Gary Pressy
, who has spent 25 years as the Wrigley Field organist.
July, 27, 2012
7/27/12
12:00
PM ET
By
Matt Lindner
| Special to ESPN.com
CHICAGO -- Cubs organist Gary Pressy knows he's among the last of an endangered species.
With more and more ballparks opting for canned pop music to entertain the masses instead of the old-fashioned organs that once sufficed as a stadium's soundtrack, the man tickling the ivories at Wrigley Field says his ability to stay on top of the latest tunes is key to keeping the game-day experience fun and fresh for fans of all ages.
That's why he's adapted tunes by mainstream artists such as Lady Gaga for his giant Lowery organ.
[+] Enlarge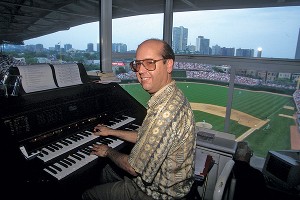 Stephen Green/Chicago CubsWhile most ballparks pipe in pop music through the speakers, Gary Pressy still plays the organ.
"You have to because in Wrigley Field, there are different generations that come to these games," Pressy said. "You have to brush up on all the new stuff and also play a lot of the oldies and goodies."
Since taking the job 25 years ago, Pressy's tunes have celebrated playoff berths and helped soothe in thousands of agonizing losses, the most agonizing of which he remembers as though it happened just yesterday.
"2003 was exciting up until all hell broke loose," he said. "We were five outs away."
His most popular performance came on the Fourth of July in 1998.
May, 9, 2012
5/09/12
7:48
AM ET
By
Matt Lindner
| Special to ESPN.com
CHICAGO – For a guy who has won seven world championships as a professional wrestler and has performed in front of millions, CM Punk appeared ... well, slightly jittery in the press box on Monday night at Wrigley Field.
"To me, I don't really get nervous as often wrestling anymore," he said.
And as he warmed up for his big moment with organist Gary Pressy in a tiny booth high above Wrigley Field, tattooed tough-guy CM Punk melted away and was replaced by Phillip Jack Brooks (Punk's real name), a wide-eyed kid who just stole the keys to the candy store.
"Take me out to the ball game…"
"This is huge, uncharted waters so this is a little bit more nerve-racking," Punk said, a grin creasing his face.
That is, of course, because the lifelong Cubs fan was living out a dream of leading the home crowd in a rendition of the seventh-inning stretch, an honor bestowed upon him in large part due to a concerted social media effort by his fans.
Kevin Saghy, the man behind the Cubs' official Twitter account (
@Cubs
), says the team noticed a growing trend among the people who were replying to them in 140 characters or less.
"We started getting an influx of tweets from our followers saying 'You should have CM Punk sing the Stretch,'" Saghy said. "He's thrown out a first pitch here before so we're familiar with who he is. That's our goal is to bring seventh-inning stretch conductors and first-pitch throwers who are popular with our fans."
The team decided to reach out to Mr. Punk.
Via Twitter
, of course.
"I think when that @Cubs pops up on your feed, it stands out among the rest," Saghy said. "We know he follows us pretty closely."
Saghy's hunch proved correct.
"I literally started showing people next to me, complete strangers or whatever, so it was a pretty cool way to get to sing the stretch," Punk said. "I got invited."
Punk's
response came in 15 minutes, enthusiastically
: "@Cubs uh. Let me check my scheduleYESIWILLDOIT."
Punk, a Chicago native who says he tries to make it out to at least one Cubs game per homestand when he's in town, is currently training for his next bout against old nemesis Daniel Bryan in WWE's "Over the Limit" on May 20.
So what can his longtime fans expect to see when the two go toe-to-toe?
"I'm just training really, really hard, not so much for size but kind of for speed," Punk said. "I'm expecting this one to go the distance."
Before his turn on the microphone, he was signing autographs in the press box cafeteria when a Cubs staffer handed him a laminated white piece of paper, the contents of which made him roar with laughter.
It was the lyrics to "Take Me Out to the Ball Game." Just in case the guy who grew up worshipping at the altar of Harry Caray should forget his patron saint's most sacred tune.
"That is hilarious to me," he said. "I can see where that would come in handy for out-of-towners and the occasional celebrity who doesn't watch baseball. I could sing this thing backwards and forwards and in my sleep."