ESPN Music:

Chris Cornell
May, 14, 2013
5/14/13
10:00
AM ET
By
Lynn Hoppes
| ESPN.com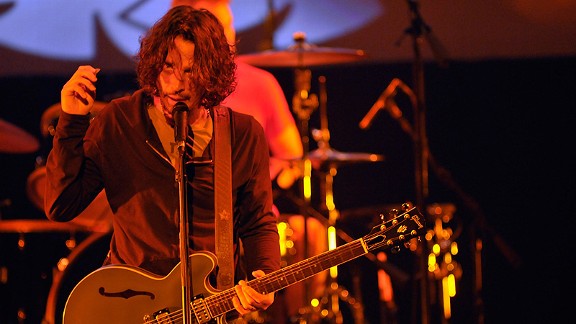 Stephen J. Cohen/Getty ImagesChris Cornell talks exclusively with Playbook about music today and how he stays fit.
It's probably too strong a statement to say that without exercise, Chris Cornell -- lead singer of 1990s grunge band Soundgarden -- wouldn't be around anymore.
But it's pretty close.
"For years, I wasn't feeling good about myself," said Cornell, who formed the Seattle band in 1984. "My head wasn't clear. I was doing nothing productive."
When Soundgarden hit it big with the 1994 album "Superunknown," Cornell lived the typical rock star lifestyle: drugs, alcohol and no sleep. That was no different from other Seattle bands such as Nirvana, Alice in Chains and Pearl Jam.
Then, as with other bands, internal strife torpedoed Soundgarden in 1997.
"I decided I needed to work on my brain and not just my body," said the 48-year-old Cornell. "I figured if I focused on my brain, that everything else would fall into place."
It wasn't an easy road as Cornell struggled to give up drugs and alcohol and focused on solo work and creating Audioslave (2001-2007). He then went solo again and reunited with Soundgarden in 2010.
These days, the band is touring off its sixth studio album, "King Animal." Tuesday night, Soundgarden is performing in New Jersey.
Cornell, who rarely gives interviews, talked exclusively with Playbook about exercise, music today and life on the road.
What does being physically fit mean to you?
"It means I can do whatever I want without having to worry about it."