ESPN Music:

Country music
March, 20, 2013
3/20/13
8:13
AM ET
By
Andy Frye
| Special to ESPN.com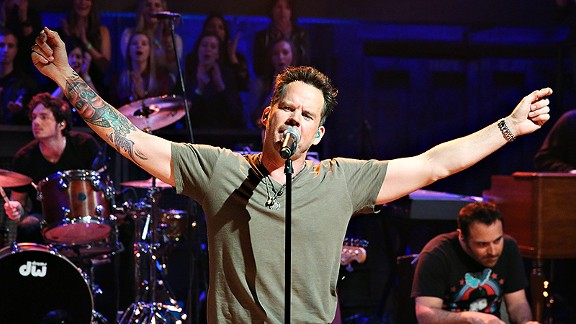 Lloyd Bishop/Getty ImagesGary Allan triumphantly returned to No. 1 on the country charts for the first time since 2004.
Gary Allan is back on tour with a new album out called "Set You Free," his first album since 2009 and the 10th of his career. The country singer-songwriter, perhaps best known for "Man to Man" and "Tough Little Boys," said that 2013 has started out with a slow roll, but that it's great to be back in action.
"We've been doing a radio tour to kind of reintroduce myself to people," he said. "The album's been a long time coming, but it's great to be back in the top 5 again and performing live."
Allan's lead song off the new album, "Every Storm (Runs Out of Rain)," first hit the country music airwaves in September 2012 before the full album was released in late January. Since then, "Every Storm" reached the No. 1 spot on Billboard's Country Airplay chart, giving Allan his fourth country No. 1, and his first since his "Nothing On but the Radio" in late 2004.
Allen says that he loves songwriting and that his fire hasn't flickered. The artistic process at this point in his career is about growing and "just simply about having a little more life experience."
In truth, Allan has been through a lot. After a prosperous career that started with packed gigs and strong record sales, Allan put his career on hold for a while in 2005, a year after his wife had committed suicide. After a pause, Allan put out two emotional and critically acclaimed albums, "Tough All Over" and "Living Hard." Since then, Allan again has found solace in playing live.
"Me, I love being on the road. I know some people don't, but I definitely make records so that I can be out on tour," he said. "I do most of my actual writing in the winter when I have time to ponder."
Allan's current tour resumes March 23 in Austin, Texas, before hitting the East Coast, South and Midwest, with gig dates stretching to August.
October, 20, 2012
10/20/12
12:00
PM ET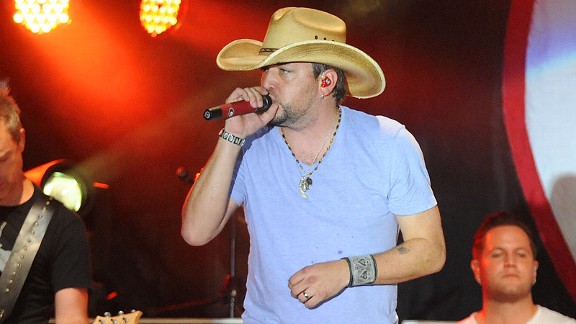 Chris McKay/Getty ImagesLifelong Bulldogs fan Aldean surprised UGA students with a performance in Athens earlier this week.
It is late summer in Georgia, a decade ago, and Jason Aldean is holding a ticket. It's not the scratch-off type and offers no financial fantasy. But for a poor country boy from Macon, Ga., it is an avenue to dreams far richer.
Aldean's father acquired the ticket from a friend and knew well its fleeting value. But he couldn't cash in just then, so he threw his boy a bone only a Bulldog could love.
The ticket granted entrance to a college football game between the Georgia Bulldogs and the Clemson Tigers. It included field access, which meant Aldean would walk the famous Sanford Stadium hedge line and achieve a lifelong dream.
He would share that dream with his cousin, Dale. They're the same age and as close as brothers. Neither had ever attended a Georgia football game, though both were die-hards.
Come game day, there they stood, on the Bulldogs' sideline, overwhelmed by the spectacle of 92,746 brethren.
"It was like going to church," Aldean says. "I didn't think it was possible, but I became an even bigger fan after that. Experiencing the players running by you and petting Uga ... it was surreal. It was spiritual."
June, 28, 2012
6/28/12
3:19
PM ET
By
Tim Ball
| Special to ESPN.com


Olympic trials are known to be draining on the athletes involved -- physically from the feats they must perform and emotionally from the highs and lows that come with the Games.

For 22-year-old diver Thomas Finchum, who represented the U.S. in two events in Beijing, last weekend's trials in Federal Way, Wash., took a considerable emotional toll. He finished third in his signature event, the individual platform, and fourth in the individual springboard, with only the top two divers in each event making the Olympic team.

After Finchum's final dive from the platform, he approached John Wingfield, his longtime coach, and broke down in tears. Wingfield spoke softly: "You'll always be a 2008 Olympian."


May, 2, 2012
5/02/12
10:55
AM ET
By
Brandon Sneed
| ESPN The Magazine
In one year, Scotty McCreery went from country-music-listening high school ballplayer to reigning "America Idol" touring with Brad Paisley. But the 18-year-old still feels at home on the mound, so after missing the 2011 season, he returned to Garner Magnet High School in North Carolina to earn back a pitching spot for his senior year. And he's off to a stolid start, with a 2-0 record, a 1.03 ERA and 26 strikeouts in 20 1/3 innings. The country crooner slash curveball ace gave Playbook a glimpse of his new life.
[+] Enlarge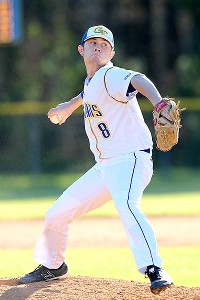 Courtesy of Johnny JohnsonCountry music singer Scotty McCreery from "American Idol" still pitches for his high school baseball team.
What's a typical day these days?
If I'm touring with Brad, I'll be home Sunday, go to school Monday, Tuesday and Wednesday, then I hit the road Thursday through the weekend. But if I'm home like I am now, I just go to school and live like a normal kid. Except maybe I do an interview like this.
How hard do you throw?
I'm not the guy going out there throwing 90. I top out around 80, so I have to work that off-speed.
We hear the curveball is your pitch.
Yeah, I'm a finesse pitcher. I try to set up on a nice slow slurve and then hit them with the hard curve. It looks like a fastball and drops out at the last minute.
What other pitches do you use?
I throw a two-seamer and a slider that's more like a slurve, a slow slider with a little curve. And I have my hard-break curveball. My curveball's hard and my slider's soft.
How much time do spend on your game now, versus before "AI?"
I can't put as much time into baseball, but I don't want to do something halfheartedly. The other guys are there every single day, so I'm still trying to put in as much work as I can. My dad and I bring our gloves on the road and make time to throw. Even if it's not baseball, we'll throw a football, just to stay active.
Does playing feel different this year?
I grew up on the mound, so that's the same, but there were never this many people. We used to have maybe a dozen show up. Now we'll get 100, 150, and people from Maine, Ohio, New York. It's crazy — but great. The crowd gets into it.
How have your teammates handled that?
They've had changes to deal with too — a different atmosphere, the crowds, the craziness. But they're cool. They have fun with it.
What about guys playing against you?
They talk smack. "Oh, 'American Idol' kid's throwing." "Oh, stick to singing." Stuff like that. But it's all good — I go out there and get them out, and I get the last laugh. And that's what pitching's all about.
Do you feel like baseball gives you an escape or a way to hang on to being a kid?
For sure. Baseball is my last thing from childhood. I'm a senior this year, so it's my last year to do this. I'm just trying to go out there and enjoy it and make all the memories I can.
April, 24, 2012
4/24/12
9:28
AM ET
By
Lynn Hoppes
| ESPN.com


How prophetic.

Country singer Kip Moore was scheduled to call in the morning to talk about his new CD "Up All Night," which is being released today.

And he didn't call.

"My cellphone didn't go off. That's what I get for staying up so late," Moore said, not realizing the irony with the title of his new CD. "I think I finally got to bed at 7 a.m. and I didn't even hear the phone."

That's what happens when you're hustling around the country promoting your debut CD, with the hit song "Somethin' 'Bout a Truck," which has been viewed more than 6 million times on YouTube.

"I need to make it in country music because I really have no Plan B. This is all I wanted to do," said Moore, who grew up in Tifton, Ga. "I'm excited and I have some uneasiness. I have some fears too. I don't want to lose this job."

This is a departure from where Moore was 10 years ago. In one year, he had a basketball scholarship at Wallace State College in Hanceville, Ala., and then received a golf scholarship to Valdosta State University in Valdosta, Ga.

"Basketball was my whole life until I was 20 years old. All I knew was basketball," Moore said. "Then came golf and I thought that's all I wanted to do then."

Through all this, Moore said, "music was always in the back of my mind."

"I just never thought I could make it from my small town. I didn't know it could be a reality," Moore said. "I started playing music in clubs with friends Thursdays through Saturdays, and I ended up quitting sports and focusing solely on music."

After spending some months with friends in Hawaii, Moore got serious about his songwriting and drove to Nashville in 2004.

It's been a long time coming, but today is finally here.

"I'm treating country music like it's a sport," Moore said. "I'm looking at where my competition is and realized I needed to work on my songwriting. And I think I've done that with this CD. I'm really looking forward to Wednesday ... "



April, 19, 2012
4/19/12
4:18
PM ET
By
Deanna Kay
| Special to ESPN.com
Deanna Kay hung out on the red carpet at the ACM Awards in Las Vegas to talk to country music stars about their sports inspirations, and who they'd like to trade places with for a day. Answers included everyone from Tiger Woods to Jared Allen, from Tim Tebow to supercross star Kevin Windham.

Take a look:


April, 18, 2012
4/18/12
10:24
AM ET
By
Playbook Sounds
| ESPN.com


Jason Sturgeon grew up in Indiana and is passionate about cars and motor sports.

With his new single, "Time Bomb," Sturgeon took the opportunity to honor a racing legend, Sprint Cup Series World of Outlaws driver Steve Kinser, known as the "King of the Outlaws." He invited Kinser to star in the video, set in the infield of a dirt track.

"Basically I just wanted to capture the intensity that was going on but also, [Kinser] has won 20 championships -- he's raced Sprint cars, he's raced Indy cars, he's a badass racer," Sturgeon said. "I wanted to pay homage and showcase him in this video. He drives a 900-horsepower motor in a 1500-pound car, reaching 100+ on the straightaways. To have him blasting around us that fast was just unreal."

Sturgeon said he thanked Kinser for his participation by presenting him with the Stratocaster guitar that he played during the shoot, which he had custom-painted to match Kinser's car.