November, 14, 2012
11/14/12
9:45
AM ET
By
Adry Torres
| Special to ESPN.com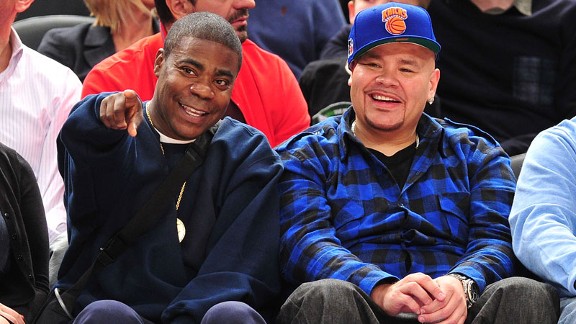 James Devaney/WireImageKnicks fan Fat Joe, right, with Tracy Morgan, is often front and center at Madison Square Garden.
Fat Joe has been in the rap game for what's about to become his 20th year in the business. That's quite an accomplishment as we've seen many rappers debut with one album, never to be heard from again.
Born and raised in the Boogie Down Bronx, the Puerto Rican rapper made it his goal to put Latinos on the map, introducing himself to the hip-hop masses with "Represent" in 1993. Over his career, he's been involved in some feuds, most famously with 50 Cent, with both New York rappers quashing their drama. Fat Joe has put together 10 albums with one more on the way next year, which could very well be his last.
When Fat Joe is not in the studio during the months of the basketball calendar, he's either home in Miami watching his beloved New York Knicks or in the front row at Madison Square Garden.
Fat Joe spoke with Playbook about discovering Big Pun, James Harden and the Rockets, Raymond Felton, and his theory that the Knicks will knock off the Miami Heat this season.
You released your first album in 1993 titled "Represent." As you sit at home today, did you think you would be around the rap game this long?
[Laughs] Hell no, man. No way. No way man. I was just a kid from The Bronx that had something to say. Being Latino -- you know, the Bronx created hip-hop -- and since day one Latinos and blacks [have been] in the hip-hop culture since it started. So I just felt like there were never no Latino rappers before me that were really, really big that could tell the story or could really represent Latinos in hip-hop and I knew, if not for anything else, I would fill that void. I knew I had to speak up, but to think that we would make it this far and this long, no way. Impossible. I still can't believe that we're relevant till this day, man. We're still making good music. That's amazing.