April, 30, 2012
4/30/12
12:07
PM ET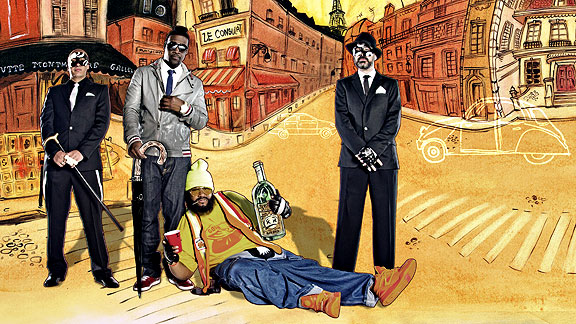 First ServeDave, center, and Posdnuous of De La Soul created "First Serve" with two French producers.
Influential hip-hop group De La Soul made a name for itself with clever wordplay and a storytelling vibe that's uncommon in today's music scene.
Two-thirds of the group, Posdnuous (aka Plug 1) and Dave (Plug 2) and, have returned on the album
"De La Soul's Plug 1 & Plug 2 present First Serve."
The product is a concept album about two young rappers struggling to make their way up, then hitting the big time, and the resulting drama that comes along with fame.
The tennis theme of the album's name is a reference to the back-and-forth between the two characters, Deen Whitter and Jacob "Pop Life" Barrow.
"I love watching tennis," Dave said. "[The title] is a lyrical thing, wordplay. It's the perfect match. The falling in love and out of love relationship between the two guys. It refers to a tennis vibe."
De La's fans have been clamoring for a new album for years, as the trio's last studio album was recorded in 2004. Interestingly enough, this one came about because of a pair of French producers named Chokolate and Khalid, who wanted to make some music and work with Pos and Dave on the lyrics.