June, 6, 2012
6/06/12
3:14
PM ET
By
Playbook Sounds
| ESPN.com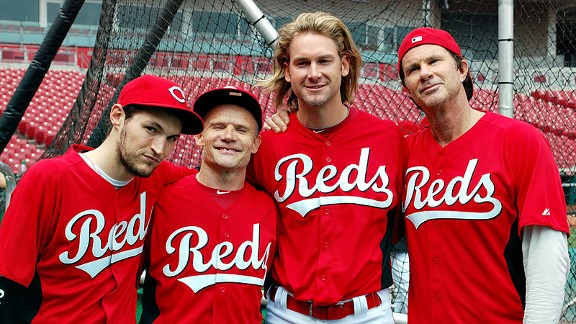 Cincinnati RedsJosh Klinghoffer, Flea, Bronson Arroyo and Chad Smith at Cincinnati's Great American Ball Park.
Music fan (
and musician
) Bronson Arroyo capitalized on the Red Hot Chili Peppers' tour stop in Cincinnati by getting his old pals to come out to Great American Ball Park and take a little batting practice.
The Peppers' Flea, Chad Smith and Josh Klinghoffer came out on Tuesday and suited up, with Flea savoring the experience.
"It was awesome, man. It was so fun," he
told the Cincinnati Enquirer
. "It was a once-in-a-lifetime great experience... I just love sports. I'm an unrepentant televised sports fanatic."
Take a look at Flea in action, complete with an authentic jersey: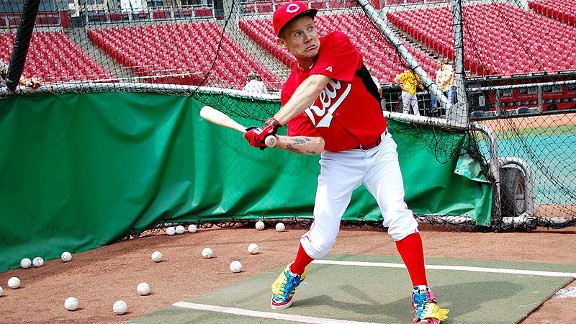 Cincinnati Reds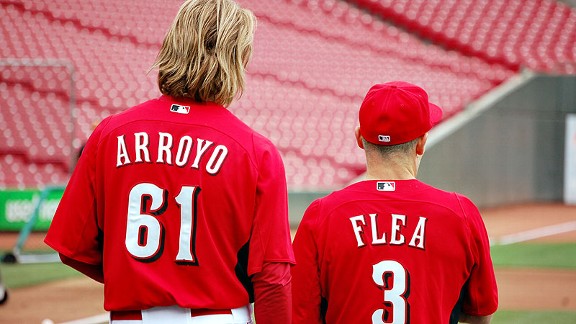 Cincinnati Reds
May, 4, 2012
5/04/12
9:49
AM ET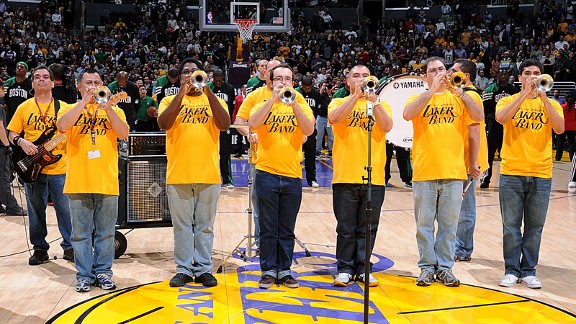 Andrew D. Bernstein/NBAE/Getty ImagesThe Laker Band has played at every home game over the past 33 seasons.
A few things have changed since the Laker Band started tooting its own horns to accompany one of the NBA's best and longest-lasting acts.
Those short shorts Magic Johnson used to wear are long gone, the Lakers have moved across town from the Forum to the Staples Center and the team's big man in the middle has shape-shifted from Kareem Abdul-Jabbar to Shaquille O'Neal to Andrew Bynum.
Since 1979, however, the Laker Band has played on, with its trumpets, trombones, bass guitar and drums adding to the atmosphere of Lakers home games that also includes the Laker Girls and a regular parade of celebrities.
"When Jerry Buss bought the Lakers, he wanted to have a Hollywood-type of entertainment, a live band and dancing girls" says Rick Cox, a trumpet player with the band since 1981 and its director since 1986.
For 33 years, that band has been keeping the beat for Showtime on the floor below, through 10 NBA championships and the evolution of music from rock, pop, jazz and R&B to hip-hop.
Now situated in Section 308, high above the western basket, the band – wearing Lakers gear and usually composed of a drummer, bass, eight or nine trumpets and six trombones – sorts through its constantly changing list of about 40 songs to play before and after games, at halftime and during timeouts, while its drummer and bass player keep up a
constant rhythm for "defense" chants
when Lakers opponents have the ball.
The Laker Band is the only one of its kind in the NBA – a dedicated band that plays at every game in its own section. Several teams have drum lines and other teams bring in various musicians. But the Laker Band stands alone.