March, 20, 2013
3/20/13
8:13
AM ET
By
Andy Frye
| Special to ESPN.com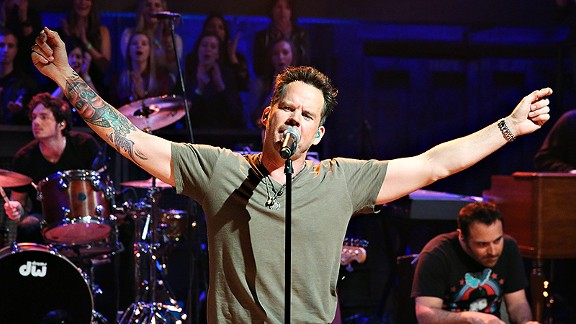 Lloyd Bishop/Getty ImagesGary Allan triumphantly returned to No. 1 on the country charts for the first time since 2004.
Gary Allan is back on tour with a new album out called "Set You Free," his first album since 2009 and the 10th of his career. The country singer-songwriter, perhaps best known for "Man to Man" and "Tough Little Boys," said that 2013 has started out with a slow roll, but that it's great to be back in action.
"We've been doing a radio tour to kind of reintroduce myself to people," he said. "The album's been a long time coming, but it's great to be back in the top 5 again and performing live."
Allan's lead song off the new album, "Every Storm (Runs Out of Rain)," first hit the country music airwaves in September 2012 before the full album was released in late January. Since then, "Every Storm" reached the No. 1 spot on Billboard's Country Airplay chart, giving Allan his fourth country No. 1, and his first since his "Nothing On but the Radio" in late 2004.
Allen says that he loves songwriting and that his fire hasn't flickered. The artistic process at this point in his career is about growing and "just simply about having a little more life experience."
In truth, Allan has been through a lot. After a prosperous career that started with packed gigs and strong record sales, Allan put his career on hold for a while in 2005, a year after his wife had committed suicide. After a pause, Allan put out two emotional and critically acclaimed albums, "Tough All Over" and "Living Hard." Since then, Allan again has found solace in playing live.
"Me, I love being on the road. I know some people don't, but I definitely make records so that I can be out on tour," he said. "I do most of my actual writing in the winter when I have time to ponder."
Allan's current tour resumes March 23 in Austin, Texas, before hitting the East Coast, South and Midwest, with gig dates stretching to August.